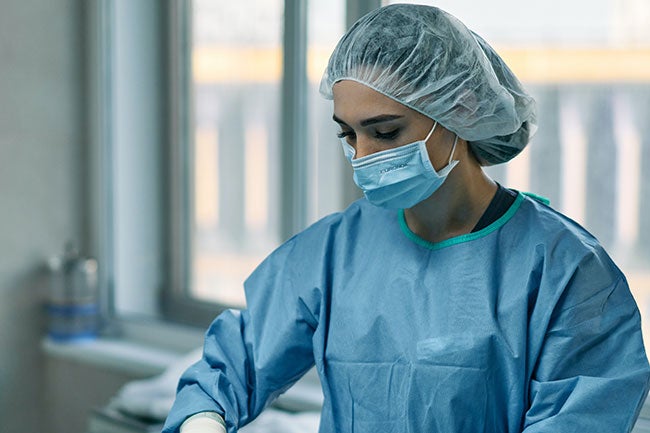 Overview of RN-to-MSN Programs
A career in nursing provides a fulfilling future with many different paths. Registered nurses enjoy daily variety, good salaries, and job security. While this is a great career option in and of itself, many registered nurses choose to pursue additional degree programs for advanced practices, where an RN-to-MSN bridge program is helpful.
Earning a BSN and MSN can be crucial for continuing to grow and develop in a nursing career. By furthering your nursing education, you'll gain a new depth of clinical knowledge, be able to take a specialized approach to what you're passionate about, access higher salaries, and advance your career. The online RN-to-MSN nursing programs at WGU include clinical practice experiences such as real-time simulation using immersive virtual reality training. You'll also be able to earn the NAHQ (National Association for Healthcare Quality) HQ Principles certificate along with your BSN and MSN degrees, which is a résumé booster that will give you a decisive advantage in your job search after graduating.
If you're a nurse looking to earn your master's, there are a few options depending on your current title. For example, nurses that have completed a bachelor's degree program are in a position to earn their MSN quite quickly. If you're an RN who holds an associate's degree or nursing diploma but not a bachelor's degree, WGU's RN-to-MSN program allows you to earn both your bachelor's and master's degrees at once.
This article will go into detail on advanced nursing education and career options for registered nurses, including job options, salary, and academic programs.
What is an RN-to-MSN Program?
An RN-to-MSN program allows students who are currently licensed RNs through an ADN or diploma program to earn both their BSN and MSN in a single program. It's designed to create an academic bridge for registered nurses to earn a master's degree in nursing. RN-to-MSN programs come in various lengths, so depending on what degree you already hold (associate degree or BSN), there is an academic track that suits your needs. Most accredited programs can be completed in under three years if you attend as a full-time student. Part-time study will take longer but can still be completed in under four years.
View WGU's BSN and MSN program guides to get the full-scope of coursework you'll encounter:
Explore Nursing Education Coursework
Explore Nursing Informatics Coursework
Nurses with an MSN have the advantage of a whole new world of career options, complete with higher salaries and an even greater power to provide next-level care to patients. There are many exciting, high-paying routes for nurses with advanced practice degrees.
Certified Registered Nurse Anesthetist
Certified registered nurse anesthetists (CRNAs) are advanced practice nurses who administer anesthesia and other medications to patients before, during, and following surgery. These nurses work with a variety of medical practitioners such as physicians, dentists, and podiatrists and play an important role between patient and doctor.
Other duties include:
Preparing patients to receive anesthesia, including physical assessment and preoperative teaching
Identifying potential risk to the patient, including allergies and overdose
Communicating with the physician to ensure safe procedures
Maintaining proper anesthesia levels during an operation
Facilitating patient recovery from anesthesia
CRNAs are responsible for making sure the patient is comfortable and calm entering surgery and relay important information and risks to the doctor. CRNAs are the highest paid nurses of 2022, with an average salary of $189,190. They will experience a projected job growth of 45% between 2019 and 2029. Currently CRNAs need an MSN and 2,500 clinical hours to practice.
Nurse educators are advanced practice nurses who prepare licensed practical nurses and registered nurses for entry into practice positions. They also take on teaching roles in different patient care settings to provide ongoing education to licensed nursing staff.
Nurse educators have many duties including:
Creating curricula
Designing nursing classes
Teaching nursing students
Mentoring and advising students
Grading student work
Evaluating and documenting effectiveness of educational programs and classes
Facilitating discussions with students
Overseeing students' clinical practice
Serving as a role model and mentor for students
Working on scholarly work and contributing to the academic community (e.g. peer review, research, etc.)
Sharing knowledge at nursing conferences
Writing grant proposals
To become a nurse educator, students need to earn an advanced degree such as an MSN and currently do not need any further certification. Certified nurse educators earn a median salary of $75,470, according to the U.S. Bureau of Labor Statistics (BLS).
Nurse administrators supervise a body of nurses or other medical professionals. These nurses work in hospitals, care facilities, and physician group practices. They are highly trained in policies and practices and have strong leadership qualities, making them qualified to oversee the work of a nursing staff.
Job duties include:
Setting performance goals in collaboration with boards and committees
Giving performance reviews
Coordinating with doctors and other medical staff
Creating ethical and efficient policies and procedures
Facilitating professional development of nursing staff
Managing nursing budgets
Enforcing compliance with laws and regulations
Hiring and training nurses
Scheduling nursing shifts
Nurse administrators make $118,800 a year on average and can expect a whopping 32% job growth from 2019 to 2029, according to the BLS. A master's degree is required to be a nurse administrator. Some also may obtain a nurse administrator certification to be more competitive for advanced roles or with certain employers.
Clinical Nurse Specialist (CNS)
Clinical nurse specialists are a type of advanced practice registered nurse (APRN) that provide advanced patient care to patients in a specialty area such as family nurse practice, neonatal, adult-gerontology, pediatrics, women's health, or psychiatric mental health. These nurses often work in leadership roles as a result of their experience and advanced academic credentials.
Primary responsibilities consist of:
Providing direct patient care
Assisting physicians in meeting the needs of patients
Educating and leading nursing staff
Leading data-driven practice projects
Teaching patients and their families about illnesses and treatment
Conducting or assisting with research
Payscale reports that clinical nurse specialists earn an average salary of $91,300. Nurses on this career track will enjoy 45% job growth from 2019 to 2029. Depending on the aforementioned specialty you pursue, you may need to seek further certification. For example, if your dream is to become a family nurse practitioner, you'll need to apply for national certification by examination before you can become licensed.
Certified Nurse Midwife (CNM)
Certified nurse midwives (CNMs) provide patient care throughout pregnancy and childbirth. CNMs have a wide range of duties. They provide primary care, gynecological care, and family planning services for patients in reproductive years and through menopause.
Their primary responsibilities include:
Providing prenatal to postnatal care to mothers
Monitoring newborns
Giving assessments, diagnoses, and treatments
Treating patients for sexually transmitted diseases
Educating patients on how to promote health and prevent disease
Certified nurse midwives earn an average salary of $115,540 and can look forward to 12% job growth from 2019 to 2029. On top of earning their MSN, certified midwives must pass the national Certified Nurse-Midwife Examination through the American Midwifery Certification Board.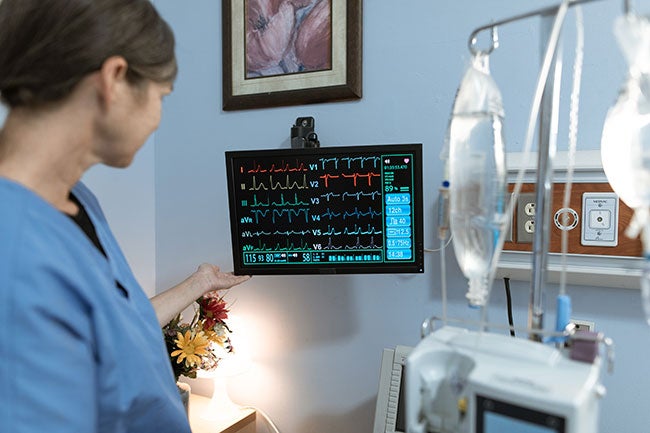 RN-to-MSN Program Requirements
WGU's MSN program focuses on mastery of the skills and knowledge that are essential to success in the healthcare field. To enroll in WGU's RN-to-MSN program, you must be a registered nurse. WGU's MSN program allows you to double up on coursework so you will earn your BSN along the way.
Below is a complete list of admission requirements:
Hold an associate degree or diploma in nursing from an accredited institution or state board of nursing approved program.
Possess an active RN license in your state of residence or your state of employment, so you may successfully complete clinical hours. Compact licenses must be endorsed by your state of residence.
Pass a criminal background check through American Databank and provide proof of current immunizations.
Visit WGU's College of Health Professions admission requirements page for more information.
How Long Is an RN-to-MSN Program?
Earning a bachelor's degree typically takes four years and a master's degree takes one or two years. With WGU's online bridge program, you can accelerate your education to finish faster. Nearly 75% of students finish the RN-to-MSN program in 42 months or less. In other words, most graduates can earn two degrees—a BSN and MSN—in less than 4 years.
Most accredited schools, like WGU, require around 120 credit hours to complete graduation requirements for their undergraduate degree. Students who are already RNs can transfer up to 90 credits into their BSN program. Transfer credits are another way nurses can move through their program quickly and complete two degrees at an accelerated pace.
Despite transfer credits, all nursing students in RN-to-MSN programs take foundations in evidence-based modes of treatment, informatics, leadership, statistics, management, and more.
More about RN-to-MSN Programs
Becoming an advanced practice nurse with a master's can prepare you for all kinds of careers, settings, and earnings. If you're dedicated to spending your career helping others, an advanced education in healthcare could be a smart move for your future.
There are many career areas in healthcare that could be the perfect fit for your skill and passion. If you have more questions, keep reading to learn more about the MSN program, the benefits of earning your degree online at WGU, and how to get started today.
What will I learn in RN-to-MSN programs?
WGU strives to equip nursing students with timely, relevant, and practical knowledge—and the coursework directly reflects that. That's why your MSN is the best proof that you really know your stuff.
The RN-to-MSN programs at WGU begin with undergraduate-level coursework. In completing your bachelor's degree, you will also have taken five graduate-level courses:
Professional Presence and Influence
Essentials of Advanced Nursing Roles and Interprofessional Practice
Informatics for Transforming Nursing Care
Leadership and Management in Complex Healthcare Systems
Advancing Evidence Based Innovation in Nursing Practice
Upon completing the BSN coursework, you'll enter the advanced degree portion of your education, which include both care and system-level skills. These classes include:
Care of the Older Adult
Community Health
Population-focused Nursing
Evidence-based Practice
Health and Wellness
Nutritional Science
Organizational Leadership
Policy, Politics, and Health Trends
More Essentials
What can I do after my RN-to-MSN program?
Graduates take many paths with a Master of Science in Nursing, including administrative, educator, informatics, leadership, and system-level roles. MSN-ready students have better prospects and earn more than RNs themselves with only a bachelor's or associate degree.
The job growth for nurse practitioners is expected to reach 26% through 2028, according to the BLS, making this role one of the fastest growing jobs in the country.
Some careers you can pursue with an MSN include:
Nursing Professor
Clinical Nurse Educator
Chief Nursing Officer
Nurse Educator
Nurse Manager
VP of Nursing or Chief Nursing Officer
Lead Nursing Positions (Travel Nurse, Flight Nurse, Critical Care Nurse)
Healthcare Quality Director
Chief Nursing Informatics Officer
Clinical Informatics Manager
Clinical Informatics Specialist
Nursing Informatics Educator
For more information, visit WGU's healthcare career guide.
What's the benefit of WGU's RN-to-MSN?
Earning a BSN and MSN can be essential to grow and develop your nursing career. Some of the benefits of earning an MSN from WGU include:
Magnet status: As more hospitals are working to obtain Magnet status—an accolade that designates a hospital as one of the best in the country—they want to employ RNs with bachelor's degrees and above. A BSN or MSN can help you get a job at a Magnet hospital or can help your current hospital move up in status.
Clinical skills: The American Association of Colleges of Nursing has deemed BSN and MSN nurses to have better clinical skills than ADN nurses, showing lower mortality rates, lower failure-to-rescue rates, and better ability to diagnose and evaluate patients.
Career opportunities: A BSN and MSN degree can help current nurses rise to higher career opportunities. Nurses with advanced education can move into teaching, case management, policy review, leadership, informatics, and other roles.
Personalized learning: The RN-to-MSN from WGU is supportive and personalized, offering a flexible way to earn an online degree while keeping in mind that you have responsibilities outside of the classroom.
Field experience: WGU includes practical field experience in its advanced nursing programs, meaning you'll be real-world ready after completing your clinical hours.
Career support: As an alumni, you'll have continued access to career support, networking, professional development, and more through apps, groups, and events.
Should I complete my RN-to-MSN online?
An online program may help you get a better job in less time at a lower expense, while keeping studying and pacing to your individual preference. Registered nurses should look for a program that takes a modern approach to assessment and tuition.
Here are some important reasons why you should pursue your MSN online through WGU:
WGU charges tuition by term (rather than credits), potentially saving money. You can also apply for financial aid.
WGU assesses competency rather than hours spent in a classroom, so you can complete courses quickly and at your ideal pace.
The flexibility and personalization of learning online are not available through traditional approaches to the MSN.
Get Started with WGU's RN-to-MSN Program
If you're a nurse who's ready to earn both your BSN and MSN, WGU's bridge program was made for you.
Learn more about the specialty program tracks that are available to you:
Are you ready to take the next step in your career? Get started today to begin changing the lives of your patients and take your nursing career to the next level.
CTA: APPLY NOW