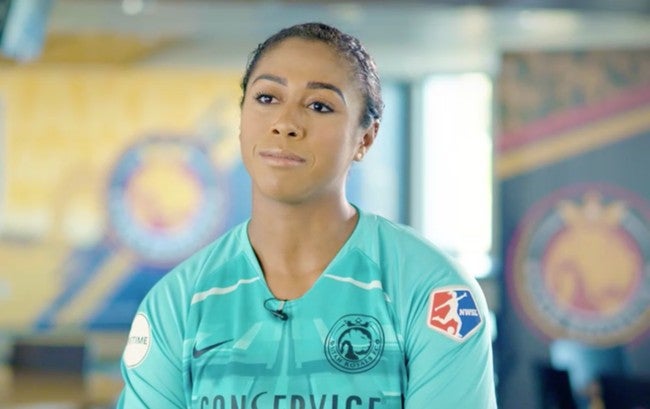 For most people, the thought of a soccer ball flying toward their head would be fairly scary. But for Abby Smith, it's all in a day's work.
As the goalkeeper for the Utah Royals FC, Abby spends her days practicing blocking, heading, and catching soccer balls that come flying at her with furious speed. She spends hours practicing with the team, ensuring they can all work together to defeat their opponents on game day. And as the goalkeeper, Abby is an essential part of the team—making sure nothing gets past her. Soccer has been a passion for Abby from a young age, and she's reached her dream of turning it into her full-time career.
"I started playing soccer when I was 7 years old, so I was a late bloomer," she laughed. "They say I was a late bloomer, but I was 7!" 
Abby decided to drop gymnastics and pursue soccer when she was young and spent her childhood playing on different teams. It was when she was in high school that she realized she had a shot at taking this sport further.
"I think once I started getting called into the Youth National Team, I really believed that I could play professionally," she said.
Abby started pushing even harder for a professional career when she was in college and the National Women's Soccer League started. The NWSL meant Abby could play soccer professionally in the United States, and she knew that was her path.
After her senior year of college, Abby was drafted to the Boston Breakers, where she played for two years. Then she was drafted to the Utah Royals and has been there ever since.
But soccer isn't the only thing that Abby is passionate about. She's also currently getting her MBA from Western Governors University. 
"I love learning, and I love growing. I love reading different articles and growing my mind in a way that I wouldn't necessarily do every day," she said. "If you're learning something every day, you're growing, and you're not staying in the same place." 
It was that love of learning that sparked Abby to go back to school and earn a master's degree, even with her busy life as a professional athlete. But Abby knew she needed a way to earn her degree while she was on the road, busy with practices and games, and on the schedule of a professional athlete. When she found WGU, she knew it was the perfect fit.
"It's all online!" she exclaimed. "And they're awesome about having mentors get in touch with you," she added.
Abby is planning to play professional soccer for as long as she can, and she is finding that what she's learning in her program is already helping her grow. From understanding how to read contracts to grasping the larger focus of the organization, Abby knows that a degree will help her understand her profession better. She also feels that on and off the field, an MBA will give her crucial skills and experiences.
"As a player and as a person I feel like my business administration degree will help me see things on the other side of the closed door," she said. "My degree from WGU will help me see both sides of things—the business and being an athlete. And that will help me with meeting new people, networking, and how the organization runs things."
While she plans to play for a long time, Abby also has dreams and goals for after she's done. She could see herself coaching and helping younger players learn how to move through the ranks, or even becoming an indoor cycling instructor and business owner. Whatever is ahead for her, she knows that her MBA from WGU can help give her the experience and credentials that she needs to thrive.