As the saying goes, money isn't everything… but it sure helps, and it's certainly a major consideration when it comes to mapping out your career, anticipating a family, and planning for retirement.
That's a lot to think about, especially when you're young and in the early stages of life and have decades to achieve your goals.
There are things to consider right now that can affect your earning potential in the future. For example, the level of education you achieve can have a dramatic effect on your earnings over the course of your career. In a recent study conducted by Smart Asset using Bureau of Labor Statistics (BLS) data, average earnings for working professionals with bachelor's degrees comes out to $59,124 per year.
That's almost $24,000 more per year than workers with just a high school diploma.
Factor in lifetime earnings by education level, and the figures get even more dramatic. The typical bachelor's degree recipient can expect to earn about 66 percent more over a 40-year career than someone who has only a high school diploma.
The lifetime difference in dollar terms is stark: Individuals who have earned a bachelor's degree make a lifetime total of $2.27 million on average, according to U.S. News & World Report. By contrast, individuals with some college but no degree typically bring in lifetime earnings of $1.55 million, and those with only a high school diploma earn $1.3 million.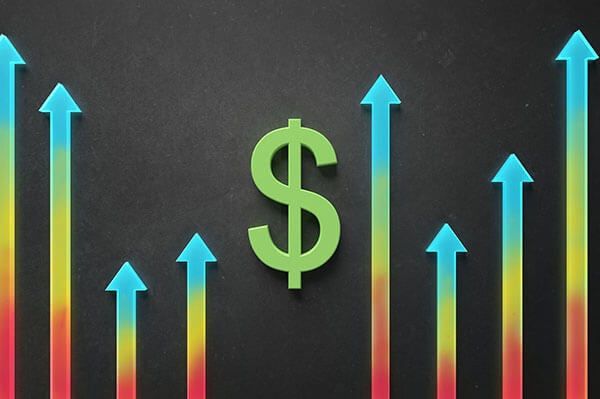 Are there major differences in bachelor's degrees?
As you might imagine, what you study in college can have a dramatic effect on how much you'll earn throughout your career. For example, a bachelor's degree in fine arts can prepare you for a future in various creative fields in which you can expect to earn about $36,000 per year early in your career, according to the Bureau of Labor Statistics. That's perfectly fine and respectable if creativity and freedom of expression are motivating factors for you and your professional goals.
However, if you earn your bachelor's degree in business with a specialized concentration in a hot area of the job market, your career horizons broaden exponentially along with your earning potential. For example, today's financial managers have a median salary of $125,080, while marketing managers typically earn about $142,170.
If you're more of a techie, the numbers really start to add up in your favor. Computer and information research scientists are in high demand and can take home an average annual salary of $114,520 according to the BLS. The market gets even hotter in areas like Cloud Computing, Cybersecurity, and Data Analytics.

Calculate your ROI and consider your options.
Once you understand the impact a bachelor's degree can have on your future earnings, it's important to calculate the cost of earning one, along with the number of years it will take to recoup your investment after graduation.

Generally speaking, the average cost of a traditional college education continues to rise. For the 2017–2018 school year, tuition at a four-year private college costs an average of $34,740. Factor room and board into the equation, and the average graduate will still come out ahead based on the yearly increase in pay they are likely to receive (depending on the field they get into), but it may take longer to pay off loans.

A faster and more efficient path to graduation might be to consider an online degree from a respected, non-profit institution like Western Governors University. Not only does WGU offer tuition and fees that are roughly half that of most undergraduate programs, its graduates report an income increase of nearly double the national average within four years of graduation. In fact, WGU graduates, on average, increase their income by $10,100 within two years of graduation.

Even better, the average student loan debt of WGU graduates in 2017 was less than half the national average. Many WGU students also receive scholarships and grants that make earning their degrees even more affordable: In 2017 alone, WGU awarded more than $10 million in scholarships to nearly 6,000 students.

Find a program that's right for you.
It's a good time to be an educated professional. The demand for highly skilled employees in today's hottest job markets continues to outpace the supply, and a college degree continues to be one of the most lucrative investments you can make in yourself and your future.