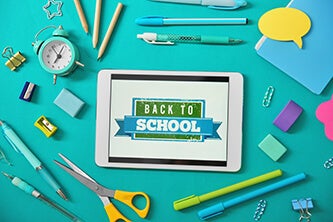 For teachers and paraeducators across the state, the countdown to the first day of school has begun. We understand if that's bittersweet. Soon, summer will be over, but prepping for the new school year can be fun: preparing fun lessons, decorating classrooms, and collaborating with colleagues.
Also, there's back-to-school shopping: picking out and planning outfits for those first days of classes.
Participate in our Back-to-School Share-a-thon and you could return to work in style. We're giving away six gift cards  to the WGU Online Store – good for exclusive WGU Washington swag! Here's how to enter:
On you Facebook, Twitter, Instagram, LinkedIn, or YouTube page, post a response to one or more of the prompts listed below. Each week through the end of September, we'll pick one winner from among all, eligible posts. Winners will receive a code to the Online Store and a special gift from our team.
Also, to make sure all your friends and co-workers see your posts, use the hashtag #WGUB2S and tag WGU Washington's social media channels: @WGUWashington
If you work at a school, university, or college you are eligible to win – that means our paraeducators, school nurses, and admins can enter too!
1. Week 1: Summer Reading (August 19-25)
Did you find a great book or article this summer that you are raving about? Give a short "book report" and let us know why you loved your read and why others should check it out. Submit a description (with book cover if possible) or a short video.
2. Week 2: Classroom Hack (August 26-September 1)
Have a great way of appointing class jobs, keeping your space organized, increasing engagement? Share your best life hacks that help you with your school day with us and your peers. Submit or photo (with caption) or short video describing your hack.
3. Week 3: Divine Design (September 2-8)
A well designed space can be a source of inspiration and motivation for students. Share off your creativity and post a photo or video showing how you decorated your learning space this year.
4. Week 4: Personal Project (September 9-15)
What project are you most excited about your students completing this year? How did you develop this project? Submit a description or video about the project and why you love it.
5. Week 5: Cultivation (September 16-22)
How do you connect with your students during the first month? What expectations do you set? How do you build a respectful learning environment? Submit a description or video.
6. Week 6: Peer Support (September 23-30)

Having a friend at work is important for staying motivated, accountable, and lessening stress. Take a photo with your closest colleagues and tell us why you love working with them.
Thinking about earning a bachelor's or master's degree? Thanks to WGU's Back-to-School Scholarship, you may be able to get your education for less. Learn more about this scholarship.
August 25th: $25 to the WGU Online Store
September 1st: $25 to the WGU Online Store and WGU Washington pennant
September 8th: $30 the WGU Online Store and WGU Washington pennant
September 15th: $50 to the WGU Online Store, WGU Washington pennant and notebook.
September 22nd: $75 to the WGU Online Store, WGU Washington pennant, socks, and notebook.
September 30th: $100 to the WGU Online Store, WGU Washington pennant, coffee tumbler, socks and notebook.
Rules and regulations: 
1. This campaign is open only to WGU Washington students and graduates.
2. Your entry must fulfill all theme requirements, as specified, to be eligible to win a prize. Entries that are incomplete or do not adhere to the rules or specifications may be disqualified.
3. Winners will be selected by a random drawing by the WGU Washington staff. Winner will be notified via appropriate social media channel. If a winner cannot be contacted, is ineligible, fails to claim the prize within 10 days from the time award notification was sent the prize may be forfeited and an alternate Winner selected.
4. By entering this content (photo, video, text, etc.), You understand and agree that WGU, anyone acting on behalf of WGU, and WGU licensees, successors, and assigns, shall have the right, where permitted by law, to print, publish, broadcast, distribute, and use in any media now known or hereafter developed, in perpetuity and throughout the World, without limitation, your entry, name, portrait, picture, voice, likeness, image, statements about the Campaign, and biographical information for news, publicity, information, trade, advertising, public relations, and promotional purposes without any further compensation, notice, review, or consent.