Bill Stainton is a modern-day renaissance man. The Mukilteo resident has won dozens (yes, DOZENS!) of Emmy Awards as a TV producer, writer, and performer. He's an author and motivational speaker. He's worked in corporate management and gained extraordinary insight into what it takes to lead and succeed in business.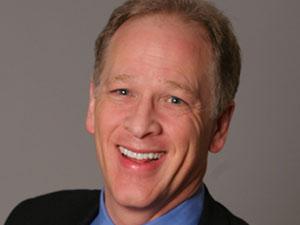 He's an internationally-recognized expert on the Beatles and, working on the iconic, sketch comedy show Almost Live!, Bill helped launch the careers of Joel McHale and Bill Nye the Science Guy. (You could say his friends got by with a little help from Bill.)
Bill Stainton is also ahead of his time. The educational journey he followed on his path to success was nontraditional — like many, contemporary students. He admits he needed a break between high school and graduating from college, and going back to school later in life allowed him to achieve more academically.
"I actually dropped out of college after about two years," said Bill. "I realized that I was attending simply because it was what you did after high school — but I didn't know why I was attending. My parents were chagrined, but after a year and a half, I returned to college and graduated magna cum laude."
On April 28, Bill's many talents and experiences will color the keynote remarks during WGU Washington's commencement ceremonies at Seattle's KeyArena. He will deliver messages of dedication and the value of lifelong learning to the Class of 2018, many of whom are midcareer adults and from traditionally underserved student categories — including racial minority, low-income, rural, and first-generation college student.
"I have so much admiration and respect for the graduates of WGU Washington," said Stainton. "It's wonderful when people choose to return to school, and the journey to graduation isn't always easy. I'm excited to be a part of that special day and help them celebrate."
WGU Washington's Class of 2018 is the largest ever in the online university's seven-year existence. On April 28 at Seattle's KeyArena, two ceremonies — one for master's graduates and one for bachelor's degree recipients — will recognize over 3,000 women and men who have earned degrees from WGU Washington over the last twelve months. The graduates live and work in 24 counties across the state and have earned career-ready degrees in high-demand fields, including healthcare, IT, education, and business.
Event Details:
What: WGU Washington Commencement Ceremonies
When: Saturday, April 28, 2018; Master's Ceremony: 9:30AM; Bachelor's Ceremony: 1:45PM
Where: KeyArena at Seattle Center; 305 Harrison Street, Seattle, Washington 98109
Keynote Speaker: Bill Stainton, Emmy Award-winning humorist