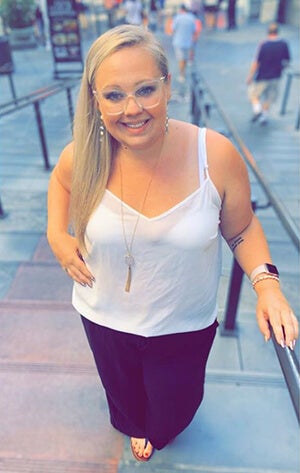 Around this time each year, many are making plans to give back to their communities. National holidays like Giving Tuesday remind us to give generously to those in need. The spirit of giving is exemplified in business management student and Snohomish County resident, Chelsea Saunders. Chelsea devotes her professional and personal life to philanthropy year round.
Chelsea's passion for community service began early when she heard of an opening at the Boys and Girls Club of Snohomish from her high school volleyball coach. The Boys and Girls Club is a national organization with multiple chapters in each state that provides afterschool programs and mentorship to K-12 students to help them thrive, learn, and grow.
She applied on a whim, thinking it would be a good opportunity to make some extra money and ended up falling in love with the organization. And Boys and Girls Club certainly saw promise in Chelsea; after she graduated from high school, she was hired full-time as a program director.
Chelsea is proud of her many years of work with the organization and the ways her chapter has supported children in their community. "Our Club went from being in deficit to probably the largest childcare organization in Snohomish County."

Her commitment to community impact doesn't end at work. This holiday season, Chelsea is assembling donations for Festival of Trees. This annual tradition tasks volunteers with gathering donations and shaping them into a festive tree or wreath which will go to families in need.

Chelsea also manages her own non-profit as Executive Director of Totes for Kids. The program focuses on supporting foster children, who often end up moving their few belongings in trash bags when they transition to a new home. Totes for Kids provides totes, pajamas, and toiletries to foster care workers. When a child enters the foster system those supplies are waiting for them.

"No one's life should be reduced to a trash bag. We just want to give those kids a little more comfort when they're entering a hard life transition."

Chelsea is also heavily involved in multiple organizations that support funding education, small businesses, and community needs. As the VP of Soroptimist International of Everett, she manages their fundraising events, including organizing the annual auction and this year's poinsettia sale. She also lends her fundraising expertise to Snohomish Kiwanis and Snohomish Lions.

"It's just become a part of who I am. I feel like it's really rewarding when you give back and you see someone else succeed because of your efforts."

This year, Chelsea was moved to the development team for Boys and Girls Club, where she is responsible for fundraising. Having held leadership positions with Boys and Girls Club from a young age, Chelsea felt that it was necessary to go back to school to enhance her business skills. Her busy schedule required a program that allowed her to study on her own terms—that led her to WGU's College of Business.

"The draw for me was the flexibility," says Chelsea. "Being able to log-on when I can. Working full-time and also being involved in a lot of volunteer work, sometimes time is hard to come by."

Post graduation, Chelsea plans to continue working with the Boys and Girls Club, but knows her degree will open more doors in the organization. "I'll feel like I'll have more opportunities when I graduate. When I look at other positions, many require a bachelor's degree."

Chelsea is able to apply skills directly from her WGU program, such as HR compliance and technical skills, directly to her work in the Boys and Girls Club. Her additional expertise will add to the important work of her organization, as she and her colleagues continue supporting Snohomish county children.