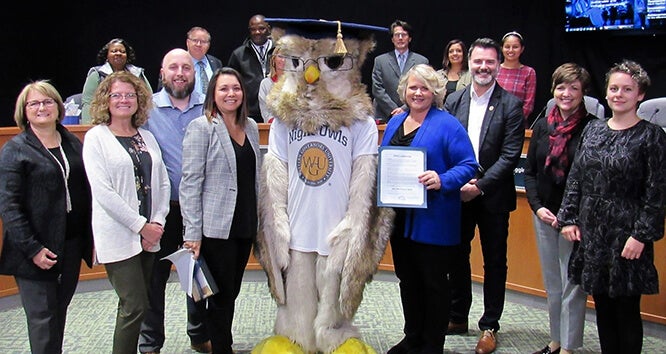 Mayor Dana Ralph (fourth from right) stands with members of the WGU Washington staff and Kent City Councilmembers after the announcement of WGU Washington Week.
As mayor of Kent, Dana Ralph has recognized many organizations for the positive impacts they've made on her community. But during a recent city council meeting, she provided an acknowledgement with special significance.
"Our next proclamation is very near and dear to my heart," said Ralph.
From her seat among council members and other city leaders, she described the importance WGU Washington has to local residents and businesses. Then, she proclaimed November 10-16, 2019 as WGU Washington Week in the city of Kent – a celebration of the difference the university has made in the south King County community, as well as to Ralph personally.
"Like many of my neighbors, I am a graduate of WGU Washington," said Ralph. "Together, we are proof that Kent residents can earn degrees and advance in their careers – without having to quit our jobs or leave the city for classes. And we apply what we've learned in our work every day, strengthening this community and helping drive the region's economy forward."
Ralph has earned three degrees from WGU Washington, including a Master of Business Administration earlier this year. In 2015, she graduated with a bachelor's in business management, as well as a master's in management and leadership. She is one of nearly 500 women and men from Kent who made the extraordinary decision to go back to school and fulfill their education dreams. 
"WGU Washington's mission is to increase access to affordable bachelor's and master's degrees that help address key, workforce needs," said Dr. Tonya Drake, Chancellor of WGU Washington. "We are thrilled to be making a difference in Kent and the surrounding area – and honored to be recognized by our three-time graduate Mayor Ralph in this way."
As part of the WGU Washington Week celebration, university employees, students and graduates will host an event for members of the Kent Chamber of Commerce, volunteer at Northwest Harvest's Kent warehouse, and hold a special WGU Night during the Seattle Thunderbirds game on Nov. 16.