Students, alumni, and faculty took a needed break from the heat with refreshments provided by Scuttlebutt Brewing at the latest Community of Scholars Celebration. This was the seventh, and largest, event in the statewide series which aims to recognize WGU Washington's community impact and the fantastic work of Washington Night Owls.
Scholars with chancellor Drake Chancellor Drake recognized scholarship recipients from the Everett area, including Jennifer McPherson and Jamie Voigt. Jennifer is pursuing her master's in nursing to become a stronger leader at her DaVita hospital. She is heavily supported by her grandmother and sister, who is also a nurse. Jennifer hopes that she will inspire her sister to attain her master's as well.
Jamie is also striving towards better leadership — she was awarded the Women in Leadership Scholarship and is working towards her master's in management and leadership. Jamie was inspired to earn her next credential by seeing the gaps in leadership skills during her career.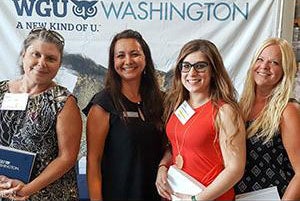 Chancellor Drake honors scholarship recipients Diana Whitaker, Jennifer McPherson and Jamie Voigt.
"As I began my journey in the working world I have had some challenging experiences with people who have landed in leadership roles and their hearts were not in it. That solidified my decision to want to further my education so that I could be the type of leader I would want to work for." Jamie intends to use her skills to direct philanthropic organizations.
Jamie was joined by many of her classmates from the College of Business. Almost every degree program from the college was represented, giving students and graduates the opportunity to network with similarly oriented Night Owls.
To see pictures of the Community of Scholars Celebration in Everett, head over to our Facebook Page.