Three days before Marissa Price started her journey at WGU Washington, she found herself unexpectedly homeless and broken-hearted following the break-up of her seven-year relationship. She couldn't see a path forward and wanted to quit before her first class even started.
Thankfully, she persevered, and her sure-fired resilience and unwavering support from her mentor, GK Morell, culminated in Price becoming the 250,000th graduate from WGU.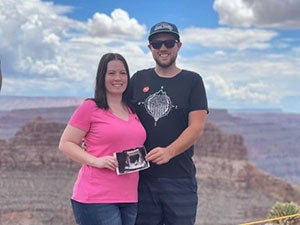 Marissa Price and her boyfriend, Mike, announce their pregnancy on a visit to the Grand Canyon
"I wanted to enter the human resources field and kept on applying for jobs but didn't get them since I needed a degree," said Price. "WGU created an opportunity for me where I didn't have to take time off from work and where I could afford it with help from my employer. There's no way that I could have done it without WGU."
Along her three-year path to graduation, Price dealt with other life-changing events that could have derailed her dream of graduating, but with the guidance and encouragement of the WGU program mentor, she stayed on course and was able to finish her degree in her own time. 
"No other school would have given me the time I needed to balance my work and personal life. Many times, I thought, why should I start if I can't finish it," said Price. "My advice to anyone out there who wants to go to college is that you have more time than you think you do and resources and support available."
Price admitted that she wasn't too keen on having a mentor in the beginning, as she thought it would feel "like a babysitter."
"I was so wrong. I couldn't have done it without GK Morell," she said. "He had faith in me when I couldn't see a way. He was my anchor, and I didn't want to disappoint him."
Morell, who joined WGU seven and half years ago, remembered Price wanting to hide from the world, but he encouraged her to not hide from school.
"There is not one cookie-cutter size that fits all students. I found out what motivated her, and we talked about her why and purpose for her career," Morell said. "When she couldn't reach the bigger goals, we celebrated the small ones. It was not easy, but she stuck to it no matter what."
Morell encouraged Price to use the resources that were available through WGU to heal and support her vision to enter the human resources field.
"I'm so proud of Marissa," he said. "It was a transformative experience for me too. Finding out that she's our 250,000th graduate is a bond that we will always share."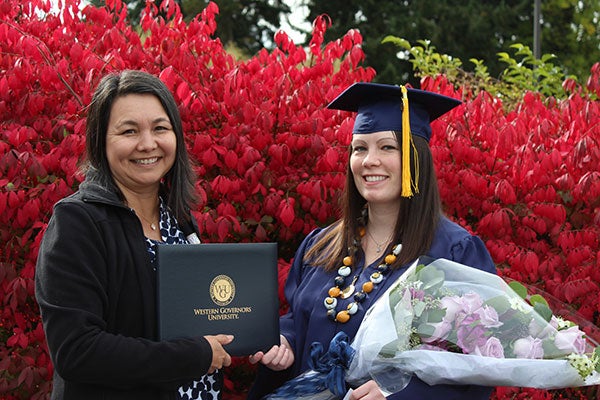 Dr. Tonya Drake, Northwest Region VP and Marissa Price, WGU's 250,000th graduate
Price also credited WGU's competency-based education, which measures skills and learning rather than time spent in a classroom. Students progress through courses as soon as they can prove they've mastered the material, rather than advancing only when the semester or term ends. 
"It was a huge reason why I chose WGU and was able to stick to it," Price said. "It reduced the redundancy of taking classes I previously had for my other degree and kept me interested and not bored."
Three years later, Price's career and personal life is at a place where she could have never imagined. She's in a happy relationship with her boyfriend, has a dog, and is pregnant with her first child.  Upon graduation, she got a job in human resources and plans to pursue a career as a recruitment manager. 
"I wanted to climb higher, and I did. WGU allowed me the leniency that I needed to graduate," she said. "Time heals all wounds, and sometimes life gets better than you ever imagined."
By Courtney Dunham, Communications Manager for WGU Northwest Regional Operations. For media or other inquiries, contact Courtney at 206.388.8926 or Courtney.dunham@wgu.edu