"You're never too old to finish your dream," Beth Schubert says it with an easy-going laugh. "Right?"
On Nov. 1, the 45-year-old healthcare professional from Puyallup, Washington, began work on her master's degree through WGU Washington.

Nobody would dare bet against her completing it, either. Schubert's middle name should be perseverance. Or tenacity. Her life is worthy of a book with one driving through-line to the plot: Healthcare.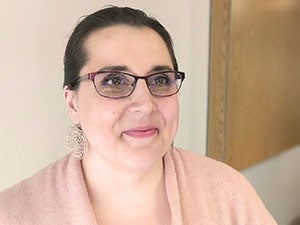 Schubert never lost sight of her goal to become a nurse. And today, that life-long goal is about to come full circle. From the patient to the student to the teacher, she brings a unique perspective to her teaching and healthcare positions. 
She's known doctors and hospitals and nurses all her life. She was born with severe asthma, battling this disease on and off again until three Bronchial Thermoplasty surgeries in 2015 eventually stopped a chronic "status asthmaticus" condition, when the asthma attack never resolves. This disease and the care provided were a precursor to becoming a nurse. She grew up to admire her caregivers.

"When I was in kindergarten, I realized that they were going to come at me with a needle, and it was just easier to put my arm out and let them stick me than it was to spend 20 minutes crying about it," Schubert recalls. 

Persistence led to a career in healthcare. With life's twists and turns, Shubert started and stopped her dream of becoming a nurse multiple times after getting married, having two children and working multiple jobs to make ends meet. Caring for a child with special health needs of his own only added to Shubert's disrupted career journey. 

 "I was providing 100% of his personal care," says Schubert. "He was severely autistic and nonverbal. It's interesting how life circles around. I met my husband at the camp for kids with this same disorder. He didn't know that it ran in his family."

After completing her Certified Nurse Assistant (CNA) courses, she applied to the nursing program at Pierce College. She was accepted. In 2013, she graduated with honors. 

Shubert completed her licensure exams with a perfect score, and she started her critical care residency at the hospital where she grew up. Another full circle moment.

Shubert's asthma flared striking another blow to her healthcare career journey. She went into respiratory failure and in the next 30 months was hospitalized 27 times. Schubert, however, worked for 18 years to become a nurse. So, on the days when she was feeling okay, she worked. 

Despite these setbacks, it didn't take long for the hospital to recognize the contributions Shubert was making. She was approached by the executive nurse at the hospital with the idea that Schubert help the hospital achieve "magnet" designation. Schubert was tasked with inspiring nurses to further their higher education and then, in the summer of 2017, Schubert started her own BSN program. This time, she chose WGU Washington. 

In December of 2018, Schubert reached the finish line at last, graduating from WGU Washington with her BSN. 

But soon, on the advice of physicians to stop working marathon shifts at the hospital, she was hired by a hospice program to work as an intake coordinator—an opportunity that would never have happened without the degree. 

In 2021, Schubert was hired by Pierce College Nursing as a part-time instructor for their Associates Degree Nursing Program and soon, once her master's degree is complete, she can teach at a nursing program at any institute or higher education program in the state. 

"Going for my master's degree to open those doors was an easy decision," said Schubert. "The idea that I can help train the next generation of nurses is another terrific example of life coming full circle. You just never know." 

No matter where she goes, Schubert says she promotes WGU. So far, she has encouraged 60 other nurses to pursue their own path at WGU Washington. 

In the face of a national nursing shortage, experts believe that 1.2 million new nurses need to be added to the workforce by 2030 to meet demand. Schubert believes WGU Washington might be just the trick due to its efficient approach.  

"I think it's about letting people know that you can have a life and earn your degree," says Schubert. "And they can progress beyond that CNA level. They don't have to get stuck. Nineteen dollars an hour is good, but it's not that much above minimum wage. 

"I see them get married, and they might have a couple of children and they get stuck. It's hard to step out of that because you have to risk something to get ahead. I sit them down and see what college courses they might have already completed, and I show them a roadmap with WGU and how they can get to the next level."

One major benefit of the WGU Washington model, Schubert says, is avoiding all the driving time to a "brick and mortar" university. In addition, she's not putting in seat time to earn credits. She can demonstrate what she knows. One tough test in statistics gave her the credit she needed, so no need to sit through a three-month course. 

"As a very busy mom, I think WGU is incredible," says Schubert. "It was so flexible, and I had this incredible person behind me, a faculty mentor, giving me all this energy to complete the work.

Before I found WGU Washington, I didn't think getting my BSN was going to be possible for several more years. How was I supposed to fit it in, right? But when I saw the WGU approach, I knew I could fit it in."

It is solutions and commitment like Shubert's that bring passion and talent full circle. The next generation of nurses are benefitting from her incredible journey. And healthcare has gained another champion.