When Cole Frandsen-Smith decided to go back to school and finish his bachelor's degree, he didn't have to look too far to find inspiration. His mother, Kim Frandsen, returned to get her master's degree at Western Governors University  (WGU) after more than three decades as a teacher in the Salt Lake City area. That midlife decision inspired her son to follow suit, which in turn, motivated his father and his husband to do the same, making going back to college a true family affair.
"My mom was the first to show her kids that she wasn't pressuring her children to do things that she herself was not willing to do," Frandsen-Smith said. "It's the concept of putting your money where your mouth is and leading by example. What better way to put some weight behind that conversation, than doing it yourself?"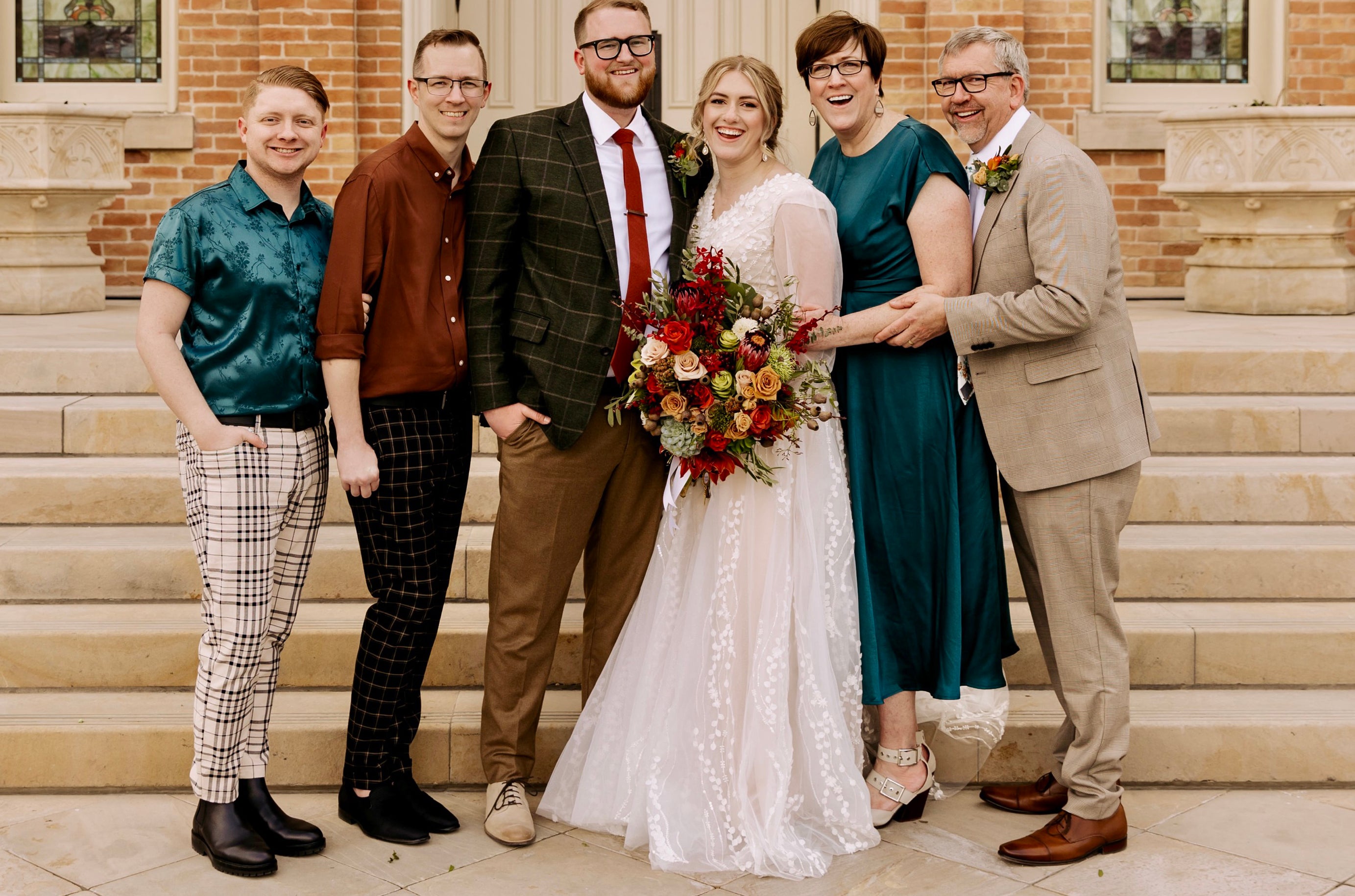 From left to right: Cole Frandsen-Smith, Dustin Frandsen-Smith (husband), James Ferrin (brother-in-law), Taegan Frandsen Ferrin (sister), Kim Frandsen (mother), Brad Frandsen (father).
Frandsen-Smith followed his mom's lead and enrolled in a state college, but he soon found out that a traditional university setting was not for him. He wanted to begin his career and start earning a living. Frandsen-Smith thought that a strong work ethic would prove a worthy supplement for his career progress, even before he completed his degree. He was wrong.
Despite being one of the team leaders at a top travel company, Frandsen-Smith found himself training managers, some of whom would get promoted over him because he did not have a degree. It was then that his mom, Kim, told him to look at WGU.
Frandsen-Smith applied for a job at the university where he could not only advance his career, but also get his tuition at a substantial discount. This time, his hard work paid off. When he wasn't working as an executive assistant to the regional vice president, Frandsen-Smith diligently studied and passed all his coursework whenever he found time.
"I passed up on a lot of fun things that I wanted to do because it was so important for me to finish," he said.
Frandsen-Smith is now set to walk next month in WGU's commencement ceremony with a Bachelor of Science Business Administration in Human Resource Management .
Along his education journey, he then inspired his future husband, Dustin, to get his bachelor's degree in elementary education. While Frandsen-Smith was working on his degree, he and Dustin often planned homework nights, supporting each other throughout the process.
The parent-child education connection came full circle when Frandsen-Smith's father, Brad, decided that he wanted to finally finish his bachelor's degree, too. Despite owning a successful business in Salt Lake City, his father always wanted to go back to school.
At his age, it would have made no sense for him to go back to a typical four-year college where it would have taken much longer to finish, especially because it does not offer the competency-based educational model that allows students to study coursework and pass exams at their own pace, Frandsen-Smith said.
His dad is now in the business management program at WGU. "He's wanted to finish his degree, and it was the right time at the right place," he said.  "That's what WGU is all about. It just kind of fits in at that right time and right place for people and it did for him. It did for all of us."
Although not in the same program, they were both in the business college, so they occasionally had a core set of courses together. This prompted some friendly banter and competition between father and son.
"I remember submitting a paper for a course that was 10 pages long. My dad submitted his for the same course that was only a page and a half, and we both passed.  I was like, 'You have got to be kidding me,'" Frandsen-Smith remembers. "Then, sometimes Dad would text me and say, 'Stop telling me you're passing all these classes. It's making me feel bad! Even though we were joking, we both found it motivating."
Although Frandsen-Smith beams with pride over his upcoming commencement, he is most proud of the fact that, ultimately, they all did it together.
"Now, there's four of us who will eventually graduate," he said. "I'm still trying to rope a few more family members into the owl's nest."