Like so many occupations, nursing is a field in which education pays off. Degrees can lead to promotions, higher salaries, and more opportunities to make a positive impact in the workplace. WGU grad Tiana Wright works at a top healthcare organization and helps connect her nurses to the right learning opportunities to help them grow and advance in their careers. In the following guest article, Tiana shares her expertise on why going back school matters—and how working nurses can choose programs that fit their busy lives and career ambitions.
Are you considering returning to school to earn your BSN or MSN degree? My job is to help nurses find education opportunities!
By Tiana Wright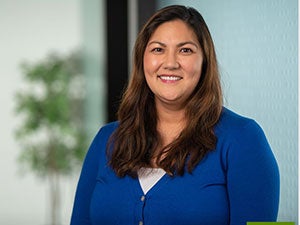 Tiana Wright
At my organization I'm a Clinical Education Specialist, commonly called a Nurse Educator. Nurse Educators work like consultants within an organization for anything that involves nursing practice. I support the nursing staff at my organization with their education, training, and professional development. I also work to expand nursing roles by developing policies and procedures at our clinics and building training programs by shadowing nurses in the field.
I started as an RN and returned to school to earn my MSN through WGU while I was a staff nurse. Now I get to help the nurses at my organization further their education.
Here are some of the top considerations for nurses who want to go back to school and earn that higher degree!

Benefits for You

I would say the most important benefit of earning a higher degree is to expand opportunities within the nursing field. There are a lot of roles nurses can fill other than a staff nurse. For people with different passions or who are at different points in their careers, going back to school gives you more options and opportunities to specialize in your field. You also are eligible for leadership positions that come with more responsibilities and a pay increase.
Another benefit is that you keep your skills sharp. If someone's been in practice for a long time, it's a great way to learn what's new. What's new in the world of nursing? What's new in nursing practice? What kind of advancements have been made? You get additional knowledge and techniques that resonate with you and you can then incorporate them into your nursing practice.

You also brush up on your foundational skills and grow your problem-solving skills through evidence-based practice, which increases patient safety. Instead of Googling something while you're on the floor, while you're in school you'll find evidence-based journal articles or other resources you can bring to your patients. It reinvigorates you as a nurse to say, "Hey, I'm the face of nursing and, my patient is going to benefit from interacting with me and my expanded knowledge." It really elevates the profession of nursing.

We all want to continue to grow and be better at what we're doing and going back to school is a surefire way that you're going to be able to do that.

Benefits for Your Organization

On the organizational side, developing your existing staff is one of the key things to growing a strong nursing practice within your organization and advancing it. The more educated your nurses are, the more they're able to act as ambassadors and mentors.
At my organization, we strive to continue to bring up the scope of practice for nursing and encourage nurses to practice to the top of their scope. Then we have them pass on their expertise to the rest of the staff. Experienced nurses teaching other nurses enriches the culture of the organization. By furthering your education, that's a guaranteed way you can also build that culture within your organization.

Options for Going Back to School

Nowadays there are so many options for working adults returning to school. You can check out your local brick and mortar, look for online programs, or find a hybrid program that's part online, part in person. One nurse at my clinic is attending a hybrid model program which is mostly online, but she flies to her out-of-state school occasionally for in-person sessions.
Definitely talk to your Nurse Educator or leaders at your organization for advice about going back to school. They'll have great recommendations and will also know about partnerships with schools for tuition discounts and reimbursement.

My organization helped me find WGU and reimbursed my tuition expenses for the MSN program. My tuition was mostly funded by reimbursement and financial aid.

Important Considerations

The first thing to consider before going to school is what do you want out of it? Do you have something you're aiming for, like a new position or area you want to work in? I think one difference as an adult is that when you have a full time job, you have to really want to go back to school. Understanding and identifying the area you want to advance in and knowing what you need to do that job will be your motivation. Having that motivation will keep you on track and judicious with the time you devote to your studies.
Then, think through the barriers to getting that degree. How are you planning to pay for this? What scholarship opportunities are available? What is my organization's tuition reimbursement situation? How much time and energy do you have on top of your other responsibilities? Is this a good time in my life with what I've got going on with my job and my family? And do I have support from both to pursue this degree? I was really lucky, because I have two small kids and had my job to consider when I went back to school. But my husband and my organization were super supportive and going to WGU gave me a flexible schedule for my degree program.

Get with your family, your co-workers, your Nurse Educator and have those conversations. I think it made a big difference to talk about it with all my mentors and managers at work, so I had that support from my organization.

If you're in the right place, going back to school is an amazing opportunity!