By Jake Riddell and Taite Pryor, WGU Washington
In today's technological environment, the ever-present threat of cyberattacks looms over many – if not all – aspects of 21st-century society. Hackers target organizations and individuals. Their motives can be wide-ranging, from financial or political gain to corrupting the world of sports. Just last month, Microsoft announced hackers infiltrated the online networks of more than a dozen sports and antidoping agencies.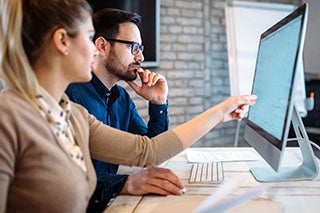 For those reasons, the safety of digitally stored data and information is vital to maintaining privacy, as well as defending the systems and structures of modern culture. It's like locking the door against outside dangers aimed at harming how Washingtonians live life and do business. 
"For the same reason physical security is important, cybersecurity is important," says Siggi Bjarnason, a Senior Security Engineer at T-Mobile and WGU graduate. "It protects us from criminals. A street-smart person wouldn't leave their front door open, their valuables laying around in the open, or go down a dark alley in the middle of the night. Cybersecurity is about applying similar protections to our digital lives as we apply to our physical lives."
Cybercriminals wreak havoc by launching new, sophisticated computer viruses, malware, and other scams. Despite those threats, in Washington state and across the nation, hundreds of thousands of high-paying, in-demand jobs remain unfilled due to a critical shortage of educated and trained cybersecurity professionals.
Recently, WGU partnered with LinkedIn to examine the cybersecurity job market and grasp the enormity of the skills gap. That study showed job listings for cybersecurity positions have grown by more than 50 percent year over year from 2014 to 2017. Additionally, it found demand exists not just in large corporations but in small and midsize companies, as well.
To help address that demand, WGU offers both bachelor's and master's degree programs in cybersecurity and information assurance. Those programs closely align with the National Initiative for Cybersecurity Education and were designed with input from cybersecurity experts and leading IT employers to meet the most recent U.S. Department of Homeland Security and National Security Agency guidelines. Also, graduates earn multiple, industry-recognized certifications included in the cost of tuition.
The nonprofit, online university also offers the WGU Cybersecurity Scholarship, valued up to $5,000 per award. New students enrolling in one of the cybersecurity programs are eligible to apply, and the deadline for applications is December 31, 2019.