On a perfect, spring day, WGU Washington students, alumni, faculty, and staff got together at Fortside Brewing Company in Vancouver. It was the latest event in the university's Community of Scholars Series — a program celebrating WGU Washington's tremendous impact in cities and towns across the state.
Community of scholars Among those in attendance, Kerri Cannady, a recipient of the WGU Military Appreciation Scholarship. A student in WGU Washington's Teachers College, Kerri received special recognition for her scholarship award and stood up in front of the crowd to be acknowledged. Her husband, who served in the US Armed Forces, was also recognized with a round of applause.
The College of Health Professions was well-represented on the night, with many nurses and other healthcare professionals joining the festivities. Additionally, several faculty and staff servicing that college showed up for the fun.
As with every Community of Scholars event to date, the atmosphere was lively and most people stuck around past the scheduled ending time — a sure sign of a successful get-together.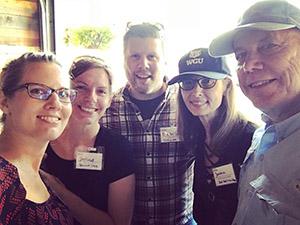 WGU Washington student Kerri Cannady (left) celebrates receiving the WGU Military Appreciation Scholarship with her family and friends.