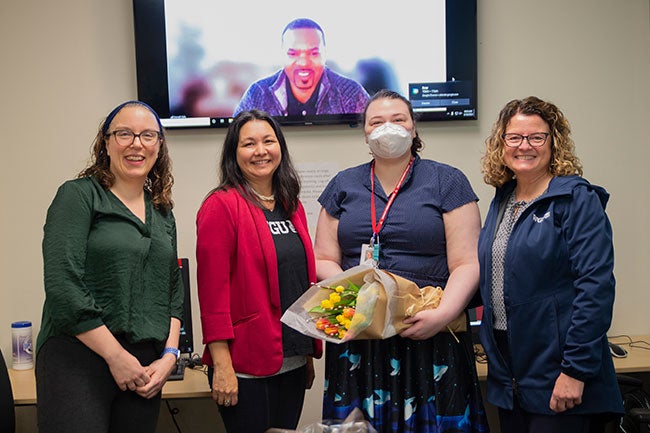 "Sadie is right there – eagerly ready to assist."
That's how Sadie Bedford's co-workers at Everett Community College (EvCC) described her when they put her forward for a special, Administrative Professionals Day recognition. And it only illustrates a fraction of who she is and her contribution as an administrative assistant.
Sadie has been in Workforce Funding at EvCC for nearly four years.
"Sadie has helped to create organized, streamlined processes for our department, always keeping the student experience in the forefront," said EvCC Workforce Funding director Angelic Sedivec.
Like Sadie, many administrative staff members do amazing work – often just outside the spotlight. WGU Washington is, in a small but meaningful way, working to change that.
The nonprofit, online university developed a program to honor the important contributions executive assistants, secretaries, receptionists, and other administrative support professionals are making within WGU Washington's many partner organizations. The university provided its partners, including EvCC, the opportunity to nominate individuals for acknowledgement and celebration.
Sadie rose above many, outstanding nominees – in part – because of the impressive number of co-workers who submitted her for recognition; she received ten nominations.
Those same co-workers plotted with a team from WGU Washington to surprise Sadie during a recent staff meeting. With EvCC interim president Dr. Darrell Cain dialed in virtually, WGU Washington chancellor Dr. Tonya Drake and senior partnerships manager Andrea Nelson walked into the conference room and showered Sadie with many of the kind words her colleagues shared about her.
"Sadie not only assists with all of the administrative duties of our department, she also is the first person our students see when they come to our office," Andrea read from one of the nomination forms. "Sadie consistently goes above and beyond to ensure that our students are served with grace and love."
Sadie handles every challenge that comes her way – and makes it look easy. Congrats, Sadie. And thank you – and all your fellow admin professionals – for the excellent, important work you do.
WGU is proud to offer the Administrative Professionals Scholarship. The university will award multiple scholarships – each valued up to $4,000 – to motivated admin support professionals ready to achieve the dream of a college degree in business, information technology, education or health professions. To learn more and apply, click here.