Tinkerers and the curious—at any age—can find a career in the consistently growing field of IT and cybersecurity. 
That's the message from Western Governors University (WGU) Washington graduate Andre Alfred, Partner Group Program Manager in the Cloud + AI Security Division of the Microsoft Corporation. He is also the first alumni to join WGU Washington's advisory board.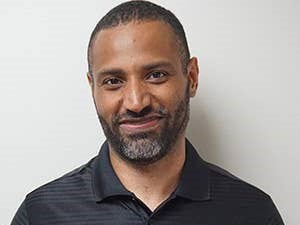 Andre Alfred
Alfred didn't take the traditional route to an IT career, but it was a career path he later realized was set early on in his life. 

He recounts the curiosity encouraged by his parents, who were into computers before they were in every house and office around the world.
"My dad is a retired police officer, and he is also a hobbyist in computing. My mom also worked with IT in banking," Alfred said. "The confluence of those together and my dad's purchase of a Tandy SX 1000 from RadioShack, got me interested in computers as well." 
He playfully acknowledges that people "under a certain age" would have no idea what the Tandy computer is, but it was all part of how he began his interest in computers and eventually IT and cybersecurity.
Alfred earned a Bachelor of Science, Business - IT Management from WGU Washington. A committed lifelong learner, he has leveraged educational opportunities to become a recognized leader in cybersecurity.
Now he wants to help others do the same with the scholarship he created with WGU this year.
The Sheila Guillory Memorial Scholarship
In conjunction with WGU advancement, Alfred created the Sheila Guillory Memorial Scholarship, named in honor of his late aunt. 
"My aunt was a teacher in a community near New Orleans. She would help students in their homes. She would buy them shoes and jackets out of her own funds to help them have an opportunity to have a full educational experience, which was very motivating for me," Alfred recounts. "She instilled the importance of education in me at a young age and continues to motivate me in my life and career."
The Sheila Guillory Scholarship is donor-funded and worth up to $2,500 toward any of WGU's College of Information Technology undergraduate degree programs. The goal is to support students in gaining the skills and credentials needed to build a strong IT career with degrees in fields like cybersecurity, data management and analysis, software and app development, network or cloud operations, and others.
"For me to be able to give back to someone starting their IT career, in the middle of their career, or who wants to make a career transition into this new economy, that is where my heart is," he said. "I'm glad to have been able to work with WGU to make the scholarship available to those who need it."
Why Not Me for an IT Degree?

Admittedly, Alfred was a tinkerer as a child, which paired well with his natural intellectual curiosity—something he said fits well in a cybersecurity profession.
"You have to have a good understanding of how multiple parts of a service or system work to be able to protect and defend against attacks, for sure," Alfred explained. "It's a very rewarding career for someone who's always wanting to learn what's new, how to actually build new things, and new ways to defend against digital threats that are growing as we utilize technology for more of our everyday activities."
Alfred wasn't a traditional student, which is why WGU's IT degree program was such a great fit for him and his family.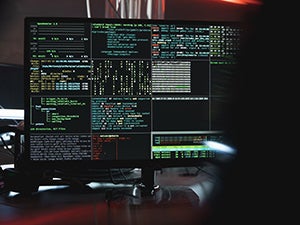 "I already had a job and a family, so at that stage in my life I found WGU's competency-based model was more realistic for me," Alfred said. "I could knock out the things that I knew and really focus on the things I needed to develop, and that was very attractive and saved a lot of time."

He said WGU's online model allowed him to carve out space in his family's busy schedule—whatever it looked like in any given week. This allowed him to finish his IT degree in roughly nine months, launching his IT career quickly and without the heavy debt associated with so many degree programs.
A unique piece of WGU's degree program is each student is assigned a faculty mentor to steer them in the right direction and keep them on track throughout the coursework.
"The mentorship was the real differentiator for me," Alfred said. "It was the person checking in with me continually to say, 'Hey, what are your goals? Keep on track.' My mentor really helped me get through the program and stay on track."
Alfred is just one example of how a high-demand IT or cybersecurity career is within reach for any student.
"I would recommend that anyone thinking they want to dive into a cybersecurity career to go for it. There are so many opportunities and the work is rewarding," Alfred said. "I hope everyone considering an IT career asks themselves, 'why not me?'" 
To learn more about WGU's IT degree programs and the Sheila Guillory Memorial Scholarship, visit WGU.edu.