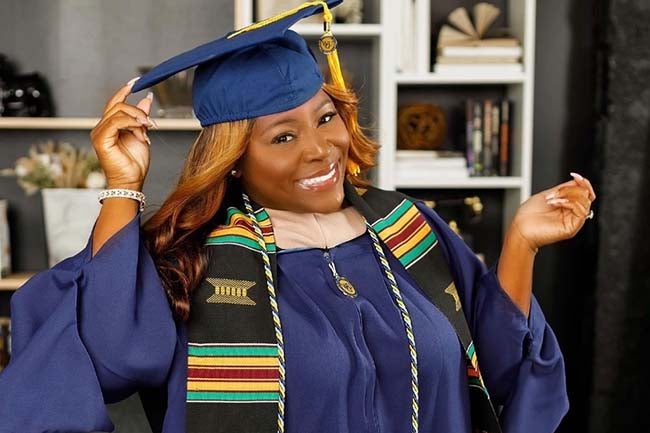 Qu'Teaus Smith: Meet a Resilient Mother of Three Bettering Her Community with her Degree
In 2007 Qu'Teaus graduated high school and embarked on the journey to adulthood. She enrolled in Gordon State College and completed her freshman year. Her sophomore year is when things started to take a turn and life began to happen. She ended up taking a break to deal with the things she was facing and try to find a balance—before she knew it 10 years had passed, and she was a mother.  
Qu'Teaus and her husband have two daughters, ages ten and seven, and they also raise their 13-year-old nephew. Her family life keeps her busy and motivated. In high school, Qu'Teaus was told she would never have children of her own. Now, her kids are her world, and she works tirelessly to supply the best life for them. A first-generation graduate, Qu'Teaus is driven to make a difference in the lives of her team at work and those she serves in her job. 
Qu'Teaus works in multifamily property management and knew that advancing her education would help her develop her skills, advance her team's skills, and help her tenants. A friend suggested she consider WGU for her master's degree—and she is grateful every day that she did. 
"It really gave me a foundation of many different subjects," Qu'Teaus said of her recently completed M.S. in Management and Leadership. The degree has helped in her current role as a property manager in McDonough, Georgia. 
The team that Qu'Teaus manages is close-knit, which helps them be successful. Her new degree has helped her be a better leader for the group. "We all understand the finances, and we all understand our roles [in them]," she said of her small team. The skills gained in her business courses help her in the ever-changing daily work of serving tenants and working with compliance, finances, and customer needs. 
 Qu'Teaus needed a program that would fit with her busy work schedule and allow her to still spend time being a committed mom. "The WGU program worked out very well with my life. Being a mom, being a wife, being a full-time employee, you really have that flexibility to work at your own pace," she added. 
 While earning her degree was manageable, putting time into studying was not always easy. "It was definitely hard," she said. Many times, Qu'Teaus did not start her schoolwork until 1 or 2 a.m. after her job was finished and her family was in bed. "I did not sleep a lot within the last seven months," said Qu'Teaus with a chuckle. 
Qu'Teaus added that without the support of her husband, it likely wouldn't have been possible for her to get her degree. "Many days he took on all household responsibilities such as cooking and cleaning so that I could study. He's a lead aircraft mechanic for Delta and his job is pretty intensive, so for him to come home from working a 12-hour shift and pick up all the household duties so that I could study, is nothing more than unconditional love," she said. 
Unconditional love, support, dedication, and the drive to succeed all came together so Qu'Teaus could earn her master's degree and move forward in her career. At WGU, we're inspired by students like Qu'Teaus who earn a degree while juggling the demands of parenthood and professional life. Are you ready to earn a degree, give back to your community, and change your family's life? Qu'Teaus has some advice. 
 "Just do it. You will not be disappointed. The mentors are amazing. The professors are amazing. Your classmates are amazing," she said. "It's flexible. It's convenient. It's amazing."