WGU has a unique history with Utah roots. Mike Leavitt, former Governor of Utah, and 18 other U.S. governors founded WGU to expand access to higher education. At no other time in the history of higher education have the governors of several states joined together to create a university.
As a nonprofit, online university, WGU offers a convenient and cost-effective way for self-directed, hardworking Utah adults to earn a degree and get ahead. WGU provides an education that's based in real world competencies—the skills and knowledge needed for a successful career.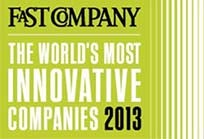 In 2013, WGU was honored in Fast Company's annual Most Innovative Companies issue, ranking among leading businesses including Apple, Amazon, Google, and Target along with such rising newcomers as Square, Fab, and Tumblr.
In ranking WGU, Fast Company notes that WGU offers high-quality, accredited, affordable bachelor's and master's programs in teaching, health professions (including nursing), IT, and business. It highlights the fact that WGU's programs are developed with input from leading employers throughout the industry. And it emphasizes the ways WGU uses innovative technologies to improve learning while keeping tuition low.
See what WGU has to offer Utah adults:
What prominent Utahns have said about WGU.
Gary Herbert, Utah Governor
"For many Utahns, the dream of a college degree has been interrupted by life's challenges, work, and family. That's why I endorse WGU, one of our great Utah universities. You can get back on the path to a college degree and you can do it online. WGU is an integral part of our higher education system in Utah, providing opportunities for thousands of our working adults to earn a high-quality degree at a price they can afford."
Harris Simmons, President and CEO, Chairman of the Board, Zions Bancorporation
"Zions Bank has been a long-time supporter of WGU, one of our great Utah universities. WGU is helping our employees earn high-quality degrees while working full-time and caring for their families. Because WGU is competency-based, WGU graduates are well-prepared and highly valued by Zions Bank. In my experience I have found that WGU graduates possess the leading edge business skills and technology proficiency that enables them to instantly add value."
Michael Leavitt, Former Utah Governor
"Utah has great options for higher education but not all students are the same. For many adults, a college education remains just a dream. That's why we created WGU back in 1997 as a nonprofit Utah University. WGU is all online, and competency-based, making it ideal for rural students and for working adults who can't attend a traditional campus. At WGU, you get a high quality degree on a schedule you control, at a price you can afford."

* The bachelor's and master's nursing degree programs at WGU are accredited by the Commission on Collegiate Nursing Education (655 K Street, NW, Suite 750, Washington, DC 20001, 202-887-6791).