They say no news is good news. We beg to differ.
2012 was a year marked by major growth and milestones at WGU. It was also a year when online college education garnered significant attention in the national media. As an innovator in both online and competency-based degree programs, WGU was often front and center in that news coverage.
Just this month, for example, in The Economist: "To see how efficient higher education can be, look at the new online Western Governors University (WGU)."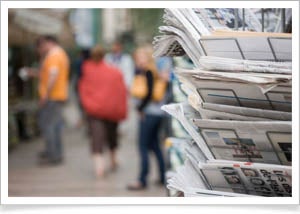 In this post, we round up, in chronological order, some of the biggest media coverage your university received this year. Some are profiles centered on WGU and its unique model; others look at larger educational trends and point to WGU as an example of how we can successfully rethinking higher education. Which story stands out as most significant? What does all this media attention mean to you? Leave your thoughts in the comments below.
Jan. 3, NPR – All Things Considered: "Online School Helps Grown-Ups Finish College"
"Western Governors has stripped the higher education machine down to its parts. The school doesn't develop its own curriculum, so the material Shackleford studies to become a high school biology teacher comes from outside providers. Those kinds of innovations help keep tuition low, at around $6,000. … But the truly unusual thing about this computer-driven system is that it provides a lot of one-on-one attention."
Feb. 7, CNN: "Students Go at Own Pace at School without Boundaries"
"This type of flexibility draws adults who are strapped for time. The average student is 36, and 70% of them have full-time jobs."
Feb. 26, The Chronicle of Higher Education: "A President Brings a Revolutionary University to Prominence"
"Western Governors University, first conceived in 1995, embodied an idea that was ahead of its time."
July 15, The Salt Lake Tribune: "Western Governors Graduates Those who Prove 'Competency'"
"Western Governors' signature innovation is separating academic credit from the time students spend in class. Students study at their own pace and advance when they demonstrate a required competency. … The school has become the darling of education reformers and has drawn praise from Secretary of Education Arne Duncan and others who want to harness the 'disruptive' power of digital technologies to broaden access to higher education."
July 26, Inside Higher Ed: "Graduate First, Transfer Later"
"Western Governors University is a favorite of the college completion crowd, with a competency-based approach that offers an attractive path to a degree for adult students."
August 23, Bloomberg Businessweek: "WGU: A Second Chance at College"
"Laura Huish, of Farmington, N.M., had long aspired to become a teacher but couldn't go back to a traditional college full time because she also had to care for a young child. She discovered WGU while working as a school secretary. 'It was perfect. I could work, be with my kid when I needed to, and work at the degree online.'"
September 12, American RadioWorks: "A School of Clicks, Not Bricks"
"WGU is like no other American university. It is designed to meet the needs of working adults who want to further their education but don't have the time to attend a conventional community college or university."
October 18, Time: "Can an Online Degree Really Help You Get a Job?"
John Steele, senior vice president of human resources at HCA Healthcare, which operates hundreds of hospitals nationwide, likes having a say in what students learn so he can be sure the employees he hires will have the skills his company needs. HCA Healthcare has taken on hundreds of WGU nursing graduates over the years."
November 11, Forbes: "Bill Gates on Why American Colleges Have to Change"
Quoting Bill Gates: "I'm also impressed by the results in places like Western Governors University. Its low-cost online programs rely on competency-based progression, not class-time or credit hours. It uses external assessments to evaluate student proficiency."
November 23, The Wall Street Journal: "The Cost of Dropping Out"

"Robert Mendenhall, president of Western Governors University, a pioneer of this 'competency-based' approach, says adult students in particular are resistant to sitting through lectures on subjects they already understand."
December 1, The Economist: "Higher Education: Not What It Used to Be"
"To see how efficient higher education can be, look at the new online Western Governors University (WGU). Tuition costs less than $6,000 a year, compared with around $54,000 at Harvard. Students can study and take their exams when they want, not when the sabbaticals, holidays and scheduling of teaching staff allow. The average time to completion is just two-and-a-half years."