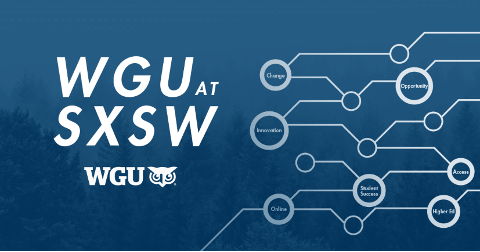 On March 6-9, WGU leaders will participate in a variety of panel sessions at SXSW EDU 2023 in Austin, Texas. They will discuss innovative solutions to current challenges in higher education that will create pathways to better opportunities for all types of learners. Keep reading for details and registration links for each session and be sure to check back here for links to on-demand videos for each panel session.
Creative Solutions to the Rural Healthcare Crisis
Rural communities are losing access to quality healthcare. Creative public-private partnerships can produce innovative solutions that eliminate barriers, create jobs, and provide desperately needed care to patients who are oftentimes most vulnerable. This discussion will highlight how private, non-profit, and public sectors can work together to meet the economic and healthcare needs of our rural communities.
Panelists
Keith Smith (Moderator), Senior Vice President, Michael O. Leavitt School of Health, Western Governors University
Beth O'Connor, Executive Director, Virginia Rural Health Association and former President of the National Rural Health Association
Dr. Alex Ding, Associate Vice President, Physician Strategy & Medical Affairs, Humana
Janelle Sokolowich, Academic Vice President/Dean, Michael O. Leavitt School of Health, Western Governors University
Monday, March 6 | 2:30-3:30 p.m. CST
Hilton Austin, Salon C 
Add Creative Solutions for the Rural Healthcare Crisis to your favorites
Supporting Black, Latinx, & Indigenous Learners
The National Scale Enterprise work through the Bill & Melinda Gates Foundation is designed to close the access and attainment gap for Black, Latinx, and Indigenous learners. Through this grant, Arizona State University, Southern New Hampshire University, and Western Governors University are researching learner experiences at scale to optimize targeted policies and practices. In this session presenters will share powerful insights from the research that are actionable across educational settings.
Panelists

Dale Whitaker (Moderator), Senior Advisor in Postsecondary Success, Bill & Melinda Gates Foundation
Adam Cota, Vice President, Advanced Analytics, Western Governors University
Patrick Rossol-Allison, Associate Vice President, Strategic Initiatives, Arizona State University
Adrian Haugabrook, Executive Vice President, Social Impact Collective, Southern New Hampshire University
Monday, March 6 | 4-5 p.m. CST
Hilton Austin, Salon C
Add Supporting Black, Latinx, and Indigenous Learners to your favorites
Happy Hour and Trivia hosted by WGU
Join fellow conference attendees for networking, trivia, and complimentary hors d'oeuvre and wine/beer from 5:15 to 7 p.m. CST. Wind down after the first day of the conference while also competing for door prizes and mingling with peers at this interactive, come-and-go happy hour session hosted by Western Governors University (WGU).
Monday, March 6 | 5:15-6:45 p.m. CST
Hilton Austin, Salon C
Add the happy hour and trivia session to your favorites
Online Backlash: Bad Policy Holds Students Back
Today, 65% of jobs require some education beyond high school. In the U.S. 62% of working age adults do not have a degree. Together, these numbers illustrate why we have a skills gap; we need to help more Americans upskill to find sustainable employment. This demands coordination among education providers, employers, and policy makers. Unfortunately, current policy proposals undermine potential solutions like online learning which could help quickly expand education access to millions of learners.
Panelists
Jane Oates (Moderator), President, WorkingNation
Michael Hansen, CEO, Cengage
Scott Pulsipher, President, Western Governors University
David Barnes, Vice President, Global Workforce Policy, IBM
Tuesday, March 7 | 4-5 p.m. CST
Hilton Austin, Salon H
Add Online Backlash to your favorites
Breaking Down Barriers Through Education Benefits
EdAssist and WGU are working together to help adult learners reach their greatest potential through partnerships with companies like McDonald's. In this session, EdAssist, WGU, and McDonald's will provide three different perspectives on how education benefits, including low- and no-cost degrees, upskilling and reskilling, and student debt repayment programs, can break down barriers to education and help working learners climb the ladder of opportunity from entry-level all the way to the C-suite.

Panelists
Jill Buban, Vice President and General Manager, EdAssist Solutions, Bright Horizons
Scott Pulsipher, President, Western Governors University
Lisa Schumacher, Director, Education Strategies & Workforce Policy, McDonald's Corporation
Wednesday, March 8 | 11:30 a.m.-12:30 p.m. CST
Austin Convention Center, Room 8ABC