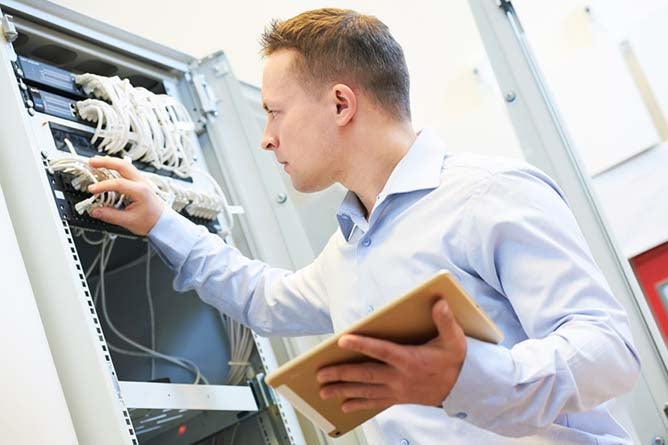 There are so many careers in IT that it can be difficult to decide which is right for you. Most positions—such as programmer, analyst, and engineer—overlap in one way or another, but they each have unique responsibilities and career pathways. While the engineers build the servers that power organizations, it's the administrators who oversee and maintain them.
The wide field of IT administration includes several types of positions available to skilled professionals. Here's a breakdown of the most common roles, and what each does.
Server technician.
If you enjoy troubleshooting technological problems and building things, you might like being a server technician. As on-the-ground tech experts, server technicians play a vital role in the IT department, keeping servers running on a day-to-day basis. A server technician's usual day might consist of installing upgrades, maintaining a server system, or troubleshooting errors within an internal network for a company. But a server technician might also be required to build a server completely from scratch and integrate it into the network.
Server technician is a solid entry-level role. If you have a computer science degree and a knack for solving tech problems, you could land a job as a technician and make around $50,000 a year, according to Glassdoor.
Server analyst.
A server analyst evaluates a server system and recommends improvements or changes based on a client's needs. Unlike technicians, analysts provide strategic feedback on server systems after analysis and testing is completed.
On average, server analysts earn about $78,000, ZipRecruiter says. Most employers expect applicants to have a computer science degree, or something similar, and relevant to the demands of the job.
Server architect.
Before technicians and analysts can maintain and troubleshoot server networks, architects must design and build those networks. Because their work involves high-level design, server architects are usually familiar with computer operating systems and programming languages, and they're up to date with the latest software and security protocols. They're in charge of constructing data communications networks, working closely with management, making the final decisions about hardware, and overseeing implementation throughout the whole process. Because they work with a variety of people with differing familiarity with technology, systems architects must have strong communication skills.
Being a server architect means taking a big leap up the pay scale; Learning Path estimates the mean annual salary for server architects at $100,000. Landing one of these positions usually requires a four-year undergraduate degree in computer science, computer engineering, or some other closely related course of study. If you're searching for careers in IT where you would be in charge, a server architect position could be for you.
Server administrator.
Server administrators are responsible for managing and continually monitoring the servers in a company's data center, and generally ensuring that everything is working at maximum efficiency. They often oversee junior IT staff. Sometimes, the functions of a server administrator overlap with those of a systems administrator; generally, the smaller the company, the more likely it is that one person fills both roles.
A degree in computer science or information technology is a good way to get your foot in the door when trying to land a server administrator position. The salary for this position can vary greatly, as the size of the company plays an important role in determining just how many tasks the server administrator will have to perform each day. On average, though, a server administrator makes a little more than $61,000 a year, according to PayScale.
The skills to succeed.
The differences between these careers in IT might be slight, but they largely determine the positions' scope of work and opportunities for advancement. Keep in mind, though, that you will need a good education and solid experience in the IT industry to land one of these jobs. With the right training, you could be on the path to a successful career in server administration.