The long hours you're putting in to finish your degree will pay off, but it's hard to remember that when you wake up early, stay up late, and work through the night to get things done.
Thom Hazel understands the stress associated with pursuing a degree all too well. He recently graduated from WGU with a bachelor's of science in Nursing degree. After he finished, he didn't slow down. In fact, he decided to zip through the scenery of Lewiston, Maine, as a part of The Dempsey Challenge, an annual event that provides education, support, and medical care to people affected by cancer.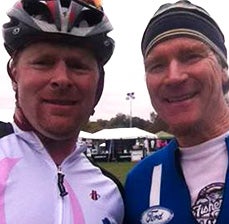 "I have participated in the 100-mile bike ride in The Dempsey Challenge for the last five years," said Thom. "It takes an incredible amount of focus. You have to be single-minded and self-motivated; I applied principles from that race to my studies at WGU."
During his last term, Thom completed 15 competency units. Thom's student mentor, Sara Cureton, knew it would be an arduous task, but one that he could meet head-on.
"Thom deals with a lot," said Sara. "The stressors of his everyday life would cause other students to quit. He works full time. He has an active family life, which includes a wife and two teenage daughters—but, somehow, he manages to do it all. Not following through with his commitments is never on the table."
Another challenge for Thom: the completion of his Community Health practicum, a course that BSN students at WGU must complete to earn their degree.
"The practicum really forces students to get out and look around their communities," said Course Mentor Bette Bogden. "It's pretty rigorous. Students have to complete 90 hours of community interviews and countless hours of research and come up with a recommendation to an ongoing, community-related health issue."
Thom decided to tackle challenges associated with IV drug use and needle exchange programs in his community in Maine. Heroin overdoses are a growing problem in the state. According to Maine's Office of Substance Abuse and Mental Health Services, the drug killed three times as many people in 2012 than it did the year before.
"I currently work as an RN in a local hospital's chemical dependency unit and volunteer with a transitional housing organization for the homeless," said Thom. "I see the realities of drug abuse every day, and I know something needs to change."
Through Thom's research for his paper for his Community Health practicum, Thom discovered the need for long-term drug rehabilitation treatment centers.
"Many of the people I treat day-in and day-out want to get off drugs, but they're lost. They don't know where to begin, let alone how to stay clean once they've started their journey," he said.
Thom's work for his paper went beyond research and interviews. It included volunteer work with a free health clinic, which required 16 hours of classroom instruction, background checks, and paperwork.
"By the time I was finished, my paper was more than 20 pages and it was more than just a paper to me," Thom said. "It's a cause I'm passionate about and it's something that could lead to real change for my community."
Thom is currently working with his course mentor to get the paper published. He is also enrolled in WGU's master of science in Nursing Education degree program.
"I'm a lifelong learner," Thom said. "And if I could share anything with a new WGU student, it would be to stay focused. Remember what you're working toward and don't lose sight of your goal."