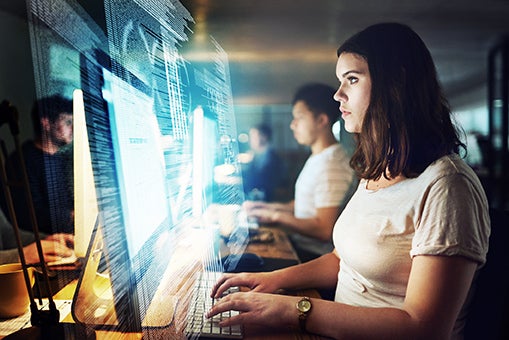 Cyber security analyst (sometimes called information security analyst) is likely to be your first role if you're looking to enter the field of cyber security. If you're looking to build a strong foundation for your career in this field, it's important to understand that, while this is an entry-level job, the day-to-day responsibilities are anything but basic.
Here's a look at some of the traits you will need, and the demands you will face, when making the transition into cyber security.
What are cyber security analyst skills?
According to the U.S. Bureau of Labor Statistics (BLS), cyber security analysts are:
Analytical: They evaluate data, systems, and networks to synthesize how current defenses and threats translate into risks for the organization.
Detail-oriented: They are often on the frontlines of reporting or evaluating whether an anomaly is just a minor event or something much larger.
Innovative: They "must anticipate information security risks and implement new ways to protect their organizations' computer systems and networks."
Problem-solvers: They must think creatively to identify and address system flaws.
According to Randall "Fritz" Frietzsche, chief information security officer for Denver Health and a graduate of WGU's Master of Cybersecurity Security and Information Assurance program, "The majority of folks in cyber security are analysts, who will analyze risk, they'll analyze threat intelligence, and they'll consolidate that intelligence into a deliverable package of actionable information for your organization. Their job is to help the organization understand what is going on, and where the organization needs to be going."
Cyber security analyst job duties.
According to the U.S. Department of Education (DoE), a cyber security analyst's duties can include:
Planning, implementing, upgrading, or monitoring "security measures for the protection of computer networks and information."
Ensuring "appropriate security controls are in place that will safeguard digital files and vital electronic infrastructure."
Responding to "computer security breaches and viruses."
These duties require knowledge in areas such as computers and networks, telecommunications, management and customer service, and a good grasp of the English language.
The DoE notes that a typical cyber security analyst might spend a workday encrypting data transmissions, reviewing violations of security procedures, and developing plans to safeguard the confidentiality, integrity, and availability of data.
According to California's Employment Development Department, cyber security analysts are likely to use a variety of tools in their everyday work, including those that monitor networks or review and analyze operating system outputs such as authentication logs.
If this type of work sounds interesting to you, be sure to check out our Cybersecurity Jobs Guide to learn more about what these jobs pay, which cities/regions have the highest demand for them, and much more.