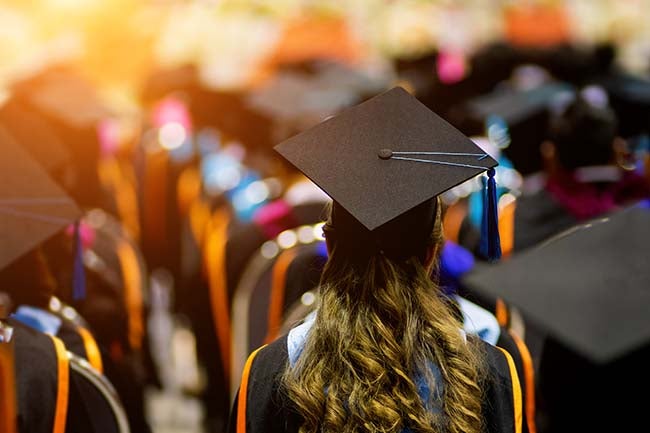 When you're looking for a college to attend, you'll often hear that accreditation should be an important factor in your decision. But what is accreditation, and why does it matter?
Simply put, accreditation is a stamp of approval. It's proof that a college or university meets a certain set of standards. These standards are set by various accrediting agencies, which, in turn, are approved and overseen by the U.S. Department of Education.
Accreditation signals to employers and others that you've been educated well and that the degree you've received carries significant value. Accredited universities, such as Western Governors University, have gone through rigorous and independent evaluation processes to earn this stamp of approval.
How does accreditation work?
Accreditation is the process by which institutions of higher education are measured against objective criteria set forth by an authoritative third party. WGU, for instance, is accredited by the Northwest Commission on Colleges and Universities (NWCCU),  which uses measures like student success, institutional mission, and overall effectiveness to determine the school's credibility. 
Primary criteria used by NWCCU include: 
An institutional commitment to student learning and achievement.
Focusing on student achievement by creating clear learning objectives and measuring progress against those objectives through effective assessments.
A commitment to continuous improvement of the academic experience.
Admission and recruitment policies that are designed to attract students who stand to benefit from degree programs offered.
And the list goes on. The policies and standards established by the NWCCU and other accrediting authorities are meant to be thorough and focused on ensuring the best outcomes for the students that educational institutions serve. 
Why is accreditation important?
Colleges and universities aren't required to be accredited, but there are distinct advantages to choosing an accredited institution.
Accreditation determines whether you can receive federal student aid. To receive a Pell Grant or other financial aid from the U.S. Department of Education, you must attend a college or university that's accredited by a nationally recognized accrediting agency. If you don't, you're ineligible—even if you would otherwise qualify for assistance.
Large, name-brand universities are accredited. To be considered a legitimate institution of higher education, accreditation is vital, even though it is technically voluntary. 
Attending an accredited college can make finding a job easier. Accreditation helps businesses and other organizations determine the validity of a college degree and whether a candidate is qualified. Some employers require applicants to hold a degree from an accredited school or program, ACICS notes. And even if employers don't require one, a degree from an accredited institution could nonetheless give you a leg up over other candidates, which is especially critical in a struggling economy.
Accreditation determines whether transfer credits will be accepted. Some colleges will only accept transfer credits and recognize degrees from an accredited institution. Many unaccredited schools have closed and left students in the lurch, as their credits can't be transferred to other institutions. Similarly, some employers won't qualify workers for tuition reimbursement at an unaccredited institution. Some professional certifications require a degree from an accredited institution, too.
Accreditation can help colleges and universities improve. To receive accreditation, colleges and universities must involve all stakeholder groups—including students, staff, faculty, and alumni—in the planning and evaluation processes. Accredited institutions must also create goals and plans for continuous improvement.
Accreditation can help ensure a return on your investment. College is a significant financial investment. If you enroll in a college or university, you'll probably want some type of assurance that you're getting your money's worth. Accreditation provides peace of mind that the institution you have chosen is of high quality and that your degree will have value.
Types of accreditation.
There are various types of accreditation, and knowing the differences between them can help you find the right accredited college for you.
Regional vs. national accreditation.
Colleges and universities can be accredited by a regional or national accrediting agency. Regional accrediting agencies operate in specific areas of the country. For the most part, they have been around for much longer and are more prestigious than national accreditors. Regional agencies typically focus on academically oriented nonprofit institutions; national agencies generally grant accreditation to for-profit vocational, technical, or religious colleges.
While it might seem that national accreditation would carry more weight, regional accreditation is usually more important. Because regional agencies often have more stringent requirements in areas such as faculty qualifications, instructional standards, and library resources, regional accreditation is considered the gold standard for college accreditation—and some regionally accredited institutions won't accept credit awarded by colleges or universities that hold only national accreditation.
There are six regional accrediting agencies for higher education recognized by the U.S. Department of Education:
WGU has its headquarters in Utah and is accredited by the Northwest Commission on Colleges and Universities. The commission's requirements include an extensive self-evaluation and peer review process that reviews the university's mission, the quality of student learning, its institutional governance, its financial capacity, and its student support resources, among other aspects.
Program accreditation.
While institutional accreditation reviews all aspects of a college or university, specific degree programs can be accredited, too.
Program accreditation is awarded by the professional association connected with a particular field of study. The process determines whether a certain degree program fully prepares graduates for a career in that field. The Council for Higher Education Accreditation maintains a list of program accreditors for various fields.
WGU has earned numerous program accreditations in addition to its institutional accreditation. 
Why choose an accredited university?
Accredited universities are great choices for students looking to earn college degrees because they can more effectively position graduates for success. With regional accreditation from a highly respected agency and program accreditation for specific degree programs, WGU offers high-quality, accredited programs designed to help every student thrive.