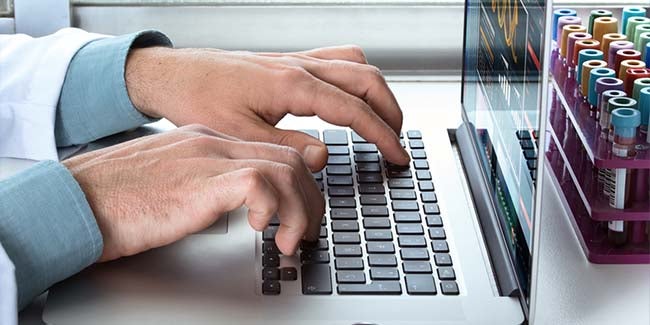 Health information management professionals organize and protect patients' sensitive medical data.
If you're passionate about information technology and want to work in a healthcare setting, a degree in health information management (HIM) could give you the right combination of knowledge and skills to build a fulfilling career.
HIM technicians and managers combine business, science, and information technology knowledge to organize, manage, and protect patients' medical information. Their work forms a vital bridge between patients, the providers who give hands-on care, and the people who pay for treatment.
So what is HIM all about? Let's take a closer look.
What is health information management?
HIM professionals play a critical role in the healthcare industry. As healthcare facilities become increasingly digitized, electronic patient data becomes more susceptible to breaches. HIM technicians and managers maintain the technological infrastructure necessary to protect patient data as it moves through hospitals, physician's offices, and medical facilities.
According to the American Health Information Management Association, HIM technicians and managers are trained in the latest information management technologies. They're part of the daily operations team and are vital to ensuring a smooth patient care workflow and connecting clinical and administrative functions.
HIM employees work in a variety of healthcare settings—hospitals, yes, but also medical offices and insurance companies—but they can also aspire to a variety of positions in the field, such as clinical improvement analyst, health systems manager, and clinical data analyst. Each role is crucial to helping healthcare facilities run smoothly, and each requires a unique combination of data analysis and management skills, legal expertise, and technical knowledge.
What is the career outlook?
Career opportunities in HIM abound thanks to the combination of innovations in healthcare technology (such as electronic health records) and the aging baby boomer population, which uses healthcare services more than any previous generation. According to the U.S. Bureau of Labor Statistics, the number of health information technician jobs is expected to grow 13 percent between 2016 and 2026, almost twice as fast as the average job growth rate.
The Bureau of Labor Statistics also projects the number of medical and health services management jobs to grow 20 percent by 2026. In total, about 100,000 new HIM jobs, across all levels of education and credentialing, are expected to be created by 2026.
What can I expect in a health information management program?
According to the Bureau of Labor Statistics, employers typically require their HIM employees to be certified and/or hold an associate's degree in the discipline. In order to advance to management, however, HIM employees should be prepared to complete a bachelor's or master's degree program and any required certification courses.
In addition to general education courses, HIM degree programs usually include a variety of discipline-specific courses that cover, among other things, healthcare ecosystems, health information law and regulations, medical terminology, and healthcare compliance. These courses are designed to prepare HIM employees to work in healthcare settings, maintain HIPAA compliance, and use secure technological processes to protect patient data.
What should you look for in a degree program?
Accreditation is the most important thing. Strong programs will be accredited by a governing body such as the Commission on Accreditation for Health Informatics and Information Management Education (CAHIIM).
Many HIM employers will only consider applicants who have earned Registered Health Information Administrator (RHIA) credentials, which recognizes HIM technicians and managers as critical links between patients, payers, and providers. A bachelor's or master's degree from a CAHIIM-accredited program is a prerequisite to take the RHIA exam, so verify that the degree programs you're considering tailor their coursework to prepare you for this important exam.
Some degree programs will help smooth your academic path by applying any existing credentials you may already have from accrediting organizations, such as the Healthcare Information and Management Systems Society, toward your degree. Given the IT-focused nature of HIM coursework, some degree programs also allow you to earn a project management certification, such as the CompTIA Project+ certification, concurrently.
Completing your education in a technical field is never easy, but earning an HIM degree can open the door to a relevant, growing profession that lets you work in a challenging environment while helping people.