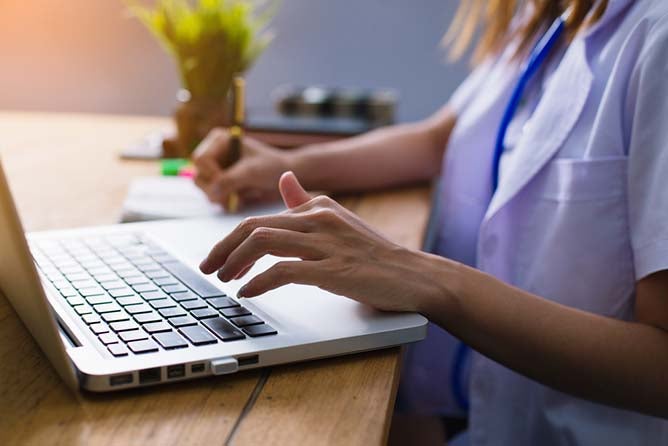 Technology is an integral part of today's healthcare system. Most hospitals and medical facilities now employ intuitive charting programs, advanced lab testing and monitoring systems, and machines that automatically upload information to patients' electronic medical records. These advances are making workloads more manageable and, by extension, improving patient care.
Nursing informatics is a speciality that combines nursing science with information and analytical sciences to identify, define, manage, and communicate data, information, knowledge and wisdom.  Essentially, informatics nurses are the bridge between patient care and technology used to support and deliver care. Informatics nurses  bring their clinical experience to make the technology more useful. Using their expertise in data analytics and patient care, they gather and analyze data to determine  which interventions are most effective for patients.
A degree in nursing informatics can prepare you to make a difference on a system-wide scale. Here's a look at the roles that are available to informatics professionals and the skills you'll need to join the field.
Roles and responsibilities.
According to a 2017 report from the Healthcare Information and Management Systems Society (HIMSS), almost two-thirds of nursing informaticists surveyed worked in a hospital, at a multifacility healthcare system, or at the corporate office of a healthcare system. Other informaticists worked in education, for the government or a consulting firm, or in outside clinics.
HIMSS found that 20 percent of respondents worked as a nursing informatics specialist, which was the most popular response. 
The next most common role was director of clinical informatics, at 7 percent, followed by clinical analyst, at 5 percent. In each of these roles, professionals are responsible, to varying degrees, for integrating data into a facility's system, assessing that data to improve patient outcomes and facility workflows, and assisting teams in using facility technology.
The HIMSS survey found that systems implementation — preparing, training, and supporting users — was the most common responsibility of nursing informaticists. Respondents also reported spending a lot of time developing and optimizing systems.
For their efforts, nursing informaticists are rewarded pretty handsomely. Forty-six percent of respondents in the HIMSS survey reported making more than $100,000 a year.
Skills to succeed.
To obtain just about any position in the field, you'll need a master's degree in nursing informatics, which will teach you how to apply data analysis to patient care. Here's a look at some of the skills you'll develop.
Statistical and Research Interpretation.
Learning how  data are gathered and analyzed is essential in nursing informatics. In your statistics courses, you'll establish a foundational knowledge of determining significance, validity, and probability. You'll also deepen your understanding of statistics and how data relates to a varied patient population. Knowing how to interpret and analyze data helps you read published research and use information gathered at your own facility—to determine how to best improve patient outcomes.
Electronic medical records management.
You've probably been frustrated with the electronic medical records systems in your clinical practice. As a nursing informaticist, you'll be in a position to improve this important medical system. A master's degree program will give you skills to ensure that electronic medical records systems provide proper access to data, satisfy federal regulations, and provide users an efficient and innovative addition to improve hands-on care. If a system isn't already optimized, you'll learn how to make changes to workflows so clinicians can provide higher-quality care to patients.
Data science and analytics.
Data science and analytics combine many of the skills you'll develop as a nursing informaticist: statistics, computer science, data visualization, and social sciences. In data analytics courses, you'll learn how to gather and evaluate data, revealing patterns that can predict and inform clinical events, allow clinicians to make real-time changes to care to prevent negative outcomes, and help allocate resources to needed areas.
You'll use statistics, databases, and statistical modeling to analyze data from electronic medical records, remote monitoring devices, telemedicine appointments, and other innovative technologies.  A nursing informatics program will teach you how to effectively use this data to make important decisions.
The future of nursing informatics.
New technologies are constantly emerging in the healthcare field, and informatics professionals are increasingly needed to evaluate the implications of this new tech on the healthcare landscape. Impacting everything from facility safety and security to bedside patient care, nursing informaticists play—and will continue to play—a vital role in healthcare.