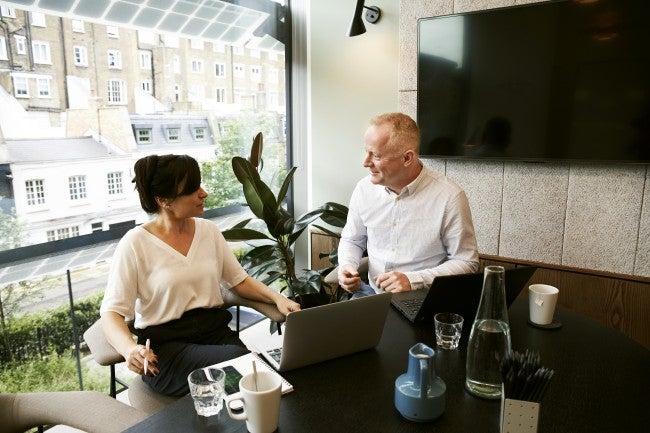 Working with huge businesses, being the hero of the day, spending time traveling to meet with important clients. The world of management consulting is exciting and fast-paced, and while there are many luxurious elements, it's also important to understand that management consultants are extremely hardworking and dedicated to their clients and their careers. Management consulting can be highly competitive but also highly rewarding and lucrative. It can be a fantastic career move, but in order to succeed you need to be willing to put in the work.
Consultants can work with all kinds of organizations and firms around the world. They may work with domestic clients or may focus on global organizations. They may specialize in healthcare or IT, or may focus on larger businesses issues like regulatory compliance or employee strategy. 
Tom Daccord's career path is one example of the countless unique routes consultants can take to success. Daccord taught high school history for 15 years before he became a consultant. As the co-founder and CEO of the consulting firm EdTechTeacher, he helps educators around the world use technology to create student-centered classroom learning environments.
"I had security in my old job, but I wanted to make more of a difference," Daccord said. "I realized that I could work with many more teachers and have a greater impact by becoming a consultant."
The opportunity to make a tangible difference is a common reason people choose to become consultants. Whatever field you enter, you have a chance as a consultant to enact meaningful change not just for a single employer, but across multiple organizations—and all the lives they affect. There are many options and opportunities within the management consulting field for those who are passionate and dedicated to pursuing this career path. 
Learn more about what consultants do and how you can get the education and put in the work to become one. 
What does a management consultant do?
Management consultants have a wide variety of responsibilities and duties, all depending on their specialty and the organization where they work. At the heart, management consultants are hired to help organizations solve large business problems. They are usually called on by a company, given details about the organization and the issue, and then they evaluate, observe, and analyze to see how they can help the business. Often, consultants are hired to help an organization figure out how to make money or fix a large problem. They are employees of management consultancies or organizational firms that are focused on helping companies. They give recommendations to help their client improve.
Some of the specific things a management consultant may do on the job include:
Solve a specific problem for a client

Give a diagnosis for the root cause of an issue

Perform data analysis to help understand organizational issues

Make recommendations for how an organization can improve

Help implement new procedures that an organization needs to thrive

Help get the team on board with needed changes or adjustments

Teach the client how to proceed 

Prepare the client to watch out for and solve similar issues down the road
Management consultants use their expertise in business to help the client understand how they can make more money, improve their processes, or solve problems. 
How to become a management consultant.
The path to become a management consultant begins with a bachelor's degree. An undergraduate degree will prepare you for entry-level consulting positions, usually called business analyst or associate consultant roles. There are many undergraduate degree programs that can prepare you for the first step toward consulting, including:
These kinds of undergraduate degrees in business school will give you valuable understanding of business practices and strategy, as well as specific information on working directly with companies in a financial or human capital vein. This is key for a consulting future.
Once you have a bachelor's degree, it's valuable to gain some experience and eventually pursue a master's degree. A master's degree is essential to moving forward in your management consulting career—enabling you to land larger clients and be well respected in the industry. There are many graduate degrees that will be crucial in helping you prepare for a management consulting career, including:
These kinds of master's degree programs will give you a specialized look at management, strategy, communication, and the inner workings of business. These kinds of graduate degree programs are geared towards helping professionals enhance their résumés and skill set to be better equipped for helping clients find valuable solutions to their problems.
What types of skills do you need to become a successful business consultant?
There are many skills and characteristics that you need to have a successful management consultant career. Some of the important skills you may need include:
Academic excellence

Progressive leadership

Strategic thinking

Quick decision-making

Passion for business

Enthusiasm

Great communication

Critical thinking

Attention to detail

Focus under pressure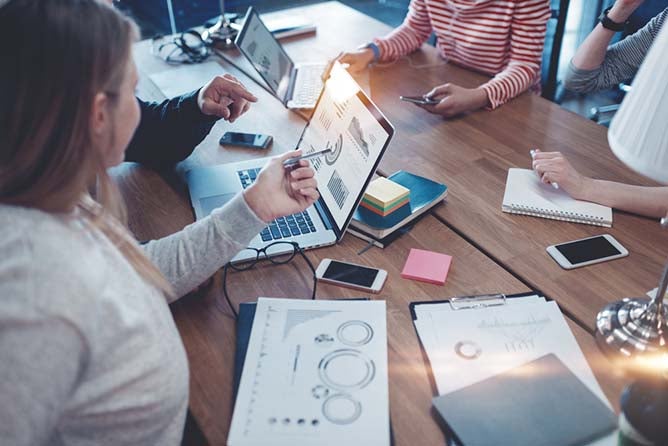 How much does a management consultant make?
The average annual salary for a management consultant is around $100,000. This will greatly depend on the type of industry you work in, your clients, and your education and experience in the field. Some management consultants working for high profile clients can expect to earn much more. This can be an extremely lucrative career field for those who put in the time and effort.
Pros and cons of business management consulting?
It's important to understand the ups and downs that will come with a career in management consulting. It's an exciting and rewarding career, but also has many elements that make it difficult.
Some of the pros of a career in business management include:
High salary potential

Great step for your career

Opportunity to work with high-profile clients

Chance to help businesses thrive and succeed

Fantastic learning opportunities

Flexibility in clients and day-to-day activities

Opportunities to travel
Some of the cons of a career in business management may include:
High levels of stress

High competition for clients and positions

Lack of tangible results for some clients
Top management consulting firms.
If you're considering a future as a management consultant, it's extremely valuable to know who the top players are in the industry. 
The most well-known top management consulting companies are known as The Big Three, and they include:
McKinsey

Boston Consulting Group

Bain
The Big Four accounting firms are also known for management consulting services, particularly when it comes to financial and revenue consulting. The Big Four include:
Deloitte 

PricewaterhouseCoopers

Ernst & Young 

KPMG
Additionally, there are strategy consulting firms that focus directly on strategy for businesses. Strategy consulting is usually the most prestigious of all kinds of consulting. The top strategy consulting firms include:
Oliver Wyman

L.E.K. Consulting

Accenture

Booz Allen Hamilton

A.T. Kearney

Roland Berger
If you're looking for a future in management consulting, your first steps are to earn a bachelor's and master's degree that will prepare you for the rigor of this profession. WGU can help you be prepared for this exciting and prestigious career by giving you the business tools you need to succeed.