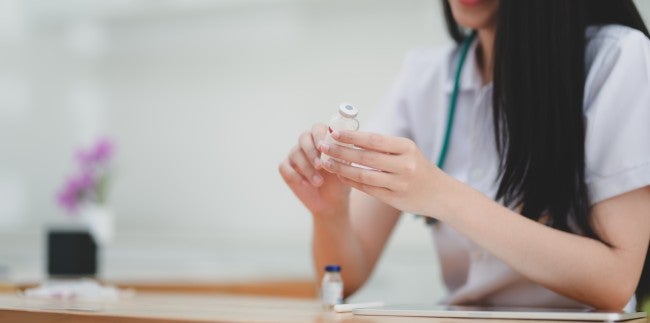 Cancer. Nobody wants to hear that dreaded diagnosis. Over 1,735,350 people were diagnosed with cancer, and over 600,000 people died from it in 2018 alone. Nearly everyone has been impacted by cancer—a loved one, a friend, or themself is likely to have had this fight. Over 38% of both men and women will be diagnosed with cancer at some point in their lives. Because it is such a widespread, dangerous, and intimidating disease, the healthcare providers who work with cancer patients are key in helping them and their families be prepared for the fight ahead.
The field of healthcare that focuses on cancer is labeled with the term "oncology." Oncology is the study and treatment of tumors, so oncologists are the doctors who work with cancer patients, and oncology nurses are the nurses who work with cancer patients.
Oncology nurses are a major force for good in helping cancer patients. They help them with their medicine, mitigate symptoms, help explain what is going on, and attend to their patients' families while they are being treated. 
If you're currently a nurse or want to become a nurse, oncology can be a wonderful and rewarding field to work in. Learn more about what oncology nurses do and how you can become one.
What does an oncology nurse do?
Oncology nursing involves many duties and tasks that nurses are responsible for every day. Some of these nursing duties include:
Monitor the condition of cancer patients
Run tests and evaluations
Prescribe and administer medicine and manage symptoms for patients
Offer education for patients and their families
Administer chemotherapy
Manage chemotherapy side effects
Assess cancer patients' physical, mental, and emotional needs
Help create concrete goals for care
Communicate the patient's status to family members and other staff
Work in both hospital and clinical settings
Act as an advocate for the patient for family and other members of the care team
Oncology nursing allows nurses to additionally specialize further in fields like surgical oncology, radiation oncology, immunotherapy, genetic counseling, and more. 
The work in this nursing field is very similar to the work of other registered nurses, but they do have specialized techniques, medications, and symptoms that they are working with. For example, while they are in charge of checking a patient's vital signs and managing their symptoms, they may have to work with specific chemotherapy symptoms and side effects instead of other illnesses. Cancer patients are often in a great deal of pain, so dosage amounts are often much higher. 
Job outlook for oncology nurses.
The demand for registered nurses is expected to grow 7% by 2028, a bit faster than the national average for job growth. However, the job outlook for oncology nurses is expected to grow at a rate of 12% by 2028. Because cancer affects such a large population and takes specialized care, oncology nurses are constantly in demand. Cancer teams are generally very large, and patients may require extensive attention and care. This makes oncology nurses invaluable in the healthcare industry. Oncology nursing involves high job stability and great earning potential because of this. 
How much does an oncology nurse make?
On average, registered nurses earn an average annual salary $33 per hour, or about $69,000 per year. Oncology nurses may get slightly higher salary due to their specialization, with oncology nurse salary levels sitting at $73,000 per year, but their average salary will remain relatively close to other registered nurses. The salary of an oncology nurse will be dependent on where they work, their nursing specialization, their nursing education and certifications, and, of course, their nursing experience. Oncology nurse salary levels are highly influenced by the current demand—and as cancer continues to put these nurses in high demand, it's expected that their salary will also continue to be high. Oncology nurse salaries can be paid hourly or yearly depending on your work setting. Your salary may also include overtime or holiday pay—these is common for nurses who have to work late hours, on weekends, and over holidays. Your salary and bonus opportunities should reflect this work. Oncology nurse salaries are also continuing to grow as demand increases.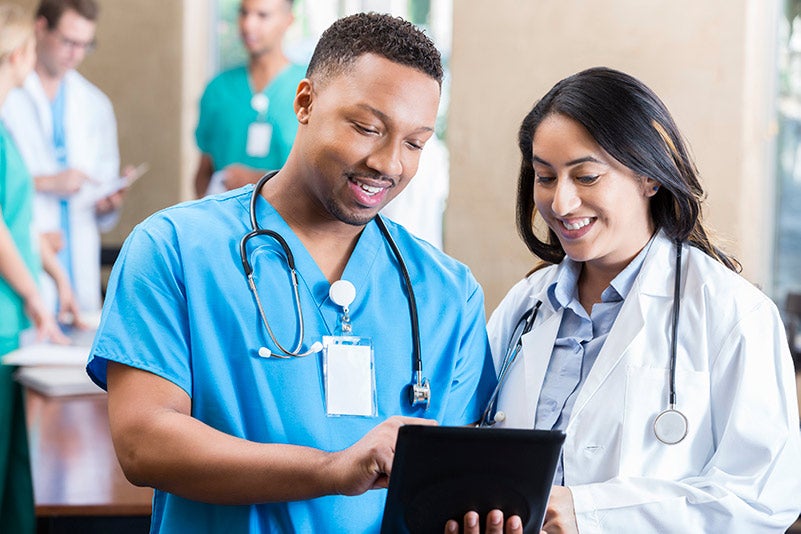 How to become an oncology nurse?
There are a few steps you need to take in order to become an oncology nurse. The steps include:
Becoming a registered nurse

Earning a BSN

Gaining experience

Getting certified

Pursuing continuing education
Learn more about the specific steps to becoming an oncology nurse.
Oncology nurse education requirements.
In order to become an oncology nurse, you'll have to start by becoming a registered nurse. You can either pursue a BSN that will prepare you to become an RN or you can earn a nursing diploma or associate degree and become an RN. In your diploma or degree program, you'll complete important coursework, participate in clinical experience, and become prepared to take the NCLEX exam. The exact requirements to become a registered nurse will vary from state to state. Once you pass the exam, you'll receive your license and be ready to work.
If you are currently an RN and don't have a BSN, this additional credential can be extremely helpful in pursuing a nursing specialization. As a working RN, you may think you don't have time to go back to school and get a BSN. But with online schools like WGU, earning your BSN is possible. You can earn your BSN degree completely online, anywhere, any time. This allows you to continue to work full-time and maintain your other responsibilities while earning your degree.
How to be certified as an OCN.
Certification as an oncology nurse will vary from state to state, but the requirements are fairly similar. If you want to become an oncology certified nurse, you will have to take the Oncology Certified Nurse (OCN) nurse exam which is issued by the Oncology Nursing Certification Corporation. In order to take the exam, you have to have one year of experience as an RN and at least 1,000 hours of adult oncology nursing practice. The certification exam will also require you to have 10 contact hours of nursing education in oncology or take an elective in oncology nursing.
Once you've met the requirements and passed your exam, you will be a licensed oncology nurse! In order to keep your certification you'll likely have continuing education courses and experience requirements. This certification will help you increase your salary as well as prepare you for the demands and rigors of an oncology nursing career.
If you're interested in becoming an oncology nurse, WGU can be the perfect place to start. A bachelor's degree in nursing can help you be prepared for the specific skills and knowledge you'll need, as well as help you be prepared with a résumé that will stand out.