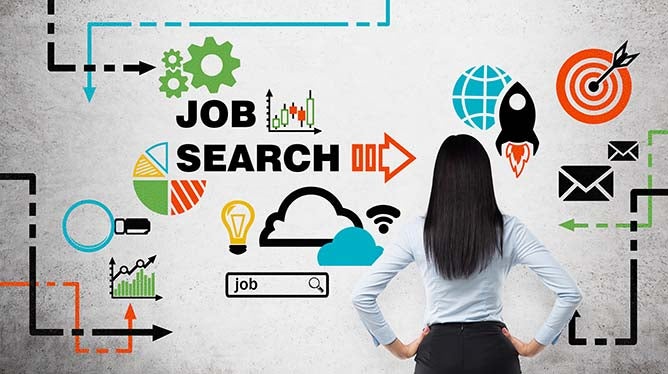 When you started your job search, you might have hoped that, after updating your résumé and submitting a few applications, you'd have landed a job in a month or so. But now one month has stretched into two—or more—and job searching feels like it's taking forever.
What's wrong? Is it you? Is it your résumé?
It's probably not you: According to a Randstad study, the average job hunt lasts five months. During these five months, job hunters usually submit multiple job applications, get called in for several interviews, and endure a lot of stress.
However, there are a few things that you can do to make your job search a little more efficient—and hopefully a little less stressful. Below are some job search tips that could help you up your job searching game and land that job sooner rather than later.
Search strategically.
You've probably heard that if you want a full-time job, you should make job hunting your full-time job. And maybe you've been spending all day scrolling job boards and making a point to apply to a certain number of jobs every day. But what if you're not getting any responses to the hundreds of applications you've sent out?
If you're not getting called in for any interviews, don't take it personally: Only about 2 percent of job applicants land interviews, Workopolis writes.
Job postings generate a lot of résumés. Hiring managers simply can't look at every résumé, so they use pieces of software called applicant tracking systems to sift through applications for them. Recruiters enter specific qualifications into a system for each posting; if your résumé doesn't meet those qualifications or is incomplete in any way, you're rejected before a human being can lay eyes on your application.
The solution: You might be tempted to apply for every job posting you think you might be distantly qualified for, but that's a waste of time and effort. Instead, apply only for the jobs that you really think are a good fit. A targeted search could help your application go further, and it can keep you from wasting valuable time, too.
Tailor your résumé.
Maybe you're applying for jobs you're qualified for but you're still not getting any callbacks. At this point, take a look at your résumé. Are you sending out the same résumé for each job? If your résumé doesn't have the keywords and phrases an applicant tracking system is programmed to find, it's possible that your job application is being rejected by an algorithm before a human can see it.
Even if your résumé gets through the system, that doesn't guarantee success. It's also possible that a human has seen it but thought that it didn't match the job description—or just wasn't impressed.
The solution: Tailor your résumé to each job you're applying for. Your résumé should highlight that you can do that particular job well, and it should include keywords from the job description so that the applicant tracking system surfaces it to the hiring manager. Yes, this is labor-intensive, but your résumé shouldn't be a static document—it should be an argument for why you should be hired for each job you apply for.
Look in the right places.
If you're spending all your time on job boards, you might want to rethink your job searching strategy. Once a job gets to a job board, it's been around for a while, and it's already been seen by several other job hunters. And job boards don't always take down job postings when the job's been filled—you might be wasting your time by applying to jobs that are no longer open.
The solution: Job boards are a good starting point, but follow the link on a job posting to the company's page to see if a job is still available. You might want to make a list of the companies you find interesting and check their career pages directly. Following these companies on LinkedIn and Twitter is a good way to find out when they post new openings. You might also try following niche job boards tailored to your industry, which could help you find jobs you're qualified for more quickly.
Ask for help.
If your job search has been taking longer than usual or if you have a very specific skill set, it might be time to ask for help. You might not know where to find the jobs that are out there for you.
The solution: Reach out to a recruitment firm or a headhunter for assistance. A recruiter knows the industry, the businesses in the area, and who is hiring for specific positions. Do your homework and find a recruiter in your specific field. You could also reach out to recruiters on LinkedIn; the social media site makes it easy to connect with recruiters, lets them view your work history at a glance, and can help them connect you with contacts who need your skills.
A job search can be daunting, but it's not hopeless. A few strategic tweaks to your job searching strategy can help you make your search more efficient and give you a greater chance of landing that dream job.