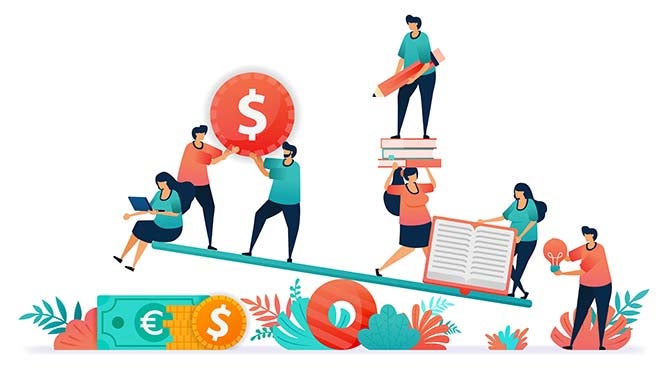 Enrolling in a degree program is one of the biggest decisions you can make—but it's also a big financial commitment. Eighty-five percent of four-year college students received financial aid in the 2016–17 school year, according to the National Center for Education Statistics. Some aid is privately funded, but the U.S. Department of Education's office of Federal Student Aid provides more than $120 billion in student aid each year.
If you need financial help to pursue your degree, you probably have questions about how to apply for financial aid and how much money you might receive. But applying for financial aid doesn't have to be complicated—and by pursuing a degree from Western Governors University, you might be able to stretch that aid further than you think.
Further reading: How to pay for college during times of uncertainty.
Am I eligible for financial aid?
To receive any federal financial aid, you must meet the eligibility requirements set by the Department of Education:
You must demonstrate your financial need.
You must be a U.S. citizen or an eligible noncitizen.
You must have a valid Social Security Number (SSN).
You must be registered with Selective Service if you're a male between 18 and 25 years old.
You must be enrolled in or accepted by an eligible degree or certificate program.
You must maintain Satisfactory Academic Progress (SAP) toward your degree or certificate.
Some federal aid programs have their own eligibility criteria and requirements; you might, for example, need to maintain a certain grade point average to continue to receive your aid. The Federal Direct Loan Program requires you to be enrolled in your degree program at least half time.
You might also be eligible for financial aid from your state.
How do I apply for financial aid?
If you're eligible, applying for federal financial aid is relatively easy. First, you'll need to complete the Free Application for Federal Student Aid (FAFSA), which collects:
Basic personal information.
Information about your school.
Your dependency status.
Your financial information.
After submitting your FAFSA, you'll receive a personalized Student Aid Report (SAR), which summarizes the information you provided on your application and provides basic information about your eligibility for federal student aid (and, possibly, non-federal aid). If you find a mistake on your Student Aid Report or if your information changes, don't sweat it—you can correct your FAFSA form.
You could also apply for private loans, but they're generally more costly than federal loans. Private loans aren't subsidized or guaranteed by the government, and they might have higher interest rates.
How much financial aid will I receive?
The schools you list on your FAFSA application use several pieces of information to calculate your aid. First, the schools determine how your cost of attendance (COA), or the amount it will cost you to go to that school. According to the office of Federal Student Aid, the cost of attendance includes:
Tuition and fees.
The cost of room and board.
The cost of books, supplies, and miscellaneous expenses, such as internet service.
Allowance for childcare.
There are also allowances for costs related to disabilities and eligible study-abroad programs.
Once a school calculates your cost of attendance, it reviews your Expected Family Contribution (EFC). Schools consider your family's size, income, assets, and benefits, among other considerations, when determining your EFC. Typically, the lower your EFC, the more financial aid you'll be eligible to receive.
"Your EFC isn't the amount of money the Department of Education expects you to pay," says Tyler Hastain, a financial services knowledge specialist at WGU. "It's a number calculated from the financial standing of the student and their household that's used to help determine financial need and aid eligibility."
In order to determine eligibility, a student's EFC is subtracted from their cost of attendance (COA), which determines their need for federal student financial assistance offered by the U.S. Department of Education and other organizations. Once this is complete, your school's Financial Aid Office will update you on what your eligibility is. Once you have made your funding selections, you will receive an award offer detailing what you have selected and been awarded. The office of Federal Student Aid advises accepting scholarships and grants first; these funds generally don't need to be repaid, provided you meet certain requirements. The office of Federal Student Aid advises accepting loans last; if you must accept loans, it advises accepting the ones with the most favorable terms and conditions. After all, you'll have to repay those funds—so don't borrow more than you need.
"Students are able to select the amount of loans they wish to receive," says Holly Nordgren, Financial Services Head Trainer at WGU. "They don't automatically need to request more than what they need to cover tuition and fees."
When will I receive my financial aid?
Generally, federal grant and loan money is paid to your school after applying for financial aid, and the school disburses the funds to you—usually once per term or at the beginning and midpoint of the academic year.
If you've never received a federal student loan, you might have to wait 30 days after the start of your enrollment period to receive your funds. However, this rule is heavily dependent on the school you attend. Depending on the type of federal student loan you receive, WGU could disburse your funds before the 30-day waiting period is over.
Why is cost of attendance so low at WGU?
Because WGU offers online educational opportunities, its cost of attendance is generally substantially lower than at brick-and-mortar institutions. Most students at WGU also continue to work, which helps them pay their normal living expenses.
Additionally, tuition and fees at WGU are much more affordable. Because the university charges flat tuition each term, degrees become less expensive as students complete more courses in a term. And WGU maintains a robust program of scholarships available to qualified students.
In many cases, WGU students graduate without large student debt burdens. And because WGU is approved by the Department of Education to offer federal student aid, most—if not all—of your direct education expenses could be covered each semester. Contact WGU to learn more about your financial aid options.