As of July 2022, WGU's College of Business has 1,221 students enrolled in North Carolina. To give you a glimpse of the student experience, we reached out to a current WGU business student.
What is your name and current hometown?
Jennifer Stripling. I live in Waxhaw, North Carolina.
Can you tell us a little bit about your background?
I have lived within 20 minutes of Charlotte, North Carolina, most of my life. I was diagnosed with leukemia when I was eight years old and spent the majority of third grade quarantined at home.  
At 15, I dropped out of high school because I was bored. I had completed most of the required work already. I took my GED on my 16th birthday and started college a week later. I became pregnant at 16. I graduated with an associate degree in criminal justice at 19 years old with a two-year-old in tow.  
I have worked numerous jobs but now my sister and I own and operate Wordtopia. We have an online bookstore and help businesses and educators bring their content into the digital world. We created our own interactive self-paced ServSafe® food safety course that can be completed at home. Oh, and I am a full-time WGU student.
What degree are you pursuing with WGU?
I am currently seeking my bachelor's degree in business administration with a minor in digital marketing. 
What do you hope your degree will do for your career?
I hope that my degree will help bridge the 20-year education gap. So much has changed in the business world with the boom of technology. My last computer class taught us how to protect a floppy disk! This was not going to help me compete in today's workplace. 
I have always worked multiple jobs, but as I get older, I would like to be able to do something to support myself without being on my feet all day long. I want to position myself for the absolute best possible outcome and be ready for any opportunity. I refuse to let the younger generation bypass me simply because I refuse to continue to grow. 
How did you hear about WGU?
My cousin Tamara graduated last year with her accounting degree and raved so much about the program. She has three kids, one of which is special needs, and is the primary caregiver for her elderly mom. If she could find the time to complete the program, I knew I could, too.
What has been the best part about your studies at WGU?
I really love my mentor. I truly like having one person who is following my educational journey. She keeps me motivated and encouraged. It is super helpful to have one resource to navigate all aspects of the program. 
What has been the most challenging or surprising part about your studies?
Technology! I am super behind the times. I did not even have a laptop until I got my first student loan refund. Setting up the camera for the proctored exam gives me legit anxiety each and every time.
Tell us a little bit about your interactions with your program mentor.
I LOVE HER!!! I like that she appears genuinely interested in my educational goals. She understands that I am a working adult navigating this program. That my time is not always as open and free as a typical college student. She does a great job of reaching out when I need a little push but backing off when she knows I am overwhelmed with life and am trying to avoid burnout. 
She gives me amazing tips. She reminds me to do all the things that need to be done at the beginning/end of each term. She points me in the right direction for every question I ask. She reminds me why I am doing what I am doing and how far I have come when I get discouraged. I genuinely feel like she is my number one cheerleader.
What would you tell someone who has never heard of WGU or has questions about it?
It is an amazing program for anyone who is motivated. The organization of the classes are super easy to follow. The material is related to real-life current scenarios and is presented in various ways to adapt to all types of learners.
Although I have not yet been able to take advantage of it, I tell everyone about the accelerated program and how they can save money by tacking on an extra class to a term.
There are a lot of resources that I have not even utilized yet that I am looking forward to like free counseling. I also let people know that WGU is accredited – that is a HUGE win for an all-online school.
Is there anything else you'd like to add?
The setup of one class at a time instead of trying to split my attention among several classes … and my business … and my job … and my family, etc. That is really beneficial. 
I am a super fan and recommend WGU to anyone who asks, especially for those of us in a certain age group who may be career jumping right now.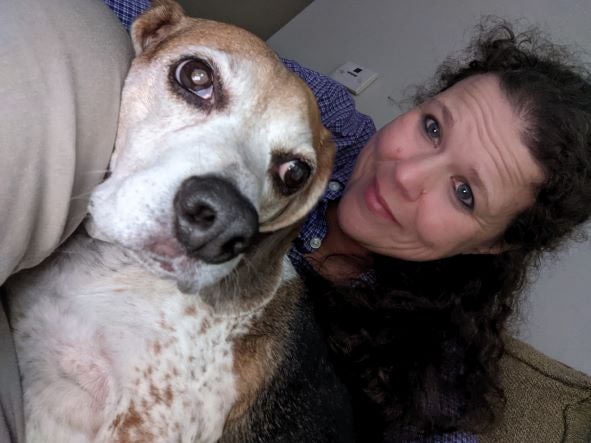 Jennifer Stripling and her "granddog" Oscar