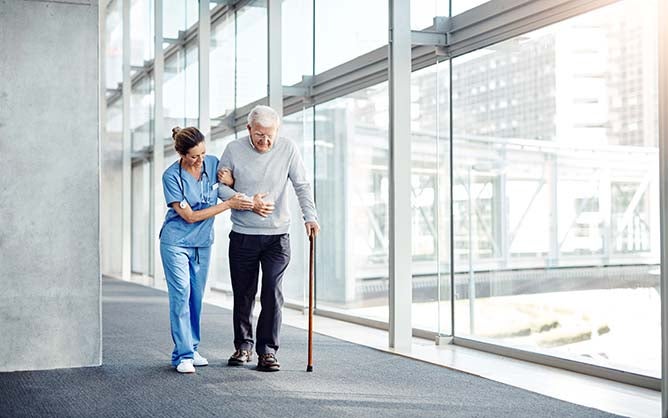 If you're a nurse or considering becoming one, there's good news: jobs for registered nurses are expected to grow by 12 percent by 2028, according to the Bureau of Labor Statistics. That's faster than the average for all occupations and a sign that nurses continue to provide vital services to patients in hospitals, physician's offices, clinics, and communities.
Nursing demand is high in large part because of the global nursing shortage. Because nurses are such an important part of the healthcare system, a shortage poses serious implications for healthcare organizations and the patients they serve. With jobs on the rise and healthcare organizations looking to fill gaps in the workforce, there's no better time to become a nurse.
Further Reading: Management jobs in the healthcare industry.
In some states, though, you're likely to find the right nursing role for you a little more quickly. Here are the three states where nursing demand is highest.
States where demand is highest.
Nursing demand is increasing across the country for many reasons. For one, the nation's population is aging, and a generation of nurses is on the precipice of retirement. In many cases, nursing demand can be linked to geographic factors—maybe a particular area has a large population of retirees or another group in need of specialized care. But for some states, healthcare policies, a lack of qualified nurse educators, and even the weather affect how many nurses choose to practice there.
It might surprise you that California faces the largest nursing shortage in the U.S. According to research conducted by the U.S. Department of Health and Human Services and affiliates, California is projected to need 387,900 nurses by 2030, but the state is expecting only 343,400 qualified nurses to fill those positions—a shortage of 44,500 nurses.
That gap, according to the Sacramento Bee, stems in part from a shortage of nursing education options within the state. The Bee reports that many nursing students cannot secure a seat in California's state school nursing programs. But for California residents pursuing a nursing career in their home state, online education is the perfect option. Online nursing programs offer students the opportunity to study—and earn their RN license or bachelor's degree in nursing—from anywhere, at their own pace, while still working and taking care of their families. The price of online education, too, makes it an affordable alternative to state education.
Plenty of patients in the state need care, too: California's dense population and booming Medicaid program means that more people need healthcare services there than in many other areas of the country. As a result, some specialties, such as emergency care and geriatric care, are in higher demand than others.
Texas faces the second-highest shortage of qualified nurses, with a 15,900-nurse difference between projected need and projected supply by 2030, according to the U.S. Department of Health and Human Services. Data from the Texas Department of Health and Human Services' Nursing Supply and Demand Projections report notes that specific types of nurses are in particular demand, specifically nurse practitioners, registered nurses, nurse anesthetists, and certified nurse midwives. Demand for nurses in these specialty areas differs by region: the demand for RNs is highest in West Texas, East Texas, and the Rio Grande Valley, according to the Texas Department of Health and Human Services, while nurse anesthetists are most needed in the Panhandle.
Texas also faces a shortage of nurses who work outside of acute care facilities. The Dallas Observer reports that many Texans receive care in their communities. Primary practices, long-term care centers, and outpatient clinics all need nurses. And because of the state's lower median housing cost and cost of living, many people consider Texas when planning for retirement. The influx of retirees drives demand for nurses who specialize in geriatrics, home care, hospice, and palliative care.
New Jersey is projected to need an additional 11,400 nurses by 2030, according to the U.S. Department of Health and Human Services. The New Jersey Nursing Initiative reports that the average age for nurse faculty is 57 years old, which suggests that many full-time nursing professors will soon retire. Qualified nursing school candidates are already being turned away; further shortage of educators could continue to impede the nurse pipeline and leave many facilities in need of new nurses. Earning your MSN in Nursing Education to become a nursing educator would help fill this gap.
The New Jersey Hospital Association reports that 39 percent of hospital visits in 2017 were associated with patients living with one or more chronic medical conditions, such as asthma, kidney disease, substance abuse, and diabetes. These conditions require frequent visits to hospitals, physician's offices, and specialty care clinics, and effective management requires significant time and resources. Many New Jersey healthcare facilities need more qualified nurses to keep up with this influx of patients. Because the state has such high levels of chronic conditions, nurses trained in emergency, mental health, and intensive care are in especially high demand in New Jersey.
Finding the right role in the right place.
Many people pursue a career in nursing for the challenge, the sense of accomplishment, and the seemingly unlimited opportunities for personal growth. So, what are the  first steps to gaining these benefits in your nursing career? Earning a degree in nursing, passing the NCLEX, and applying for licensure as a Registered Nurse in your state. By learning the basics of patient care—and maybe specializing in a particular area of interest—you could set yourself up for a rewarding career. And if you set your sights on California, Texas, or New Jersey, you could be part of a growing workforce that's filling much-needed gaps in the healthcare system.