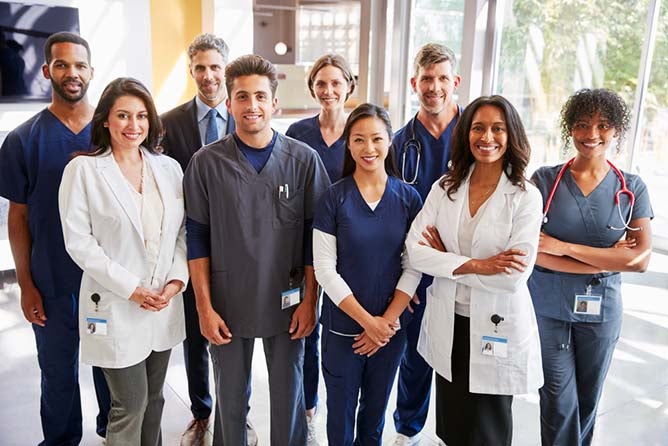 Within the expansive nursing industry, countless roles offer skilled nurses the opportunity to manage teams, transform healthcare organizations, and provide top-notch patient care. Finding a healthcare job involves getting the right combination of education, experience, and skills to be successful in the role. But to be fulfilled and satisfied in your position, you'll need to find a healthcare profession that aligns with your personality.
Whether you're a natural leader, a tech expert, or a creative type, there's a healthcare role for you. Here's a look at a few to help you narrow the field.
Climbing the management ladder.
The strength of a healthcare leader and manager can make or break a unit—and maybe even the whole organization. According to the North Carolina Healthcare Information and Communications Alliance, a nonprofit alliance of more than 300 healthcare groups, the healthcare leaders and managers of the future will need new skill sets. Today's successful healthcare leaders take a more collaborative, team-oriented approach to patient care and workplace operations.
Professionals who want to become leaders, directors, or managers in the healthcare field should be highly collaborative and know how to empower co-workers to share ideas.
Healthcare managers also need a high emotional intelligence quotient to motivate people, mediate conflict, and effectively communicate an organization's vision. If you thrive on teamwork and cooperation, pursuing a degree in healthcare management could be your first step to a rewarding career.
Informatics is where clinical expertise meets tech.
Nursing informaticists leave an indelible mark on the entirety of a healthcare organization. They must know what the patient care goals are on the front lines, and they have to design ways to support healthcare professionals and make their jobs easier through efficient data analysis.
According to the American Medical Informatics Association, informaticists collect and analyze data and apply their analysis to healthcare decisions. Data helps enlighten and inform clinical practices that improve patient outcomes and experiences.
If you're analytical and intellectually curious, nursing informatics might be a great fit for you. Innovation and creative problem-solving are tremendously beneficial to the profession, too, as is the ability to understand multiple points of view.
Those who can, teach!
Every nurse was taught by another nurse who had years of education and experience to pass on to the new nurse. These nurse educators helped us realize our potential and prepared us to deliver competent, ethical patient care. If you're interested in inspiring the next generation of nurses, consider becoming a nurse educator.
The World Health Organization's document governing the basic nurse educator core competencies outlines the proficiencies nurse educators need to teach nursing students or provide continuing education to nurses. A successful nurse educator, the WHO says, should be creative so that they can develop teaching methods that appeal to adult learners of various learning styles. A great educator should also be patient with learners and confident in their abilities and experience. If you're a flexible, creative leader with exceptional clinical skills, becoming a nurse educator might be the best path for you.
No matter what area of healthcare you chose, you bring the essential personality traits that make a great nurse: caring and compassion. As you progress in your career, those fundamentals—combined with your unique personality traits—will help you succeed wherever you go.