May 6-12, 2012, is National Nurses Week. WGU offers six online nursing degree programs and is proud to join the nation in celebrating this noble profession.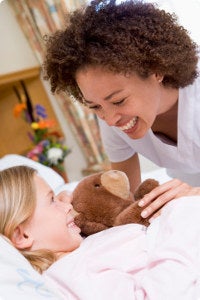 RN. BSN. MSN. As with most fields, there are many levels of education a nurse can pursue to advance his or her career—and just how far to take your education depends on your goals as a nurse.
At WGU, nurses have a number of options to consider for earning an advanced nursing degree online. There are Bachelor of Science in Nursing (BSN) degrees for already-registered nurses (RNs). There are Master of Science in Nursing (MSN) degrees both for RNs and BSNs. And in some geographic areas, there are BSN degrees available that lead to initial licensure.
So just what is it that makes a continued education so valuable in the nursing field? As part of National Nurses Week, we asked WGU's Facebook fans to tell us, in 25 words or less, why a highly educated nurse is an excellent nurse.
Most of our responses came from nurses or nursing students, so they really know what they're talking about. Here is a sampling of what we heard:
Lynnell: "I believe education helps us overcome bias and prejudice, which are two things a good nurse should overcome. Education provides us a broader life perspective."
Abhishek: "The trained nurse has become one of the great blessings of humanity, taking a place beside the physician and the priest."—William Osler, MD
Connie: "Often we encounter nurses who failed to keep up on technology, limiting the care they provide. Nursing is an ever changing profession, mandating continuing education."
Amelia: "A well-educated nurse is a powerful nurse because he or she can change the world."
Stephany: "An educated nurse is one that can bring comfort, support, confidence, compassion, and experience into care for his/her patients each and every day!"
Melissa: "Well-educated nurses = more knowledgeable patients = healthier communities = a better world. So you see well-educated nurses make the world a better place. :)"
Karyn: "They demand more from themselves, enjoy being challenged, respect knowledge not power, and have more to offer their patients and coworkers."
Lela: "Educated nurses make great nurses because we offer patients, families & communities excellent communication, critical-thinking and clinical skills. We have impeccable ethics and are caring."
Mark: "A well-educated nurse is a great nurse who makes a difference in the lives of patients with exceptional skills and knowledge in nursing cares."
Lynn: "After 28 years in nursing, I was tired of feeling incomplete. WGU is affordable, accessible, achievable, amazing, empowering, affordable, and awesome!"
Joyce:" Pursuing a BSN program at WGU will educate me in evidence-based practice so as to improve the safety and quality of outcomes for patient populations."
Mary: "A strong foundation. A sense of achievement. A change agent. Better patient outcomes. An opportunity to change direction in my professional growth"
Julie: "Knowing how to understand and comfort. Recognizing and reacting to emergencies. Fueling the power to make a difference. That's how education makes a nurse great."
Laura: "A nurse who aspires to learn new things every day, whether formally or informally is a nurse that truly cares about their patients and mankind."
Kimberly: "A well-educated nurse provides excellent care to her patients based on compassion and research. She cares enough to continue her education every day."
Susan: "I have to say that my education at WGU has already help me become more confident in my practice."