(Hint: It doesn't have to be.)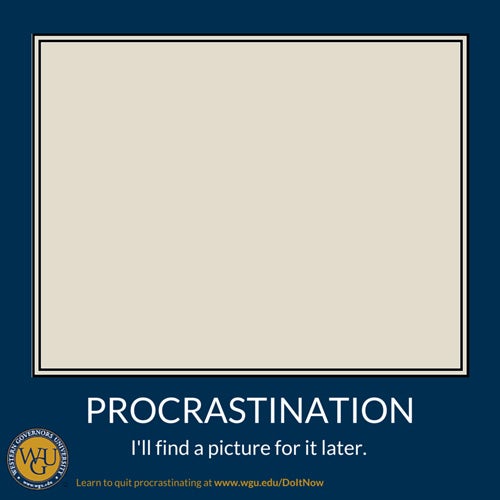 By Jenny Aguirre
Program Mentor, College of Business
At WGU, each student is assigned a personal faculty member to work with them as a mentor throughout their time at WGU. Additionally, each course has its own course instructors, subject-matter experts who are available to help students get through course material. Advice from your faculty members is invaluable as you make your way through your online degree program. But we also want you to benefit from the wisdom of faculty not necessarily assigned to you, so occasionally, The Night Owl features advice from WGU faculty in colleges throughout the university.
"The next time, it will be different."
Have you ever said that to yourself or someone else after waiting until the last minute to complete something? The due date came and went, maybe you squeaked by or maybe you blew it. Either way, the next time it will be different. You make a vow: This stops today.
Until the next time. Why is it SO hard to stop procrastinating?
For every feeling you have there is a corresponding chemical released by your brain. More feelings create more (of the same) chemicals. The cycle of procrastination can take you through a multitude of feelings, and they are not always necessarily negative. The act of procrastination creates a sense of immediate gratification. Think about the feeling you get when you let yourself off the hook. You know you have a deadline; it is on your mind, but the second you tell yourself "later, tomorrow, or next week," you feel a rush of relief (one kind of chemical response). In order to perpetuate the cycle you may find yourself creating bigger ways to feel more relief. You have to up the ante.
Most of us have experienced the exhilaration of narrowly making a deadline. While this too may be exciting, negative feelings such as guilt, fear, embarrassment, and dread often accompany procrastination as well. Whatever you feel over and over will produce the same chemical reaction in your body.
Eventually we become dependent on those feelings to produce those chemicals we are now reliant on. In the same way we can crave caffeine or nicotine, our bodies crave the chemicals our brains produce based on whatever we have habitually created.
Kick the habit of procrastinating. Just say "no!"
No to multi-tasking. Multi-tasking is a tricky little way to feel productive. Like procrastinating, it provides instant gratification. But it also gives a false sense of productivity by leading you to believe you are getting something done. When you catch yourself jumping from task to task, commit to completing at least one thing before moving on.
No to avoidance and yes to action. When you catch yourself avoiding a task, take action. Even the smallest action will be a jolt to the system. For example, if you find yourself avoiding schoolwork, set a timer for 15 minutes and do anything school-related in those 15 minutes.
No to defining yourself as a Procrastinator. Identity drives behavior. If I call myself a Procrastinator, it is what I do (or don't) that makes it true. It is a misconception that you do your best work when you rush. You may do more work but not your BEST work.
No to being comfortable. We procrastinate because we want to be comfortable. Whatever we are avoiding is because we believe we will not enjoy it. (This may or may not be true.) The next time you catch yourself taking it easy when you know you should be doing otherwise remember this: We change to the extent we are willing to be uncomfortable.
Start today and the next time it really will be different!
To your success!