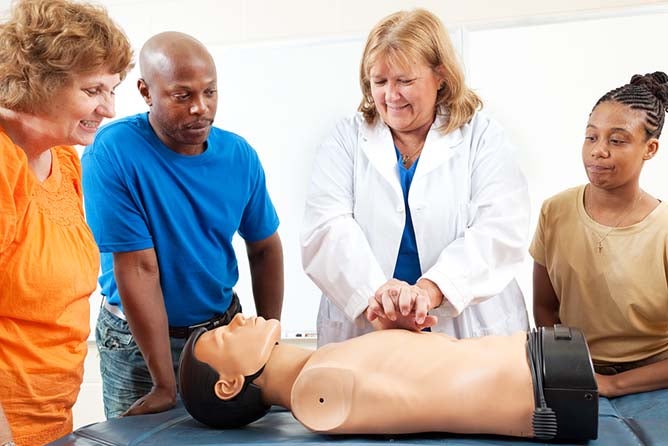 If you have strong clinical nursing experience and a passion for teaching, becoming a master's-prepared nurse educator might be your best career path. You'll be able to use your clinical expertise to help prepare the next generation of nurses.
Here's what a nursing educator does—and why becoming one might be the best move for your career.
What does a nurse educator do?
Nurses who pursue an academic career often start teaching at the undergraduate level as full- or part-time clinical faculty members at nursing schools. Faculty might educate students in a skills or high-fidelity simulation lab, prepare and deliver lectures, grade assignments, advise students, and design and develop nursing curricula. They do most everything that faculty members in any discipline do, and their work is always guided by a passion for clinical excellence.
But nursing educators don't only teach aspiring nurses. Some educate current nurses via continuing education programs. Some nurse educators broaden their focus beyond the profession to teach patients, school children, community groups, employees, and consumers about health and wellness. Nursing educators can work in a variety of settings—hospitals, schools, community agencies, businesses—and they're needed almost everywhere.
Whatever setting they work in, nursing educators must have extensive hands-on clinical knowledge and expertise. Nursing educators learn through their MSN program how to design curriculum, evaluations, assess the learning style of students, develop objective tests, and much more. They also must have a strong desire to keep current, as medical knowledge and the nursing profession are constantly evolving. Because a love of nursing is what drives master's-prepared nursing educators to teach and guide others, many choose to remain engaged in hands-on patient care, at least on a part-time basis.
What is the career outlook?
The employment outlook for the nursing profession is rosy: the U.S. Bureau of Labor Statistics projects the number of registered nurses to grow 15 percent by 2026—much faster than the average occupation.
Because demand for nurses is booming, the employment prospects for nursing educators are strong, too. And on the financial front, the Bureau of Labor Statistics estimates the median salary for nursing instructors is $73,490; educators in the 90th percentile averaged just shy of $130,000.
Is an MSN in nursing education right for me?
To become a nurse educator, you'll need to earn a master's degree that specializes in nursing education. Programs typically include coursework that builds key nursing competencies in areas such as pharmacology, patient assessment, and nursing practice and policy. They also include courses that focus on education as a discipline.
Most nursing education programs will require a capstone project, which is a project that aims to move evidence into practice, using the nurse educator's body of knowledge. In nursing education, for example, a capstone might look at how to implement and evaluate proposed curriculum changes, innovations, or improvements.
If you don't have a bachelor's of science degree in nursing, an RN-to-MSN nursing education program might be your best option. These programs tend to take a bit longer to complete because they require you to take general education, science, and business courses, but they give you the experience and skills you need to be a successful nursing educator.
Making the most of your career.
No matter what program you choose, be sure that it's accredited by a governing body such as the Commission on Collegiate Nursing Education. Once you have become a master's-prepared nursing educator, you may wish to pursue the National League for Nursing's Certified Nurse Educator or a certified academic clinical nurse educator designation as part of your academic nursing career. Certification isn't required for nurse educators, but getting a certification denotes excellence in nurse education and can give you a competitive edge on the job market.
Nursing education is a rewarding field that allows nurses to shape their profession for tomorrow while improving care for patients today. With the right education and a lot of passion, you can make a difference in the industry and in your students' lives.