Business Consultant Career
How to Become a Business Consultant
As commercial technology continues to evolve and organizations constantly seek to innovate, business professionals are consistently in demand. But with so much job variety in business, and with so many industries that need skilled businesspeople, you might feel overwhelmed as you look for the right role.
Why not become a business consultant?
Business consultants—also known as "management consultants"—can work in many different types of organizations in all kinds of industries. Consultants provide expert advice to improve performance, analyze processes to increase efficiency, and offer recommendations to address issues. These professionals can reap great fulfillment from guiding businesses large and small on their path to success.
What Is a Business Consultant?
Business consultants partner with organizations to help them identify areas of improvement and offer strategic aid. They use their in-depth industry knowledge to offer an outside perspective to problems that organizations may struggle to solve on their own. Many business consultants study market trends, consumer behavior, and business management principles and then apply their skill set to unique scenarios.
Business and management consultants offer a wide array of services tailored to their client organizations. For example, they may help the leaders of a banking corporation increase morale among their employees, or they might advise the CEO of a home security company on how to boost door-to-door sales numbers. Some consultants work exclusively with executive-level personnel, while others engage with specific organizational departments like human resources or IT.
What Does a Business Consultant Do?
A consultant's main objectives include maintaining high business performance levels and promoting healthy business development. Their day-to-day responsibilities vary depending on the business they're working with, the industry in which the business operates, and the goals the organization hopes to achieve. However, common duties include the following:
Meeting with clients. Business consultants need to communicate with their clients in-person or remotely to establish expectations, discuss plans, create goals, and more.
Analyzing data. An analytical mindset is crucial for consultants to record, evaluate, and interpret data relevant to their work.
Researching and benchmarking. Improving business operations requires thorough research of the organization, including its employees, customer base, finances, and goals.
Solving problems. Whether alone or with business leaders, consultants are expected to think creatively and strategically to find solutions to problems both minor and major.
Developing strategy. Business consultants use their industry knowledge to develop comprehensive strategies that their clients can implement.
Engaging with stakeholders. Successful business consultants know to keep in constant touch with any stakeholders involved in addition to leadership teams. This way, everyone invested in the organization's success stays informed.
Preparing deliverables. These may include written or digital reports, presentations, charts, booklets, or other items that help convey relevant strategy.
Managing projects. While some business consultants leave project management to their clients, many consultants take the lead on—or colead—projects designed to improve business operations.
Pursuing continuous learning. For any consultant to stay sharp throughout their career, they should continue to educate themselves through trainings, conferences, and seminars.
How Do I Become a Business Consultant?
Typically, business consultants study at the university level and obtain a bachelor's degree in a relevant field. This way, they can acquire enough industry knowledge to understand how to help their clients. Some earn certification to bolster that knowledge.
 The following list discusses steps to take to become a business consultant:
Earn a bachelor's degree in a related field. This might include business management, marketing, or the specific discipline you plan on consulting in.
Pursue industry certifications. These allow you to differentiate yourself from competition and stand out to potential employers like consulting firms.
Advance your career with an MBA. Though not always required, a master's in business administration can be particularly useful for attaining higher-paying jobs.
Apply for business consultant jobs. Make sure that you update your résumé and cover letter as needed and prepare yourself for job interviews.
Best Degrees for a Business Consultant
Marketing – B.S. Business Administration
For those who want to lead brands and steer consumer markets:...
For those who want to lead brands and steer...
For those who want to lead brands and steer consumer markets:
Time: 67% of graduates finish within 36 months.
Tuition: $3,755 per 6-month term.
Some careers and jobs this business degree will prepare you for:

Marketing and PR manager
Director of marketing and communications
Director of publications
Customer intelligence manager
Marketing sales manager
Marketing is a creative and exciting field—and one where an undergraduate degree will open better opportunities.
College of Business
Master of Business Administration
The flexible MBA program you need, focused on business...
The flexible MBA program you need, focused on...
The flexible MBA program you need, focused on business management, strategy, and leading teams:
Time: Graduates can finish in 12 months.
Tuition: $4,755 per 6-month term.
Sample careers and jobs this business degree will prepare you for:

President and CEO
Vice president
Executive director
Chief strategic officer
Our competency-based model gives you an innovative learning experience you won't find anywhere else—and our MBA grads tell us they loved accelerating their program to see a faster ROI.
College of Business
Business Management – B.S. Business Administration
Hone your business acumen and garner added respect:...
Hone your business acumen and garner added...
Hone your business acumen and garner added respect:
Time: 68% of graduates finish within 36 months.
Tuition: $3,755 per 6-month term.
Sample careers and jobs this business degree will prepare you for:

Account executive
Business analyst
Program manager
Director or senior director
Vice president
This online degree program is an excellent choice for kick-starting your organizational management career.

College of Business
---
Our Online University Degree Programs Start on the First of Every Month, All Year Long
No need to wait for spring or fall semester. It's back-to-school time at WGU year-round. Get started by talking to an Enrollment Counselor today, and you'll be on your way to realizing your dream of a bachelor's or master's degree—sooner than you might think!
---
What Skills Does a Business Consultant Need?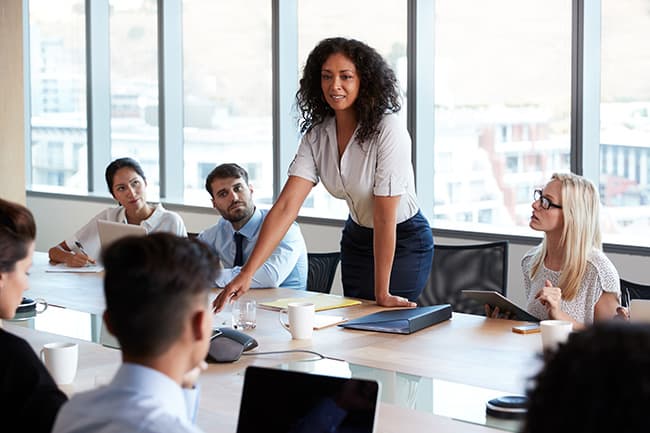 Acquiring a diverse set of skills can help business consultants thrive in their designated industry as they work with client organizations. Some of the most indispensable skills include:
Analytical thinking
Problem-solving
Written and verbal communication
Presentation
Interpersonal skills
Negotiation
Conflict resolution
Business acumen
Industry knowledge
Project management
Adaptability and flexibility
Consultants should remember to adapt their skills to the specific business model they're working with. By using the right skills in the right situations, business consultants can be a greater boon to their clients.
How Much Does a Business Consultant Make?
$93,000.
According to the U.S. Bureau of Labor Statistics (BLS), the average annual salary for business and management consultants in May 2021 was $93,000. The lowest 10% of earners made about $50,000 while the highest 10% made more than $163,000.
What Is the Job Outlook for a Business Consultant?
11%
The BLS states that jobs in business consulting are projected to grow by 11% from 2021 to 2031, which is much faster than the average for all occupations. Over 100,000 openings for business consultants are projected each year on average over the decade.
Where Does a Business Consultant Work?
Varies
Most business consultants work for private consulting firms and services (including finance and insurance). Others work for government agencies, nonprofits, academic institutions, and on international assignment.
As you prepare for a business consultant career, consider WGU for a bachelor's or master's program that can grant you a competitive edge. WGU offers accredited, online programs in business, IT, healthcare, and education that let you study at your own pace, with no set log-in times for coursework.
WGU's competency-based education model allows you to progress as quickly as you master the material, potentially saving time and money. Get started today!