Content Manager Career Guide
How to Become a Content Manager
Content is a key component of any successful marketing strategy. It can take the form of blog posts, videos, podcasts, infographics, emails, social media posts, and more. Content helps companies build trust with their audience, expands brand awareness, and converts leads into customers. At the center of creating effective content is a content manager. Their job is to oversee and contribute to the content production process while also coordinating workflows.  
As more businesses recognize the power of content in converting leads, the need for savvy content managers is at an all-time high. If you have a way with words and a passion for marketing keep reading to learn how you can join this exciting career field.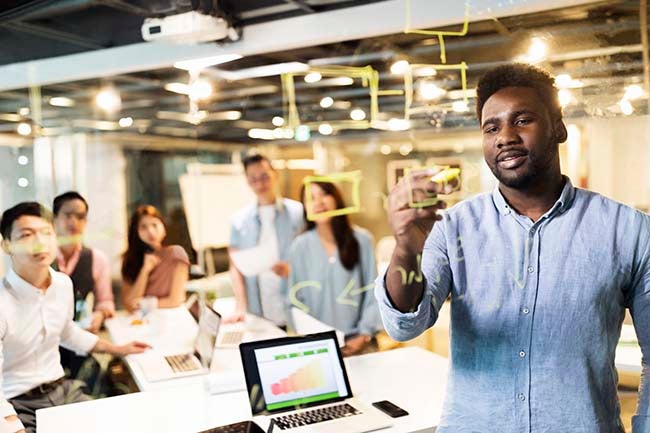 What Is a Content Manager?
Content managers are marketing experts who have specialized skills in creating and managing targeted content that reflects their company's brand and audience. They also handle the day-to-day operations of a content marketing team. 
Content managers are both creative and tactical. They're able to come up with a content strategy, execute it, and then analyze its impact.  
Although the roles of a content manager and social media manager might sound similar, their responsibilities are quite different. A content manager is involved with both online and offline content (including social media), while a social media manager deals with online content exclusively. 

What Does a Content Manager Do?
Content managers work in fast-paced digital environments and handle a wide range of responsibilities. A typical day in the life of a content manager could include: 
Developing content strategies that align with short-term and long-term marketing goals.
Collaborating with marketing and design teams to plan and develop website content, style, and layout.

Creating and publishing engaging content.

Editing and proofreading writers' posts.

Meeting with content writers to ensure brand consistency.

Optimizing content according to SEO best practices.

Using content management systems to analyze website traffic and users' engagement metrics.

Managing content distribution to online channels and social media platforms to increase web traffic.

Developing a content calendar and style guide.

Staying up-to-date with developments and generating new ideas to draw the audience's attention.
Depending on the size of the company you work for, you might execute all of these tasks on your own or lead a team to execute them.    
How Do I Become a Content Manager?
It's important to know that this role isn't entry-level. Content managers are generally expected to lead their team and drive growth, so it's a job that's best filled by someone with at least a few years of experience in marketing, communications, or project management. 
Here are some of the most common steps to becoming a content manager:
Step One: Earn your bachelor's degree. 
As an aspiring content manager, one of the first things to consider is how much education you need. Most content managers have a minimum of a bachelor's degree in marketing, communications, or English.  
Step Two: Become a content coordinator. 
To become an effective content manager, you need firsthand experience. Employers want to know you have a proven track record of strategizing, creating, and executing engaging content. As a content coordinator, you can start building your portfolio to demonstrate your content marketing abilities. 
 
Step Three: Get your master's degree.  
While a content coordinator position can lead to a content manager job, a master's degree in management and leadership can give you the additional leadership skills and business savvy that's needed for the more advanced role of a content manager.  
 
Step Four: Become a content manager.  
You'll need at least three to four years of experience creating content before advancing to a content manager role. Many employers will look for a proven record of creating effective content for specific audiences, experience managing teams or people, and the ability to meet deadlines. 

Best Degrees for a Content Manager?
Marketing – B.S. Business Administration
For those who want to lead brands and steer consumer markets:...
For those who want to lead brands and steer...
For those who want to lead brands and steer consumer markets:
Time: 67% of graduates finish within 36 months.
Tuition: $3,575 per 6-month term.
Some careers and jobs this business degree will prepare you for:

Marketing and PR manager
Director of marketing and communications
Director of publications
Customer intelligence manager
Marketing sales manager
Marketing is a creative and exciting field—and one where an undergraduate degree will open better opportunities.
College of Business
Management and Leadership – M.S.
An online master's degree focused on change management,...
An online master's degree focused on change...
An online master's degree focused on change management, innovation, and leading teams:
Time: 62% of graduates finish within 18 months.
Tuition: $4,530 per 6-month term.
Sample careers and jobs this business degree will prepare you for:

President
Vice president
Director of operations
Executive director
Develop a comprehensive suite of leadership skills and your confidence to navigate changing business structures.
College of Business
---
Our Online University Degree Programs Start on the First of Every Month, All Year Long
No need to wait for spring or fall semester. It's back-to-school time at WGU year-round. Get started by talking to an Enrollment Counselor today, and you'll be on your way to realizing your dream of a bachelor's or master's degree—sooner than you might think!

---
What Skills Does a Content Manager Need?
Being a content manager requires excellent digital and in-person communication, marketing, and leadership skills, as well as knowledge of digital marketing software, tools, and methods with a focus on web content and SEO.    
Other qualifications for content managers can include:
Experience with SEO writing and blogging 
Proven work experience in the field of content creation 

Basic coding skills

Collaborative leadership skills  

Data interpretation skills

Hands-on experience with MS Office and WordPress 

Basic technical knowledge of HTML and web publishing 

Knowledge of SEO and web traffic metrics 

Deep understanding of various social media platforms

Excellent writing, proofreading, and editing skills 

Attention to detail and strong organizational skills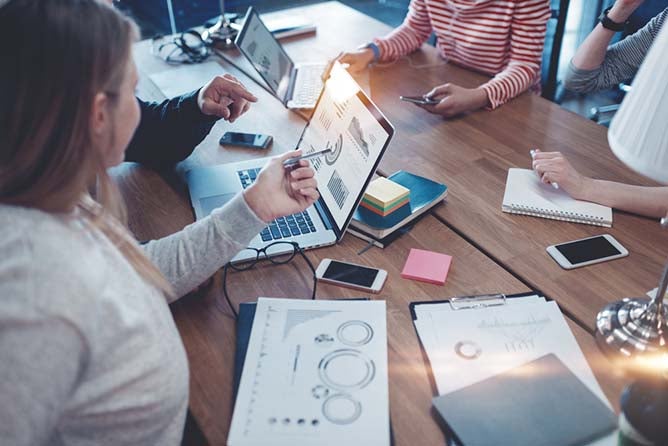 How Much Does a Content Manager Make?
$72,000
As with any career, a content manager's income can vary greatly based on their background, experience, and the size of the company where they're employed.  
 
According to Comparably, content manager salaries in the U.S. range from $31,000 to $158,000 annually, with a median salary of $72,000. The middle 57% of content managers earn between $72,000 and $100,000, with the top 86% making $158,000.
What Is the Job Outlook for a Content Manager?
10%
Job prospects for content managers are strong as more companies embrace the power of digital content such as websites, blogging, and social media. According to the U.S. Bureau of Labor Statistics (BLS), advertising, promotions, and marketing managers can expect an employment growth of 10% from 2020 to 2030, with about 31,000 jobs being added during that time.
Where Does a Content Manager Work?
Varies
Content managers typically work directly for an organization or for marketing agencies that take on clients. Their responsibilities and roles can differ depending on the size of the organization, agency or content team.