Content Marketing Specialist Guide
How to Become a Content Marketing Specialist
Content marketing is a strategy of creating valuable, relatable, and consistent content to attract and maintain a target audience. "Content" is best understood as text, images, audio, video, or some combination of the four. The purpose of content marketing is to drive the consumer to take a specific action, like buying a product, signing up for an online class, or subscribing to a newsletter. But not all content is created equal, which is why it's important for brands to rely on the work of a content marketing specialist to understand consumer psychology and deliver written copy, images, or other forms of content that stand out from the rest.
What Is a Content Marketing Specialist?
A content marketing specialist, also known as a content specialist, is a skilled professional who is responsible for writing, editing, and developing content for digital marketing campaigns. They work across various digital channels, from websites to emails to social media apps, to connect with and foster a brand's customer base. Content marketers are important members of a marketing team, strategizing and adjusting content to meet the needs of their audience. They regularly collaborate with team members, such as search engine optimization (SEO) specialists and social media marketing (SMM) specialists, to best understand the needs and wants of the consumer. 
What Does a Content Marketing Specialist Do?
Depending on the company, industry, and seniority of a content marketing specialist, their day-to-day responsibilities can vary. Overall, a typical workday may include: 
Creating content: Content creation is about understanding how people think and knowing how to write to them. A successful content specialist spends time learning about the consumer's behavior and psychology, often referred to as the "buyer persona," and creating a writing voice that aligns with their employer's brand and speaks directly to the consumer.
Optimizing new and existing content: Once the content is written, it needs to be optimized for customers to find. Content marketers depend on SEO tools and knowledge to improve a brand's search engine results pages (SERPs) for new and existing content. 

Editing and ensuring adherence to a style guide: A style guide ensures that content remains consistent in tone, word choice, usage rules, etc. A content marketer relies on the style guide to properly edit and proofread their writing.

Creating an editorial calendar: An essential aspect of content marketing is publishing consistent content to develop a familiar relationship with the target audience. Content marketers depend on short- and long-term planning via an editorial calendar to stay on top of deadlines and publications.

Publishing and promoting content: After content is created, optimized, and edited, it needs to be published and promoted on specific platforms and at specific times to reach the highest number of consumers. Content specialists utilize various publishing tools, such as Medium or Mailchimp, to deliver content.

Monitoring and analyzing content: Content marketers must regularly consider the data analytics from marketing campaigns. These can include website traffic, page views, email subscriptions, conversion rates, and more. They must also be able to communicate those results to managers and executives within a company.

Researching competitors: To produce superior content, content marketers spend time researching and determining where there is a hole in the market. By looking at competitors, they can determine if a need is being missed and strategize ways to reach those customers. 

Preparing content marketing plans: Marketing plans create a framework to manage large amounts of content and the various digital channels where that content will be distributed. Content marketing specialists often work with other professionals, such as brand managers and data analysts, to establish a successful plan. 
How Do I Become a Content Marketing Specialist?
The first step to becoming a content marketing specialist is to earn a bachelor's degree in marketing, English, or communications. Within these programs of study, you'll learn and develop skills in research, writing, editing, and audience awareness, all of which are essential for success as a content marketer. Next, gain experience in content creation through interning for a company or starting a personal blog. Once you earn your degree, you'll want to apply for entry-level content marketing roles where you can continue to earn relevant experience and enhance your portfolio. Finally, considering an MBA or master's degree in marketing will allow you to move into leadership roles and increase your earning potential.
Best Degrees for a Content Marketing Specialist?
Marketing – B.S. Business Administration
For those who want to lead brands and steer consumer markets:...
For those who want to lead brands and steer...
For those who want to lead brands and steer consumer markets:
Time: 67% of graduates finish within 36 months.
Tuition: $3,575 per 6-month term.
Some careers and jobs this business degree will prepare you for:

Marketing and PR manager
Director of marketing and communications
Director of publications
Customer intelligence manager
Marketing sales manager
Marketing is a creative and exciting field—and one where an undergraduate degree will open better opportunities.
College of Business
Master of Business Administration
The flexible MBA program you need, focused on business...
The flexible MBA program you need, focused on...
The flexible MBA program you need, focused on business management, strategy, and leading teams:
Time: Graduates can finish in 12 months.
Tuition: $4,530 per 6-month term.
Sample careers and jobs this business degree will prepare you for:

President and CEO
Vice president
Executive director
Chief strategic officer
Our competency-based model gives you an innovative learning experience you won't find anywhere else—and our MBA grads tell us they loved accelerating their program to see a faster ROI.
College of Business
---
Our Online University Degree Programs Start on the First of Every Month, All Year Long
No need to wait for spring or fall semester. It's back-to-school time at WGU year-round. Get started by talking to an Enrollment Counselor today, and you'll be on your way to realizing your dream of a bachelor's or master's degree—sooner than you might think!

---
What Skills Does a Content Marketing Specialist Need?
A content marketing specialist needs a variety of skills to be successful, most importantly: 
Knowledge of and experience with SEO, SMM, and Search Engine Marketing (SEM) 
Knowledge of and experience with online content strategy and creation

Knowledge of and experience with keyword research 

Awareness of consumer behavior and human psychology 

General understanding of data analytics

Writing, reading, and editing 

Problem-solving 

Time management

Strategic planning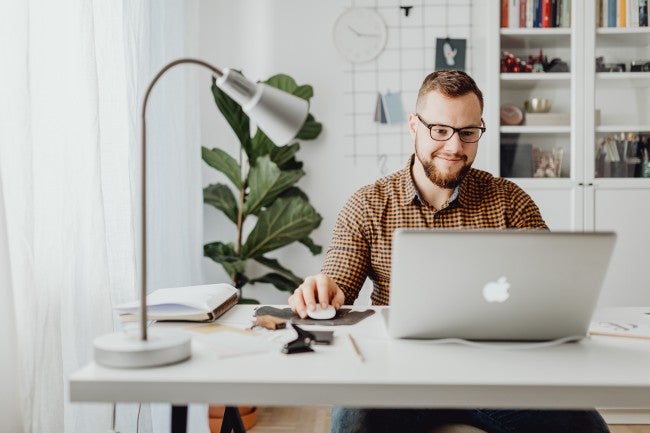 How Much Does a Content Marketing Specialist Make?
$56,359
According to PayScale, the median salary for content marketers in the U.S. is $56,359 per year. Income is largely influenced by education, skills, and experience, with the lowest 10% earning around $38,000 per year and the highest 10% earning $82,000. Many digital marketers also find profitable freelance opportunities where they can set their own hourly rates.
What is the Projected Job Outlook?
10%
There is a rising demand for content marketing as more companies focus their attention on competitive online content. From 2020 to 2030, the advertising and marketing field is expected to grow by 10%, and the increasing dependence on content creation within every industry will only continue to require content marketing specialists.
Where Does a Content Marketing Specialist Work?
Varies
Most content marketing specialists work within marketing and advertising firms, with the largest employers of marketers occupying professional and technical services, finance, manufacturing, and wholesale. Since almost every industry relies on content marketing to reach a target audience, content marketers have the flexibility to work on-site or remotely.