How to Become an Economist
Have you ever wondered about how the prices for your groceries are determined? Then you have felt the impact of centuries of professional economists who study the exchange of money for goods and services. 
Economics is the methodology for analyzing, researching, writing, and teaching a global range of financial and economic conditions. This systematic framework is responsible for forecasts in such things as energy costs, inflation, interest rates, exchange rates, business cycles, taxes, and employment levels.
Economists are vital to understanding, predicting, assessing, and optimizing the market for financial gain and investment. Economists are experts in spotting and making recommendations to solve economic difficulties and scarcity of resources, services, and goods. Economists are needed to evaluate economic problems that impact the global marketplace by following trends, evaluating processes, and analyzing economic data.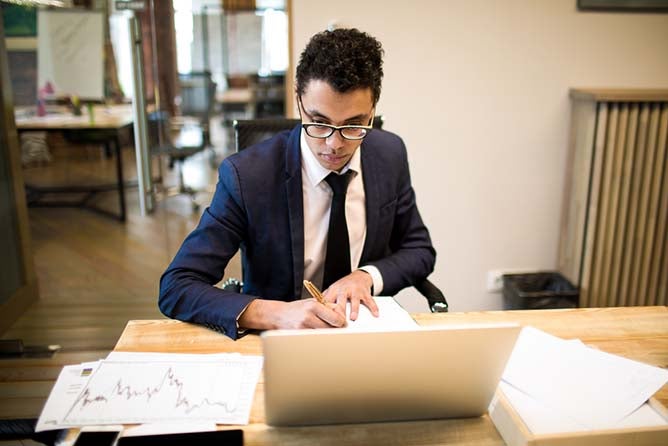 Economists are responsible for researching and analyzing local, national, and global economies. These experts study the links between a society's resources and how those resources are used. They also apply value to goods, services, and resources to recommend financial opportunities. 
Policies such as interest rates, tax laws, employment programs, international trade agreements, and corporate strategies are all shaped by the recommendations from the research of economists.
Economists work with data, reports, and statistical models to understand mountains of fine data in great detail. Once economists have analyzed that data, they communicate their findings to employers, in publications, and in other media outlets.
The daily tasks of economists vary significantly and may include exploring economic issues; creating surveys and collecting data; using mathematical models to interpret data; communicating research results in reports, tables, and charts; analyzing and forecasting market trends; making business or government recommendations; recommending solutions to economic problems; and contributing articles and research findings to the media and academic journals. 
What Does an Economist Do?
Economists study the production and distribution of resources by collecting and analyzing data, exploring trends, and assessing economic issues. A lot goes into forecasting financial markets, so economists have a wide array of daily responsibilities. Some of the most important responsibilities of this profession include: 
Researching and looking deeply at economic issues.
Watching trends, conducting surveys, and collecting data.

Investigating collected data with modeling, statistics, and software.

Publishing findings for private parties or for academic advancement.

Forecasting and predicting changes and trends within the market.

Advising corporations, investors, and governments on solutions.

Recommending decisions for resolution or improvement of economic problems.

Appearing in the media to discuss and digest important findings.
How Do I Become an Economist?
Economists are typically required to be more educated than the average professional. Getting a bachelor's degree in economics can earn you an entry-level economist position in spaces such as government offices or as a research assistant or business analyst. That said, to pursue a role as a professional economist, it is likely you'll need a master's degree or Ph.D. Keep reading to learn the educational steps to becoming an economist. 
Earn an economics degree or a bachelor's degree in related sciences, such as data analytics, business management, or accounting. Any of these programs will help you enter a master's in economics program and provide you the freedom to explore a wide array of careers post-graduation. Also be sure to check out our business degree programs. 
Data Analytics: Earning a bachelor's degree in data analytics gives you ample hands-on experience in turning raw data into meaningful information. WGU's online data analytics degree program gives students a commanding knowledge of database management and data wrangling, analysis, and visualization. In this program, you'll also learn about leadership and management skills, all of which will lend you an excellent foundation to start your economics career.

Business Management: Economists play a huge role in business decisions. With WGU's business management degree program, you can become a better manager and a more confident leader. Students hone their business acumen and learn how to grow in their careers. While this degree will provide you with a platform to start your economics career, it also teaches you a variety of other skills that will lend you professional mobility to explore similar professions. In short, this business management degree program allows you to gain a breadth of skills that enhance your résumé and add to your strengths.

Accounting: Accountants use data to help make sense of a company's or other entities' finances, which is one of the key roles of an economist. Every business relies on the financial data that an economist or similar professional can interpret to make decisions, meet regulations, achieve financial security, and make money. WGU's accounting degree nurtures your natural knack for numbers and passion for financial performance so that you can thrive in your career as an economist. 

Once you earn your bachelor's degree, you can enter the field and spend a couple of years getting work experience. The next step is pursuing a master's degree or Ph.D. in Economics. In nearly every workplace environment, economists are expected to have this level of education.
Best Degrees for an Economist
Data Management/Data Analytics – B.S.
Lean into data, and walk away with a cutting-edge online degree:...
Lean into data, and walk away with a cutting-edge...
Lean into data, and walk away with a cutting-edge online degree:
Time: 70% of graduates finish within 35 months.
Tuition and fees: $3,920 per 6-month term.
Certifications: CIW and CompTIA certs, all included.
Unique to WGU's program is the incorporation of a Udacity Nanodegree—a highly recognized credential designed to prepare you for a career in data science.
Certified Internet Web certification included:
CompTIA certifications included:
CompTIA A+ (Parts 1 and 2)
CompTIA Network+
CompTIA Project+
CompTIA IT Operations Specialist

College of I.T.
Business Management – B.S. Business Administration
Hone your business acumen and garner added respect:...
Hone your business acumen and garner added...
Hone your business acumen and garner added respect:
Time: 70% of graduates finish within 41 months.
Tuition and fees: $3,720 per 6-month term.
Sample careers and jobs this business degree will prepare you for:

Account executive
Business analyst
Program manager
Director or senior director
Vice president
This online degree program is an excellent choice for kick-starting your organizational management career.

College of Business
Accounting – B.S. Business Administration
Have a knack for numbers or fine-tuning finances?...
Have a knack for numbers or fine-tuning finances?...
Have a knack for numbers or fine-tuning finances?
Time: 70% of graduates finish within 41 months.
Tuition and fees: $3,720 per 6-month term.
Some careers and jobs this business degree will prepare you for:

Accounting manager
Financial director
Vice president of finance and operations
Chief financial officer
Forensic accountant
Take your first step toward CPA certification and learn how to use GAAP, ledgers, and journals.
College of Business
---
Our Online University Degree Programs Start on the First of Every Month, All Year Long
No need to wait for spring or fall semester. It's back-to-school time at WGU year-round. Get started by talking to an Enrollment Counselor today, and you'll be on your way to realizing your dream of a bachelor's or master's degree—sooner than you might think!

---
What Skills Does an Economist Need?
A career as an economist is interesting and rewarding work. The journey to becoming an economist requires students to develop some essential skills. Both hard and soft skills are needed to lead a successful career as an economist. These can be acquired through earning an economics degree or a related degree. Some of the most important ones include: 
Analytical thinking: Analysis is a huge part of an economist's job. Their research often starts with raw data and they must use analytical thinking to assign meaning to that data.
Logical critical thinking: Economics must be practiced free from passion. Economists can't successfully perform their job unless they interpret and communicate data logically and objectively.

Precision and attention to detail: Sifting through piles of aggregated data takes extreme attention to detail and precision to ensure that all aspects of the research are considered.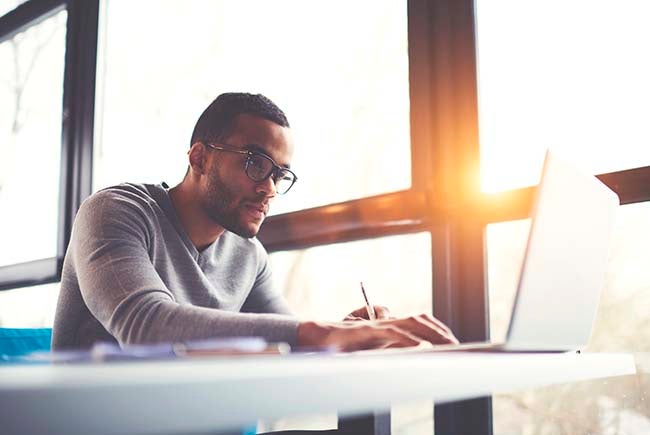 Communication skills: Economists spend most of their time researching and analyzing data and market trends, but communicating their findings is just as important, so these professionals must have strong speaking and writing skills.

Document and report preparation experience: As researchers, it's important that economists are diligent at documenting their processes for future use and archival purposes.

Presentation and explanation of difficult concepts and trends: Oftentimes, the data and findings economists work with are not easy for the average layman to understand, so it's necessary for economists to be skilled at distilling complex concepts into simple explanations. 

The ability to perform advanced calculations: Economists work with complex formulas to find meaning in massive data sets, so they must be skilled in math and numerical calculations.

Knowledge of software and the ability to collaborate: Economists often use computer software and work in teams when completing projects, so a willingness to learn and to collaborate with colleagues is essential to success.
How Much Does an Economist Make?
$105,630
According to the U.S. Bureau of Labor Statistics (BLS), the average economist salary in the USA is $105,630 per year, or $50.79 per hour. Depending on factors such as geographical location, education, and industry, economist jobs can earn a wide range of salaries. The lowest 10% earn less than $62,460, and the highest 10% earn more than $193,690. 
What Is the Job Outlook for an Economist?
13%
The BLS reports a 13% job growth for economists between 2020 and 2030. This growth rate is faster than average compared to other professions. This projection includes around 1,600 job openings per year, on average. These openings, many of them in research and consulting firms, are expected to be a result of workers changing occupations or retiring. With the increasing complexity of the global economy, it's no surprise that the need for professional economists will grow.
Where Do Economists Work?
Varies
Economists typically will work in federal or government roles, but many also work in consulting, scientific, educational, insurance, and financial institutions. Most economists work independently in an office, but many others work collaboratively with fellow economists and statisticians. The majority of economists work on a full-time basis during regular business hours, but it's common to work overtime for tight deadlines.
Additional FAQs
Why is an Economist Necessary?
Economists help societies use resources to create commodities and allocate them across different people and areas. They are key players in discovering the underlying causes of market trends and behavior, and helping to manage, disperse, price, and maintain resources, goods, and services globally. 
Is an Economist a Good Career?
Becoming an economist is an excellent career decision. This type of professional will always be essential to society—in both government and business—so the job outlook is very positive for many years to come. Additionally, this profession pays quite well. The job of an economist can be exciting due to daily job variety and the ability to make major impacts on businesses, individuals, and governments.
How Long Does It Take to Become an Economist?
Because many economist roles require professionals to hold a master's degree or Ph.D, the academic path to this career can take as little as 4 years or as many as 12.
Do Economists Make Good Money?
Yes, economists make good money. In fact, the U.S. Bureau of Labor Statistics reports that the average economist earns $105,630 per year or $50.79 per hour.