Executive Recruiter Career Guide
How to Become an Executive Recruiter
The current job climate has seen no end to complicated, convoluted application processes. Executive recruiters aim to make that process easier. 
Executive recruiters are the creative linking force between a candidate and company—filling senior positions, advocating for candidates and making life-changing connections. 

They are forward-thinking problem solvers with a passion for job growth and success.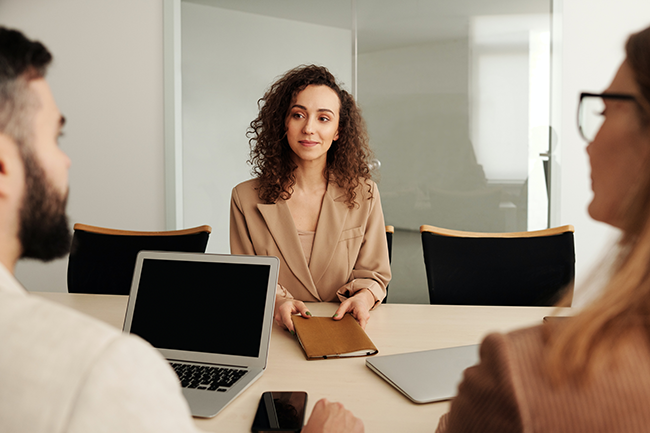 What Is an Executive Recruiter?
An executive recruiter's main goal is to fill high-level (often C-suite) positions. They must be precise and detail-oriented in their vetting for client's needs while thriving in an ever-changing, fast-paced environment. 
There are over 5,000 executive recruiting companies in the U.S. as of 2021. As the economy continues to recover from the coronavirus pandemic, executive recruiters can expect a surge in career and growth pathways. As job seekers and companies search to find one another, executive recruiters will find themselves with no shortage of opportunities. 

If you find yourself eager to connect and network, help others meet their goals and are a natural problem solver, executive recruiting may be a natural and fulfilling career path for you.

What Does an Executive Recruiter Do?
Executive recruiters effectively source to bring an industry's most talented individuals to senior management, director, and other top-tier roles in their clients' organizations. Recruiters may find job opportunities at an executive search agency or within a large company's HR department. 
Standard job responsibilities for an executive recruiter include managing a client's current job openings, vetting and choosing well-suited candidates to push forward, and watching the marketplace for exciting new talent. 

An average for an executive recruiter might look like this:
Account Management. A typical day will always start with an assessment of your client's most pressing needs and the latest updates for each of your recruits. This can look like checking and returning emails, making phone calls to clients and candidates, and closing successful placements. 
Resume and Portfolio Assessment. Proactively recruiting the best candidates (who are often currently employed) occupies a large portion of an executive recruiter's day. You might be reviewing inbound resumes, making the first point of contact with a candidate, or using LinkedIn and other databases to research. 

Interviews. Scheduling interviews for clients is a given, but executive recruiters often find themselves as the first interviewer for candidates. Deeply in touch with their client's needs, recruiters can sift through an initial round of candidates and save their clients valuable time. 

Relaying Offers and Rejections. Executive recruiters find this to be the most rewarding and most difficult part of the job. As the first line of communication, you have the honor and exciting privilege of delivering job offers that lead to joy, excitement and even life-changing opportunities! But with every offer comes multiple rejections, and it's crucial that you are comfortable with difficult conversations. 
What Education Does an Executive Recruiter Need?
Most executive recruiters find a bachelor's degree is a requirement for their role. A degree in human resources can be a crucial first step in helping you be prepared for this profession. Following graduation from a bachelor's program, recruitment professionals have opportunities to set themselves apart from other candidates with certifications like those from the HR Certification Institute and the Society for Human Resource Management, which a bachelor's degree in HR can prepare you for.
Some executive recruiters will want to go on and pursue a master's degree—either an MBA or a management degree. This kind of program can help set you apart and give you a unique business understanding that will ensure you're qualified for talking to high-level candidates in large organizations.
Best Degrees for an Executive Recruiter
Human Resource Management – B.S. Business Administration
A SHRM-recognized online business degree program:...
A SHRM-recognized online business degree program:...
A SHRM-recognized online business degree program:
Time: 70% of graduates finish within 35 months.
Tuition and fees: $3,720 per 6-month term.
Sample careers and jobs this business degree will prepare you for:

Human resource specialist
Director of talent acquisition
Recruiting manager
Organizational learning specialist
Vice president of HR
Earn your B.S. in Human Resources and help build strong organizations.
College of Business
Master of Business Administration
The flexible MBA program you need, focused on business...
The flexible MBA program you need, focused on...
The flexible MBA program you need, focused on business management, strategy, and leading teams:
Time: Graduates can finish in 12 months.
Tuition and fees: $4,675 per 6-month term.
Sample careers and jobs this business degree will prepare you for:

President and CEO
Vice president
Executive director
Chief strategic officer
Our competency-based model gives you an innovative learning experience you won't find anywhere else—and our MBA grads tell us they loved accelerating their program to see a faster ROI.
College of Business
Management and Leadership – M.S.
An online master's degree focused on change management,...
An online master's degree focused on change...
An online master's degree focused on change management, innovation, and leading teams:
Time: Graduates can finish in 12 months.
Tuition and fees: $4,675 per 6-month term.
Sample careers and jobs this business degree will prepare you for:

President
Vice president
Director of operations
Executive director
Develop a comprehensive suite of leadership skills and your confidence to navigate changing business structures.
College of Business
---
Our Online University Degree Programs Start on the First of Every Month, All Year Long
No need to wait for spring or fall semester. It's back-to-school time at WGU year-round. Get started by talking to an Enrollment Counselor today, and you'll be on your way to realizing your dream of a bachelor's or master's degree—sooner than you might think!

---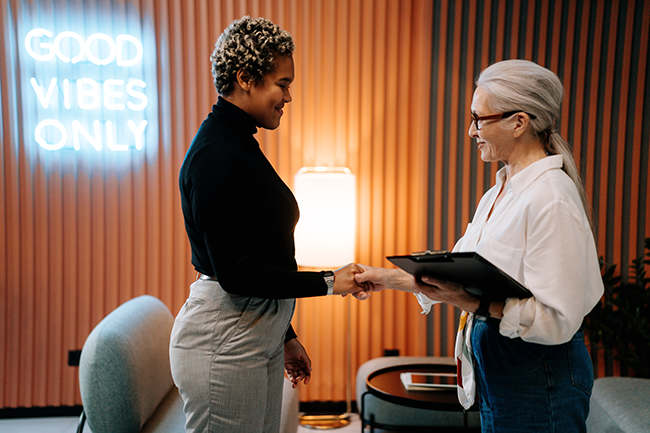 What Skills Does an Executive Recruiter Need?
Successful executive recruiters are those who thrive in fast-paced, ever-changing environments and are fueled by helping others reach their goals. The mental and emotional demands of recruiting can be taxing to those who do not enjoy interpersonal dynamics. However, the role can be extremely fulfilling if you identify as an extroverted, resourceful person. 
If you are pursuing a career in executive recruitment, you will need a balance of hard and soft skills, some of which include:
Strong and effective communication skills, with an ability to accurately represent each client

Excellent listener with a high level of attention to detail
Confidentiality and trust when conducting background checks and distributing sensitive information
Technical knowledge to use software programs, list job opportunities and conduct virtual interviews
Willingness to learn new software as the industry continues to change 
Curiosity and a desire to understand multiple fields and industries
Empathy and understanding in navigating life-changing processes
Persistent and persuasive with top recruits 
Creativity, with a desire to present things in a new light when necessary 
Confident decision-making skills in resolving disputes and reviewing candidates 
Interpersonal skills with an interest in conversing with different people from unique backgrounds 
Flexibility in ever-changing landscapes and job markets
How Much Does an Executive Recruiter Make?
$65,000
Executive recruiters often start out at a higher salary rate than other non-management HR roles like HR generalists and benefits specialists. Executive recruiters also expect a commission structure from most recruitment agencies and firms. Commissions can be based on leads, the number of qualified recruits and the number of recruits successfully placed in high-level roles. The U.S. Bureau of Labor Statistics (BLS) reports that the median salary for Executive Recruiters is $65,000.
What Is the Projected Job Growth for an Executive Recruiter?
7%
Human resource roles are projected to grow 7%, which is faster than the national average for all occupations, according to the BLS. Most growth is projected in the professional, scientific and technical services industries. There is an expected surge to follow the recovery of the coronavirus pandemic in the United States.
Where Do Executive Recruiters Work?
Varies
Executive recruiters can work for agencies or within HR departments at large companies with high recruitment needs. The largest recruitment firms are in California, New York and Florida, but with the field of work being largely virtual, executive recruiters should find increased opportunities to work remotely.