Financial Advisor Career Guide
How to Become a Financial Advisor
Responsible for helping a variety of clients achieve their short- and long-term financial goals, financial analysts serve as your advocate for intelligent investing. They spend much of their time meeting with clients to review financial portfolios and discuss fiscal strategies. Financial advisors also research various stocks, mutual funds, and determine what is worth investing in, to achieve substantial returns for clientele.
One of the preferred careers for business management degree graduates, the position of a financial advisor calls for individuals who understand the logic behind sound financial habits. Anyone interested in the world of investing who is prepared to commit to understanding current global markets and financial trends can find a successful future as a financial advisor.
What Is a Financial Advisor?
Financial advisors actively work on their clients' behalf, to research and pursue reliable investment opportunities that will yield a sufficient return. In addition, they help clients navigate a range of financial challenges, including income taxes, property investments, and stock trading.
Client communication is also a large part of a financial advisor's job. They will regularly meet with clients to review their current financial needs and habits, crafting portfolios that reflect a client's investing preferences.

What Does a Financial Advisor Do?
Though the day-to-day tasks of a financial advisor can vary, the role itself is geared toward a single goal: analyzing a client's financial situation and improving it. Daily responsibilities of a financial advisor can include:
Researching financial markets to determine the best possible investment opportunities.
Recommending financial investments to clients, based on market activity.

Managing client portfolios to monitor account fluctuations as they develop.

Pursuing new clients to help broaden their base and opportunities.

Communicating with clients to identify their financial needs and make corresponding investments.

Advising clients on long-term financial strategies that can prepare their finances for retirements and pending expenses.
What Education Does a Financial Advisor Need?
Financial advisors require specialized education to prepare them for situations when they will accurately manage client finances. They will first need to earn a bachelor's degree in accounting, business management, finance or a closely related field.
Applicants looking to further enhance their qualifications should consider a master's degree in accounting, attainable online. These programs provide specific instruction in financial law, tax structure, and global markets. The program also offers preparatory education for the Certified Public Accountant exam by meeting the 150 semester hour requirement for CPA licensure by state. 
Best Degrees for Financial Advisors
This online finance program is career-focused so you will gain...
This online finance program is career-focused so...
This online finance program is career-focused so you will gain relevant industry skills.
Time: 70% of graduates finish similar programs within 42 months.
Tuition: $3,575 per 6-month term.
Courses: 41 courses in this program.
Some careers and jobs this business degree will prepare you for:

Financial analyst
Finance director 
Investment banker
Insurance agent
Accountant
The competency-based model at WGU allows you to move as quickly as you can master the material, and do your coursework on your schedule. Flexibility is key with the B.S. in finance at WGU.
College of Business
Accounting – B.S. Business Administration
Have a knack for numbers or fine-tuning finances?...
Have a knack for numbers or fine-tuning finances?...
Have a knack for numbers or fine-tuning finances?
Time: 62% of graduates finish within 36 months.
Tuition: $3,755 per 6-month term.
Some careers and jobs this business degree will prepare you for:

Accounting manager
Financial director
Vice president of finance and operations
Chief financial officer
Forensic accountant
Take your first step toward CPA certification and learn how to use GAAP, ledgers, and journals.
College of Business
Become better qualified to pursue a greater variety of public...
Become better qualified to pursue a greater...
Become better qualified to pursue a greater variety of public and private accounting positions:
Time: 76% of grads finish within 24 months.
Tuition: $4,755 per 6-month term.
Some careers and jobs this business degree will prepare you for:

Accountant
Accounting manager
Internal audit manager
Senior accountant
Other specialized finance roles
This MAcc program is designed to prepare you for the CPA exam and also the CMA or CIA exams.
College of Business
---
Our online university degree programs start on the first of every month, all year long.
No need to wait for spring or fall semester. It's back-to-school time at WGU year-round. Get started by talking to an Enrollment Counselor today, and you'll be on your way to realizing your dream of a bachelor's or master's degree—sooner than you might think!

---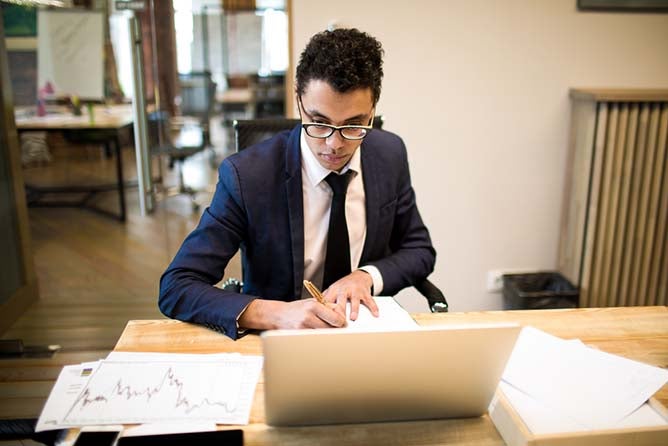 What Skills Does a Financial Advisor Need?
The career of a financial advisor requires the daily use of certain skills to help clients achieve financial goals through smart investment practices. The skillset of a financial advisor can include the following:
Data analysis. The ability to advise a client's financial decisions in light of recent market trends.
Client communication. The ability to correspond effectively with clients regarding the success of their investments and the state of their portfolios.

Financial calculation. The ability to calculate and comprehend financial trends, often with the help of variable statistical models and financial prediction programs.

Technical skills. The ability to successfully use a variety of investment financial analysis, communication, and market research tools to better fulfill the position.

Sales. The ability to sell new clients on your ability to invest on their behalf.

Problem-solving. The ability to provide creative solutions that can overcome fluctuations in investment returns.
These skills and others make for successful financial advisors. Many successful financial advisors are defined by an ability to invest in the right opportunities, while maintaining transparent communication with all clients regarding the state of their respective portfolios.
How Much Does a Financial Advisor Make?
$94,170
While the income of a financial advisor will vary — depending on their years of experience, employer, location, and other factors — a financial advisor's salary can average $94,170. This can mean that exact salaries often range from $ 47,570 to an amount greater than $208,000 per year.
A financial advisor's exact compensation can also vary based on their industry. For example, financial advisors who manage investment funds can earn $137,090 on average; by contrast, financial advisors investing on behalf of insurance and employee benefit funds can see salaries that average $83,240 per year.
What Is the Projected Job Growth?
4%
Expected to expand 4% from 2019 to 2029, the growth curve for financial advisors is experiencing an increase roughly the same as the market average. Primarily, aging populations are behind the increasing demand for financial advisory services. As a larger percentage of the population is driven toward retirement, they will pay more attention to the state of their finances.
Elsewhere, computer programs that provide automatic financial advice are expected to temper the growth of the industry somewhat. And with a decrease in the number of companies offering pensions that extend into retirement, the demand for reliable financial advisors will likely continue well into the future.
What Certifications Does a Financial Advisor Need?
Several
Financial advisors often require several certifications, especially when operating on behalf of a larger investment firm. These certifications can include:
-Certified Financial Planner (CFP), a license recognized by organizations associated with the Financial Planning Standards Board (FPSB).
-Personal Financial Specialist (PFS), a CPA-specific credential that identifies advisors especially qualified to provide wealth management services.
-Chartered Financial Consultant (ChFC), a designation from the American College of Financial Services recognizing an individual specializing in advanced financial planning.
-Chartered Financial Analyst (CFA), licensure from the CFA Institute offered specifically as a postgraduate certification to identify individuals with high financial integrity.
These certifications provide specific licensure that qualifies financial analysts to analyze, plan, and execute financial strategies on behalf of client interests. Candidates must meet individual education and experience requirements to earn each respective certification.