How to Become a Financial Analyst
With today's growth of business and financial markets, employers' interest in qualified professionals to provide financial analysis for their organizations is skyrocketing. Financial analysts help organizations formulate important business decisions, including providing analysis for making sound investments. These professionals are responsible for a variety of research tasks, such as assessing macroeconomic and microeconomic conditions; evaluating financial data; examining current events, market developments, and financial statements; and creating financial models to predict future performance. 
Continue reading to discover the value financial analysts bring to companies and why a career in this field may be right for you. 
What Is a Financial Analyst?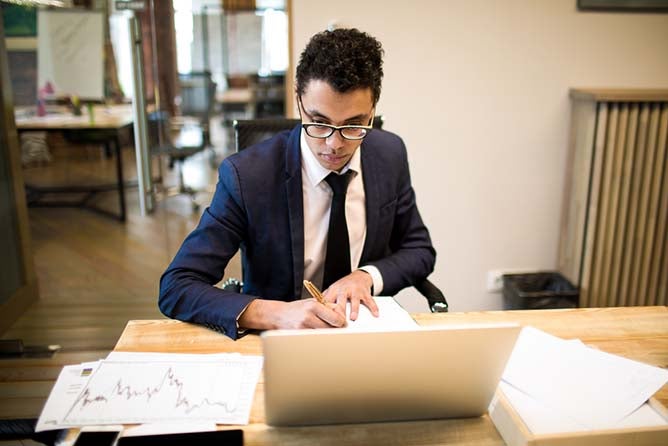 Depending on the organization they work for, their industry, and their seniority, a financial analyst can perform a wide range of activities that inform an organization's investment strategy. 
Whether it's gathering data, organizing information, or making forecasts and projections, financial analysts stay up to date on economic trends and prepare financial models based on data insights.
What Does a Financial Analyst Do?
Financial analysis is a rewarding and challenging career. Depending on the level of experience of a financial analyst, day-to-day activities may differ and may include: 
Researching industry-specific financial developments, including broad economic trends and business trends. 

Analyzing financial statements to evaluate investment opportunities. 

Creating financial modeling for investors to find profitable investments. 

Recommending individual investments and collections of investments. 

Assessing the performance of stocks, other types of investments, and bonds. 

Translating financial data into detailed presentations and easy-to-understand financial reports. 

Communicating with C-suite executives from client companies to understand company needs. 

Remaining informed about new technologies and market conditions. 
How Do I Become a Financial Analyst?
Financial analysts can work in both junior and senior capacities within an organization and provide a niche opportunity that often leads to other career opportunities. The financial services industry is lucrative and in demand, but competitive. If you're interested in a career as a financial analyst, the steps to take to prepare yourself for the job include: 
Earning a bachelor's degree in finance, business, economics, or statistics. 
Getting an internship to gain relevant skills and work experience.  

Passing FINRA qualification exams. 

Applying for a financial analyst job.
Best Degrees for a Financial Analyst
Business Management – B.S. Business Administration
Hone your business acumen and garner added respect:...
Hone your business acumen and garner added...
Hone your business acumen and garner added respect:
Time: 68% of graduates finish within 36 months.
Tuition: $3,575 per 6-month term.
Sample careers and jobs this business degree will prepare you for:

Account executive
Business analyst
Program manager
Director or senior director
Vice president
This online degree program is an excellent choice for kick-starting your organizational management career.

College of Business
This online finance program is career-focused so you will gain...
This online finance program is career-focused so...
This online finance program is career-focused so you will gain relevant industry skills.
Time: 70% of graduates finish similar programs within 42 months.
Tuition: $3,575 per 6-month term.
Courses: 41 courses in this program.
Some careers and jobs this business degree will prepare you for:

Financial analyst
Finance director 
Investment banker
Insurance agent
Accountant
The competency-based model at WGU allows you to move as quickly as you can master the material, and do your coursework on your schedule. Flexibility is key with the B.S. in finance at WGU.
College of Business
Accounting – B.S. Business Administration
Have a knack for numbers or fine-tuning finances?...
Have a knack for numbers or fine-tuning finances?...
Have a knack for numbers or fine-tuning finances?
Time: 62% of graduates finish within 36 months.
Tuition: $3,575 per 6-month term.
Some careers and jobs this business degree will prepare you for:

Accounting manager
Financial director
Vice president of finance and operations
Chief financial officer
Forensic accountant
Take your first step toward CPA certification and learn how to use GAAP, ledgers, and journals.
College of Business
---
Our Online University Degree Programs Start on the First of Every Month, All Year Long
No need to wait for spring or fall semester. It's back-to-school time at WGU year-round. Get started by talking to an Enrollment Counselor today, and you'll be on your way to realizing your dream of a bachelor's or master's degree—sooner than you might think!
---
What Skills Does a Financial Manager Need?
Financial analysts help businesses maximize their profits by evaluating their financial standings and examining economic conditions to recommend actions for the company to take, such as selling stock or making other investments. To fulfill these responsibilities, finance professionals often have a unique set of skills that they learn through education and experience. Financial analysts can possess any of the following skills: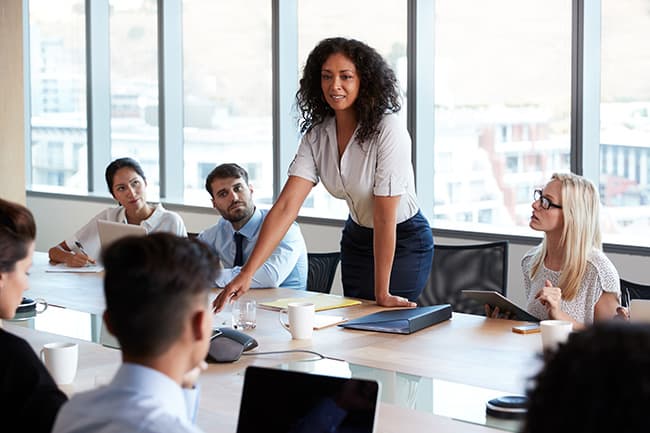 Accounting: The ability to accurately and ethically manage financial transactions, analyze financial data, and generate financial reports.
Organization: It is important to manage time effectively and know how to prioritize tasks, set goals, and develop systems for achieving those goals. 

Financial modeling: Creating a summary of a company's expenses and earnings in the form of a spreadsheet that can be used to calculate the impact of a future event or decision.

Technical analysis: A trading discipline employed to evaluate investments and identify trading opportunities by analyzing statistical trends gathered from trading activity, including price movement and volume.

Research: The collection, organization, and analysis of evidence to increase the understanding of a topic characterized by a particular attentiveness to controlling sources of bias and error.
Communication: The ability to receive and convey information, ideas, and messages in ways that are powerful and appropriate to the situation and can include written, verbal, and nonverbal communication, as well as active listening and contextual communication.

Mathematical knowledge: Use their logical reasoning, critical thinking, creative thinking, abstract or spatial thinking, problem-solving ability, and even effective communication skills. 

Writing: The ability to communicate thoughts and ideas into readable form.

Financial reporting: The process of producing financial statements that disclose an organization's financial status to stakeholders, including management, investors, creditors and regulatory agencies.

Mergers and acquisitions analysis: The assessment of the likely competitive effects of a merger or acquisition.

Corporate valuation: The process and set of procedures used to estimate the economic value of an owner's interest in a business.

Problem-solving attitude: The ability to handle difficult or unexpected situations in the workplace as well as complex business challenges. 
How Much Does a Financial Analyst Make?
$74,149
What Is the Projected Job Growth?
9%
A growing range of financial products and services and the need for in-depth knowledge of these topics are expected to lead to strong employment growth across the country. According to the U.S. Bureau of Labor Statistics (BLS), overall employment of financial analysts is projected to grow by 9% from 2021 to 2031, or about 32,000 openings per year, on average, over the decade.

Where Does a Financial Analyst Work?
Varies
Financial analysts play an important role in an organization's daily operations. At a high level, they research and use financial data to understand the business and market, and based on general economic conditions and internal data, recommend actions for a company to take. As a result, financial analysts can be employed by large or small organizations including investment banking, insurance, mutual funds, hedge funds, pension funds, securities firms, investment firms, private equity, venture capital firms, and government agencies.