Fintech Business Analyst Career
How to Become a Fintech Business Analyst
Fintech business analysts have become essential in 21st-century financial services. "Fintech" refers to the application of technology in financial services. For example, it could describe an online banking app designed to help users conveniently keep track of their bank account information. To stay current with ever-evolving technology like smartphones and internet applications, fintech analysts work with businesses and IT teams to keep products and services relevant and streamlined for their consumers.
A fintech company is essentially any business—including startups—that uses technology to modify, enhance, or even automate financial services for other businesses or consumers. Today, that means that almost all financial services companies are fintech companies to some extent, especially with the emergence of bitcoin, blockchain, and AI technologies. Anyone looking to thrive in financial services should consider a career as a fintech business analyst.
What Is a Fintech Business Analyst?
Because of the rise of fintech over the last few decades, many organizations have introduced roles that require professionals who can understand the intersection of finance and technology—fintech business analysts.
These analysts work with other teams to make complicated financial information more accessible to end users. They report data, perform quality assurance, and forecast financial trends for banking, investing, telecommunications, and other related industries.
Most fintech business analysts complete a bachelor's degree in business, IT, or a similar field and then go on to earn a master's degree in data analytics. Some may have additional certification in areas like data management.
What Does a Fintech Business Analyst Do?
Those employed in this field work in many different specializations. Some may help develop cryptocurrency while others work for credit card companies. They usually serve as advisors to business and IT specialists because of their adeptness at recognizing how to merge finance and technology in ways that make sense to consumers.
So, what exactly does a fintech business analyst's day look like? Generally, analysts will have the following responsibilities:
Carrying out comprehensive business analyses.
Assisting project and product managers and UI/UX experts in their respective roles and tasks.

Helping to draft user stories.

Writing, maintaining, and optimizing reports for relevant stakeholders and departments.

Facilitating day-to-day operations concerning company products and services.

Assisting the head of product management with client meetings and other client business.

Maximizing user experience by streamlining client processes.

Conducting market studies to define consumer needs.

Assisting with project-related activities, both with clients and internally.

Ensuring that projects are delivered on time and within budget.
How Do I Become a Fintech Business Analyst?
To become a fintech business analyst, be sure to complete the following steps:
Earn a bachelor's degree in business, computer science, finance, computer engineering, data analysis, or a similar field.
Consider earning relevant industry certification, especially in IT subjects like computer science, data management and analytics, and network engineering.

Gain work or internship experience in a field related to your degree to acquire relevant skills.

For manager-level analyst positions, earn a master's degree in computer science, computer engineering, finance, or data analysis.

Apply for a fintech business analysis job.
Best Degrees for a Financial Analyst
Problem solvers and math lovers needed! Your task: ...
Problem solvers and math lovers needed! Your...
Problem solvers and math lovers needed! Your task:
Lay the groundwork for the computing breakthroughs that will enable tomorrow's technologies. 
Time: 67% of graduates in similar programs finish within 30 months.

Tuition and fees: $3,625 per 6-month term.
Transfer: Your previous college coursework and existing certifications may waive course requirements, helping you finish even faster.
You'll have the opportunity to earn these certifications:
Linux Essentials

Axelos ITIL Foundation

Professionals who need the skills a computer science degree provides include computer systems analysts, computer programmers, artificial intelligence specialists, software engineers, machine learning engineers, and more.
College of I.T.
This online finance program is career-focused so you will gain...
This online finance program is career-focused so...
This online finance program is career-focused so you will gain relevant industry skills.
Time: 70% of graduates finish similar programs within 42 months.
Tuition: $3,575 per 6-month term.
Courses: 41 courses in this program.
Some careers and jobs this business degree will prepare you for:

Financial analyst
Finance director 
Investment banker
Insurance agent
Accountant
The competency-based model at WGU allows you to move as quickly as you can master the material, and do your coursework on your schedule. Flexibility is key with the B.S. in finance at WGU.
College of Business
Data Management/Data Analytics – B.S.
Lean into data, and walk away with a cutting-edge online degree:...
Lean into data, and walk away with a cutting-edge...
Lean into data, and walk away with a cutting-edge online degree:
Employer approval: 69% of graduates finish within 24 months.
Tuition: $3,625 per 6-month term.
Certifications: CIW and CompTIA certs, all included.
Unique to WGU's program is the incorporation of a Udacity Nanodegree—a highly recognized credential designed to prepare you for a career in data science.
Certified Internet Web certification included:
CompTIA certifications included:
CompTIA A+ (Parts 1 and 2)
CompTIA Network+
CompTIA Project+
CompTIA IT Operations Specialist

College of I.T.
---
Our Online University Degree Programs Start on the First of Every Month, All Year Long
No need to wait for spring or fall semester. It's back-to-school time at WGU year-round. Get started by talking to an Enrollment Counselor today, and you'll be on your way to realizing your dream of a bachelor's or master's degree—sooner than you might think!
---
What Skills Does a Fintech Business Analyst Need?
Fintech business analysts are proficient not only in thinking analytically but also in using fintech software that helps them do their job efficiently. Here are some essential skills to take note of: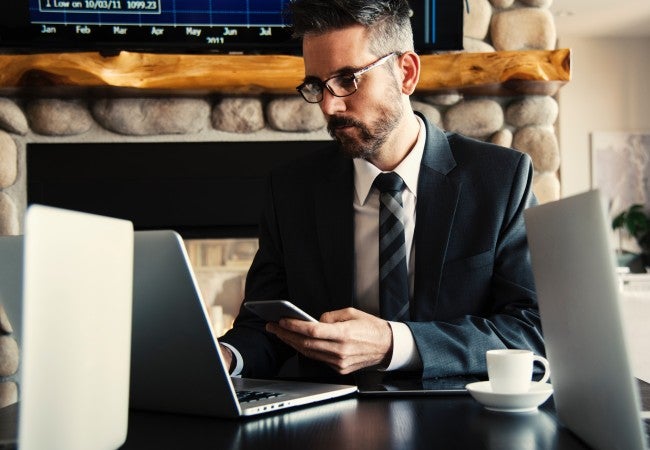 Knowledge of the digitization of banking, investing, insurance, and risk management.
Awareness of company infrastructures, products, and services.

Keen understanding of business analysis as it relates to financial technology.

Strong familiarity with SCRUM, an established model designed to streamline team-oriented projects.

Communication and organization.

Good command of the following software and conceptual tools:

Microsoft Visio—A diagram processor used to help visualize data and trends.
Unified Modeling Language (UML)—A standardized way to portray simple diagrams for complex systems.

Business Process Model and Notation (BPMN)—A representation of business processes via diagrams like flowcharts.
How Much Does a Fintech Business Analyst Make?
$101,000
Business analysts in fintech make a reliable income across the country. According to a report by ZipRecruiter in April 2023, the average annual pay for a fintech analyst in the U.S. was about $101,000 a year. Top earners make up to about $184,500 a year, while lower earners make around $31,000 a year.
What Is the Projected Job Growth?
9%
Job growth for fintech business analysts is good, with overall employment projected to grow by 9% from 2021 to 2031. On average, this growth rate leaves room for about 32,000 new openings for fintech analysts each year over the next decade. That means that now is as good a time as any to begin or continue your path to a fulfilling fintech analyst career.
Where Does a Fintech Business Analyst Work?
Varies
Many companies today employ fintech business analysts for their help in guiding the success of technologically driven products and services. Some work as advisors for influential investors, while others are hired full-time. Fintech business analysts usually work for companies and organizations that value security and confidentiality.
The following settings are common for fintech analysts:
-Financial services providers, including banks, investment firms, and credit unions
-IT companies
-Insurance providers
-Engineering firms
-Government departments