Fundraising Coordinator Career
The success or failure of today's nonprofit organizations often comes down to fundraising. Without it, many nonprofits wouldn't have the money they need to fulfill their initiatives and continue their cause. Fundraising coordinators play a crucial role in ensuring that loss of funding doesn't happen. They help raise money through organizing fundraising events, writing grants, identifying potential donors, and recruiting volunteers. 
If you want to work in the nonprofit world and you don't mind asking for donations, then read on to learn how to become a fundraising coordinator.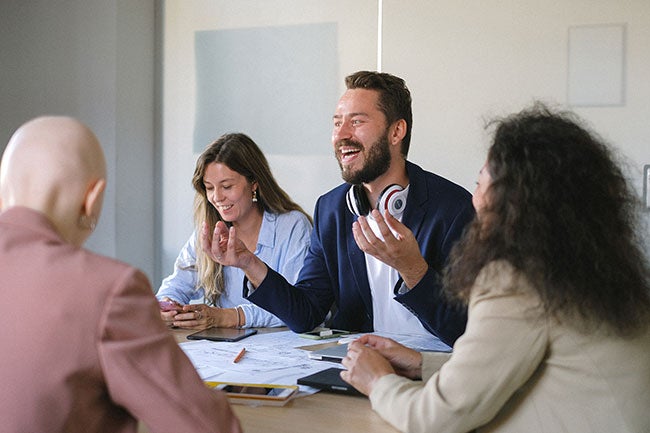 What Is a Fundraising Coordinator?
A fundraising coordinator, also known as a fundraising partner, helps raise money and other donations for nonprofit organizations. In addition to planning and executing charity events, they use their excellent people skills to forge relationships with donors and to solicit volunteers. 
 
Often, fundraising coordinators work closely with communications or PR teams in their organization to develop fundraising strategies. These strategies might include direct mail campaigns, charity auctions, social media outreach, and more. 
What Does a Fundraising Coordinator Do?
The primary role of a fundraising coordinator is to create strategies and implement initiatives that raise money for an organization, as well as to build and maintain donor relations.  
 
A day in the life of a fundraising coordinator might include: 
Organizing events to raise money for a cause or organization.
Researching and identifying potential donors. 

Maintaining donor records to ensure they're accurate and up-to-date.

Utilizing online fundraising platforms such as GoFundMe, DonorBox, OneCause, Bonfire, Fundly, etc. to raise donations.

Developing marketing strategies for events to ensure that each event is successful and meets its fundraising goals.

Coordinating and training event volunteers. 

Communicating with other departments within an organization to ensure that fundraising goals are met.

Tracking contributions to ensure payment of pledges.

Preparing reports on donor activity for executive staff members within the organization.

Ensuring all legal reporting requirements are met.
How Do I Become a Fundraising Coordinator?
There are several different ways you can enter the fundraising world. Often, volunteers for charitable groups or people with a background in public relations or marketing find their way into professional fundraising. Here's the path someone might take to become a fundraising professional:
Education: For many fundraising coordinator positions, a bachelor's degree is required. Earning a degree in business or marketing can give you communication, public relations, and management skills that can be directly applied to a career in fundraising coordination. If you want to take your career even further, then earning an MBA is a great option. You'll deepen your knowledge and skills in communication, management, decision-making, and more—all of which can prepare you for advanced roles in fundraising.   
Experience: Many fundraising coordinator jobs require industry experience, whether that's through an internship, volunteer work, or event coordination.  

Certification: Certifications aren't required to become a fundraising coordinator, but they can certainly help boost your résumé. The most common is the Certified Fundraising Executive (CFRE) certification. Earning this certification shows employers your extensive knowledge in the field of fundraising. You must have at least five years of experience as a member of a fundraising staff to be eligible to sit for this certification exam. 
Best Degrees for a Fundraising Coordinator
Marketing – B.S. Business Administration
For those who want to lead brands and steer consumer markets:...
For those who want to lead brands and steer...
For those who want to lead brands and steer consumer markets:
Time: 67% of graduates finish within 36 months.
Tuition: $3,575 per 6-month term.
Some careers and jobs this business degree will prepare you for:

Marketing and PR manager
Director of marketing and communications
Director of publications
Customer intelligence manager
Marketing sales manager
Marketing is a creative and exciting field—and one where an undergraduate degree will open better opportunities.
College of Business
Master of Business Administration
The flexible MBA program you need, focused on business...
The flexible MBA program you need, focused on...
The flexible MBA program you need, focused on business management, strategy, and leading teams:
Time: Graduates can finish in 12 months.
Tuition: $4,530 per 6-month term.
Sample careers and jobs this business degree will prepare you for:

President and CEO
Vice president
Executive director
Chief strategic officer
Our competency-based model gives you an innovative learning experience you won't find anywhere else—and our MBA grads tell us they loved accelerating their program to see a faster ROI.
College of Business
---
Our Online University Degree Programs Start on the First of Every Month, All Year Long
No need to wait for spring or fall semester. It's back-to-school time at WGU year-round. Get started by talking to an Enrollment Counselor today, and you'll be on your way to realizing your dream of a bachelor's or master's degree—sooner than you might think!

---
What Skills Does a Fundraising Coordinator Need?
A fundraising coordinator relies on a variety of skills each day. From planning fundraising events to communicating with donors, you need a well-developed skill set to succeed in this role.
Problem-solving skills: If issues arise during your fundraising efforts, you'll need to come up with strategic and timely solutions.
Communication skills: Fundraising coordinators need strong communication and persuasion skills to explain the message and goals of their organization so that people make donations.

Social media savvy: Many of today's nonprofit organizations are focusing on their online presence and are increasingly using social media for fundraising. You should be comfortable using various social media platforms to connect with potential donors and to spread your organization's message. 
Networking skills: As a fundraising coordinator, you'll frequently network with prospective donors, volunteers, and other organizations in order to find sources of funding for your organization.
Multitasking skills: You should be comfortable juggling several projects at once, often under tight deadlines.

People skills: Developing and sustaining meaningful relationships with donors and funders is a big part of the job. Personability is crucial.  
How Much Does a Fundraising Coordinator Make?
$67,000
The yearly salary range for fundraising coordinators in the United States is $31,000 to $112,000, with a median salary of $67,000.
What Is the Job Outlook for a Fundraising Coordinator?
16%
According to the U.S. Bureau of Labor Statistics, employment of fundraising professionals is projected to grow by 16% from 2020 to 2030, much faster than the average for all occupations. About 12,000 new job openings for fundraisers are expected each year, on average, over the decade.
Where Do Fundraising Coordinators Work?
Varies
Fundraising coordinators work for nonprofit organizations that employ them directly, although some work for consulting firms.
Frequently Asked Questions
Fundraising is when nonprofit organizations gather voluntary contributions to be able to implement their projects and deliver on their goals.
Why is Fundraising Important?
Fundraising can strengthen the future of an organization as it ensures that there are adequate funds to support the organization's activities. It can also raise awareness for an organization's cause and help support community initiatives. 
How Do I Become a Fundraising Partner?
Fundraising coordinators typically need a bachelor's degree in business or marketing, along with relevant volunteer experience and experience with fundraising campaigns.