Sales Manager Career Guide
How to Become a Sales Manager
As a leader in a sales environment, a retail manager is responsible for guiding a sales team toward improved operations and results. Sales managers influence nearly every stage of the sales process, whether they're setting price points, optimizing product descriptions, setting goals, or analyzing sales data.
The position of a sales manager allows you to exercise both creative and analytical skills. You'll need to be able to correspond effectively with sales team members to communicate the importance of sales processes and inform their daily activities. At the same time, it's your job to build a comprehensive sales plan, one that pairs your company's products or services with the right consumers.

If you have strong communication and management skills and thrive in a retail environment, the role of a sales manager will serve as a rewarding career option.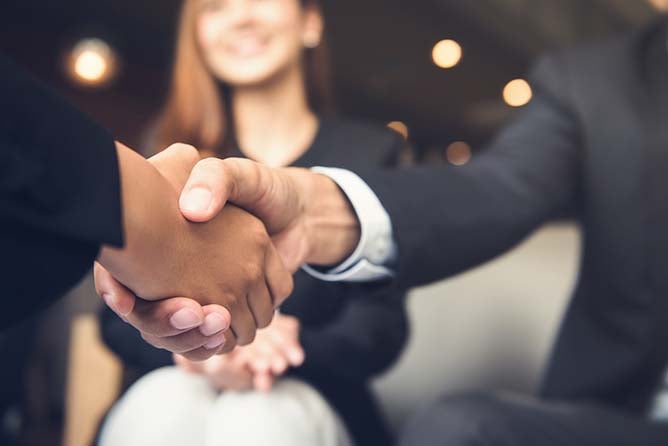 A sales manager oversees a company's entire sales process. They are responsible for employee onboarding, while they develop and implement a sales strategy that caters to the strengths of the sales team. As a sales manager, you will have a hand in product development, market research, initial release, ongoing marketing, and data analysis.
The role of a sales manager is not specialized. However, it will still require years of education in addition to years of experience in a retail environment.

What Does a Sales Manager Do?
On a day-to-day basis, sales managers fulfill a wide variety of tasks. On some days, a sales manager might spend his or her time interviewing new sales candidates or training new hires in the company's efficient sales procedures. On other days, he or she may review sales reports, or create user-friendly dashboards that convey sales results to executives, stakeholders, and company owners. Some of their duties include:
Training sales teams on new tactics
Coming up with motivational systems for sales teams
Running reports on sales numbers and presenting to upper management
Setting quotas and expectations
Creating dashboards and sales reports for sales teams, management, or clients
Creating new methods for reaching customers
Spending time selling products or services 
What Education Does a Sales Manager Need?
Before you can begin a career as a sales manager, you'll need to satisfy the necessary educational requirements. This means obtaining a bachelor's degree that qualifies you to work in a sales setting.
Applicants commonly obtain a bachelor's degree in marketing. While obtaining an undergraduate degree in marketing, you'll learn how to exercise specific marketing verticals, analyze business data, and experiment with new and proven marketing methods to determine which strategies work best in each environment.

Alternatively, some aspiring sales managers prefer to obtain a bachelor's degree in business management. This degree tailors your skillset to drive a corporate sales team toward long-term success. While working to obtain this degree, you'll learn skills that include team management, employee motivation, information technology, and professional communication. Each of these skills will benefit your output once you become a sales manager.

Sometimes, sales experience is the best form of education. Not all sales managers need a formal education to succeed. In some cases, employees have worked their way up from the bottom, beginning their careers stocking shelves or performing entry-level sales duties before becoming sales managers. While a degree will be critical in helping you gain skills, experience is also key in being a successful sales manager.

Best Degrees for a Sales Manager
Marketing – B.S. Business Administration
For those who want to lead brands and steer consumer markets:...
For those who want to lead brands and steer...
For those who want to lead brands and steer consumer markets:
Time: 70% of graduates finish within 41 months.
Tuition and fees: $3,720 per 6-month term.
Some careers and jobs this business degree will prepare you for:

Marketing and PR manager
Director of marketing and communications
Director of publications
Customer intelligence manager
Marketing sales manager
Marketing is a creative and exciting field—and one where an undergraduate degree will open better opportunities.
College of Business
Business Management – B.S. Business Administration
Hone your business acumen and garner added respect:...
Hone your business acumen and garner added...
Hone your business acumen and garner added respect:
Time: 70% of graduates finish within 41 months.
Tuition and fees: $3,720 per 6-month term.
Sample careers and jobs this business degree will prepare you for:

Account executive
Business analyst
Program manager
Director or senior director
Vice president
This online degree program is an excellent choice for kick-starting your organizational management career.

College of Business
---
Our Online University Degree Programs Start on the First of Every Month, All Year Long
No need to wait for spring or fall semester. It's back-to-school time at WGU year-round. Get started by talking to an Enrollment Counselor today, and you'll be on your way to realizing your dream of a bachelor's or master's degree—sooner than you might think!

---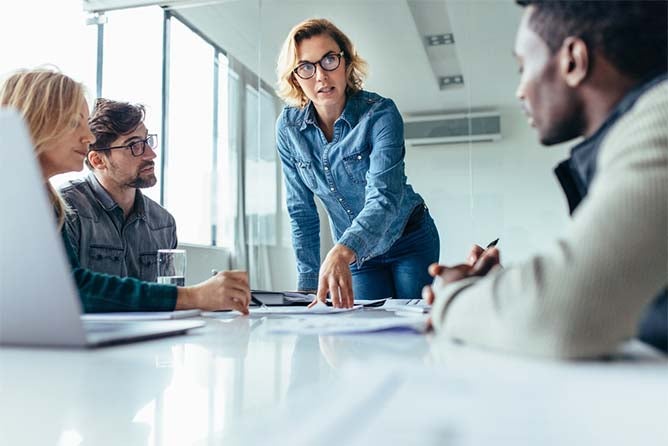 What Skills Does a Sales Manager Need?
Each day, sales managers put a wide variety of skills to constant use. These skills allow sales managers to find daily success on the job, whether they're motivating employees or implementing new sales strategies.
Sales managers regularly put the following skills to use:

Business management. The ability to fully manage all aspects of a company's operations, especially those aspects which contribute to sales.

Interpersonal communication. The ability to correspond effectively with all members of a sales team.
Data analysis. The ability to draw useful conclusions from sales data collected on individual products and overall trends.
Team management. The ability to manage all members of a sales team, to ensure continued smooth operations.
Team motivation. The ability to drive sales team members toward improved results regularly, while sustaining morale and inspiring employees by example.
Problem-solving. The ability to creatively address and solve the wide variety of problems that might occur daily in a sales environment.
Technological proficiency. The ability to fully use all pieces of technology required in a sales setting, including any computers, tablets, phones, data processing tools, online resources, and communication devices.
Delegation. The ability to assign tasks to individual sales team members, according to their proficiencies in certain areas.
These and other skills help sales managers thrive in a fast-paced retail atmosphere. As a sales manager, you'll need to be able to communicate effectively, oversee staff, and ensure a smooth sales process from beginning to end.

How Much Does a Sales Manager Make?
$61,692
The exact income of a sales manager depends on a variety of influencing factors. These can include your employer, employer's location, sales performance to date, years of experience, education, and active certifications.
In general, the salary of a sales manager can average $61,692, with a range of roughly $40,000 to $117,000 earned each year.

What Is the Projected Job Growth?
4%
Employment rates for sales managers are expected to increase 4% from 2019 to 2029. This projected growth rate is roughly equivalent to expected growth across all occupations, during the same time frame.
No matter the product delivery method, an efficient sales team is an absolute must for any successful company. As economies grow and change, the need for sales managers to oversee and maintain all aspects of the sales process will remain high.

Where Do Sales Managers Work?
Varies
A sales manager will commonly work onsite at their employer's place of business. Because of the close relationship that a sales manager maintains with all sales employees, sales managers often have offices in the heart of a company's sales department.
Because of the many requirements of the sales manager position, you might spend time working in locations such as local and national company offices, product assembly plants, product distribution centers, company franchise locations, HR departments, or retail outlets.