Corporate Trainer Career Guide
How to Become a Corporate Trainer
The career path of a corporate trainer can be rewarding for those with a passion for teaching and developing others. Anyone who is outgoing, loves being around people, and likes to teach would be an excellent fit for this position and can take simple steps to get started. 
This job is open in almost every industry, making it one of the most available in the U.S. In 2019, there were 327,900 open jobs available in corporate training, making it one of the country's most in-demand careers.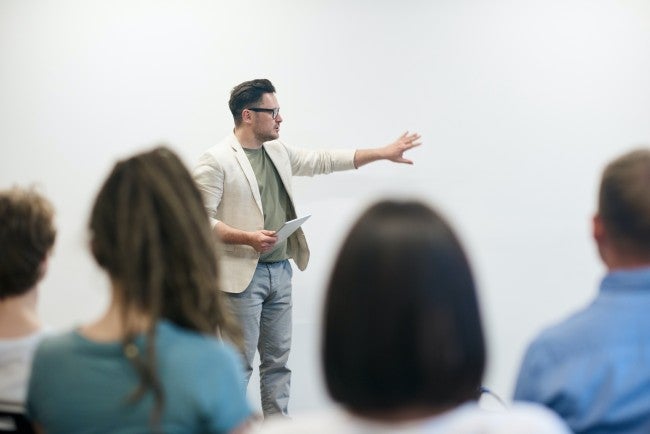 What is a Corporate Trainer?
Corporate trainers are like teachers that work in corporate or other professional settings to promote employee growth and development. They may train teams in-person to develop their skills or create entire training programs used to teach and train employees. 
The primary mission of a corporate trainer is to support the career development of their company's or organization's employees by training new ones, sharpening existing ones, and supporting overall employee career progress. Almost all corporate trainers possess at least a bachelor's degree in a field related to the industry in which they want to teach.

What Does a Corporate Trainer Do?
The corporate trainer job description involves creating programs that help a team grow and gain skills needed in a specific industry. Corporate trainers will develop and conduct assessments, train others, and evaluate team progress. Some of the responsibilities of a corporate trainer also include:
Developing employee training schedules
Creating employee surveys
Compiling team data
Locating online educational resources
Communicating training needs to management
Instructing and teaching teams online and in-person
Reviewing team performance and progress
Monitoring training costs
Many professionals are required to at least hold a bachelor's degree in business or a related field. Companies may require that a corporate trainer possess a more advanced degree, like a master's degree, with a combination of field experience. Other companies may require a person to hold a degree and some form of corporate trainer certification. 

What Education Does a Corporate Trainer Need?
Often, many companies ask that a corporate trainer education consists of, at the very least, a bachelor's degree. In some cases, a company may require you to hold a master's degree and additional certificates. Taking college courses pertinent to the corporate trainer's career path will teach you how to be organized, how to prioritize tasks, and provide insight on how to excel as a corporate trainer.
Corporate trainers can get a masters degree in curriculum and instruction. This type of degree will help give you an understanding on how to create training programs, how to teach courses and work with groups, teaching strategies, and more. 

Best Degree for Corporate Trainers
Curriculum and Instruction – M.S.
An online master's degree for those who have educational...
An online master's degree for those who have...
An online master's degree for those who have educational experience and are looking to further their careers with a graduate program focused on curriculum development and design.
Time: 72% of grads earned this degree within 18 months.
Tuition and fees: $3,635 per 6-month term.
Coursework in this program covers the following areas of study:

Curriculum theory and development
Instructional theory
Research fundamentals
Help schools create engaging, meaningful, and memorable learning experiences to improve learning outcomes for all students with this M.S. degree.
Teachers College
---
Our Online University Degree Programs Start on the First of Every Month, All Year Long
No need to wait for spring or fall semester. It's back-to-school time at WGU year-round. Get started by talking to an Enrollment Counselor today, and you'll be on your way to realizing your dream of a bachelor's or master's degree—sooner than you might think!

---
What Skills Does a Corporate Trainer Need?
Interpersonal communication skills, alongside your passion for teaching, are essential for corporate trainers. You must also be able to learn and understand company policy and possess a certain level of creativity to be able to create training programs that directly address your company's training needs. Here are some skills a corporate trainer may want to have to excel in this career:
Strong Communication: A corporate trainer will not just be talking to people all day; they will be teaching. Your messaging has to come across the correct way so your employees can not only understand it, but take action from it.
Organizational Skills: As a corporate trainer, one of your primary job duties will be to create a teaching plan and execute it. This will require that you stay organized and keep all your information easily accessible for reference and otherwise.
Adaptability: The daily responsibilities of a corporate trainer will constantly change. One day, a corporate trainer might be creating educational videos; the next, they may be teaching their employees onsite. Anyone who wants to do well in this position will need to be adaptable and enjoy a dynamic workplace environment.
Stress Management: This job can be stressful, and a corporate trainer will need the skills and tools to manage that stress. No matter what, they'll need to put their teams first and ensure their stress does not get in the way. 
Above all else, a corporate trainer needs to have an enthusiasm for teaching others while understanding that everyone learns differently; balancing both is where the corporate trainer truly shines.

How Much Does a Corporate Trainer Make?
$62,700
In 2020, according to the Bureau of Labor Statistics, a corporate trainer received median pay of $62,700 per year. However, the amount of time you spend in the field and the type of education you carry will dramatically impact the pay you receive. Someone with a more specialized and focused degree may make much more than corporate trainers made on average in 2020.
What Is the Projected Job Growth?
9%
The job is expected to grow by 9% by 2029, according to BLS, a higher rate of growth than those that other professions will see by that time. The career path of a corporate trainer may be the perfect route to take for anyone looking to impact directly the employee culture of a business by mentoring employees, developing training programs, and facilitating company growth.
Where Do Corporate Trainers Work?
Varies
Most corporate trainers will work in an office or corporate setting. However, many are switching to virtual spaces to teach and train. The corporate trainer role helps a company understand where employee improvement is required, and they can work in almost every industry. Some examples of places where a corporate trainer might work include universities, Fortune 500 companies, non-profit organizations, and local or federal government. 
The career path of a corporate trainer is a flexible one--you may start in one industry and end up in another with a few in between. Ultimately, you'll carry with you the same skills and abilities you learn on the job from place to place, as the mission statement of a corporate trainer remains the same regardless of the workplace: to facilitate employee growth, build employee skill sets, monitor employee progress, and communicate training needs to management.