Director of Admissions Career Guide
How Do I Become a Director of Admissions?
A director of admissions works on behalf of a college or university—or other private, educational institution—to evaluate and process all new students for admission. As the individual in charge of the entire admissions process, a school's director of admissions maintains direct responsibility for all major steps in the student recruitment process, from financial aid to registration paperwork.
At larger schools, a director of admissions may share job duties with the admissions department staff and other school administrators. This allows them to retain focus on fully optimizing the recruitment process, eliminating extra steps to registration, answering common student questions, and fostering a welcoming admissions environment for anyone considering enrollment.

What is a Director of Admissions?
A school's director of admissions maintains three core job duties, which largely define the role itself: recruit new students, evaluate potential students, and manage the comprehensive admissions process. They will also often serve as a point of contact for newly enrolled students, as a source of both information and comfort when needed.
Anyone fulfilling the director of admissions position is also responsible for deciding the best ways to appropriately market the school to potential new students. They will play a heavy role in designing informational brochures and pamphlets, will speak about on- and off-campus student life, and will maintain familiarity with all school curriculums to answer student questions about the quality of education that the school offers.

While the director of admissions role at a college or university is usually attainable with a bachelor's degree, the strongest candidates for hire typically also hold a master's degree in a related educational field.

What Does a Director of Admissions Do?
The daily duties of a director of admissions will vary and are usually dependent on the academic calendar. The individual job responsibilities of a director of admissions can include:
Student recruitment efforts. This includes reaching out to and following up with students who demonstrate an interest in a particular school.
Attending recruitment engagements. This includes career fairs and college fairs that inform students about the value of an education from their academic institution.
Reviewing applications of potential candidates. This includes GPAs, extracurricular activities, and any other factors that help a director of admissions evaluate a student's potential contributions to a school.
Enhancing the admissions process. This entails independently evaluating all of the steps the admissions office currently completes to bring in new students and optimizing the system to eliminate wasted time, money, or resources.
Marketing development. Finalizing all marketing brochures, pamphlets, videos, social media graphics, and any other materials responsible for school promotion.
Student communication. Maintaining contact with students throughout the recruitment process and even after acceptance, to ensure they enjoy a successful, smooth beginning to their academic careers.
A director of admissions must retain a close, personal relationship not only with the admissions office but with all marketable aspects of the school itself. They must remain continually familiar with the best features of student life, on- and off-campus activity, academic curriculums, extracurricular activities, school athletics programs, sponsored internship opportunities, and any other attractive feature the school might offer.

These job responsibilities and others can quickly fill the calendar of a director of admissions, no matter the time of year.

What Education Does a Director of Admissions Need?
As a position at an institute of higher learning, it's no surprise that the role of admissions director will require secondary schooling. To be considered for a director of admissions position, candidates must first complete a bachelor's degree in an educational field. Fortunately, online teaching degrees make this step an easy one to fulfill.
The strongest applicants for hire as a director of admissions often also complete a related master's degree in educational leadership to further familiarize themselves with the specifics of an academic environment. Students will develop skills in curriculum development, technology use, and management, all useful once they assume a role as a director of admissions.

---
Best Degree for Directors of Admissions
Educational Leadership – M.S.
An online master's degree for current teachers looking to move...
An online master's degree for current teachers...
An online master's degree for current teachers looking to move into a school or district leadership position, like principal, vice principal, or administrator.
Time: 73% of grads earned this degree within 24 months.
Tuition and fees: $3,665 per 6-month term.
Coursework in this program includes:

Process management
Strategic planning
Performance excellence
Governance, finance, law, and leadership
Measurement, analysis, and knowledge management
Workforce focus
Other courses, including a capstone project and a series of performance tasks to take place under the leadership of a practicing state licensed school principal or assistant principal in a practicum school site (K–12). 
Put your leadership skills to good use—in the service of America's children—with this education master's degree. 
States that do not accept this program: Alabama, Connecticut, Georgia, Hawaii, Iowa, Kansas, and Minnesota.
Teachers College
---
Our Online University Degree Programs Start on the First of Every Month, All Year Long
No need to wait for spring or fall semester. It's back-to-school time at WGU year-round. Get started by talking to an Enrollment Counselor today, and you'll be on your way to realizing your dream of a bachelor's or master's degree—sooner than you might think!
---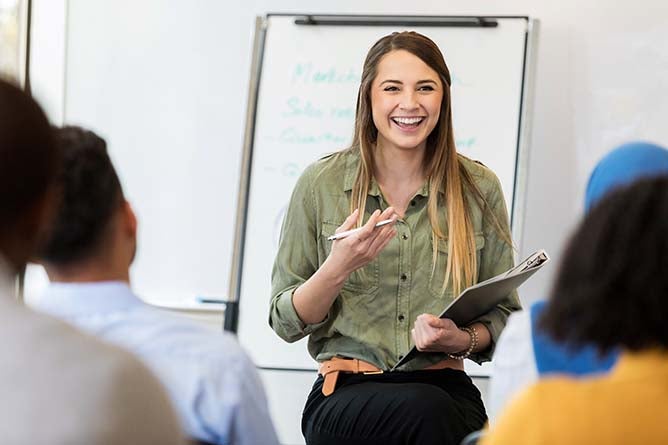 What Skills Does a Director of Admissions Need?
A director of admissions is expected to operate with the skill set necessary to actively recruit students, and maintain strong enrollment numbers. These individual skills can include:
Interpersonal communication. The ability to correspond effectively with fellow admissions team members to ensure a continually smooth enrollment process.
Student outreach. The ability to communicate effectively with potential students, discern their desires, speak to their doubts, and pair their needs with resources at the school to help them thrive.
Grammatical revision. The ability to appropriately revise all marketing materials to maintain a level of professional grammar, structure, spelling, and syntax.
Public speaking. The ability to address moderate to large groups of individuals in a welcoming tone to deliver details about a school's features.
Team management. The ability to effectively manage Admissions department staff.
Problem-solving. The ability to effectively identify and solve any issues in student recruitment and enrollment processes.
Data analysis. The ability to read and recognize trends in data sets that can inform further Admissions department decisions.
These skills and others make for a successful director of admissions—a detail-oriented individual who works hard to recruit high-quality students interested in further education.

How Much Does a Director of Admissions Make?
$68,760
The exact income of a director of admissions will vary based on several factors, including years of experience, school size, school location, and skill set. The salary of a director of admissions can average $68,760. Admissions director salaries vary widely in total range, where the lowest 10% of earners make roughly $49,000 per year, and the top 10% take home an estimated $97,000 per year.
What Is the Projected Job Growth?
4%
Expected to grow 4% from 2019 to 2029—roughly the same as the estimated growth curve for all occupations—the director of admissions position has a positive outlook for years to come.
Closely tied to enrollment rates at the university level, the future of the admissions director position is still bright. Students continue to seek secondary education at reputable educational institutions, and these institutions need to be continually able to facilitate an easy, rewarding enrollment process.

Where Do Directors of Admissions Work?
Schools
Because a director of admissions must remain continually familiar with all aspects of academic life at a school, they almost always work at the school itself. This typically means maintaining an office directly in the admissions department, especially if they depend on other staff members to help with paperwork, recruitment calls, or other aspects of the position.
When student recruitment is still at an early stage, and many students are undecided about where they will attend school in the fall, a director of admissions can also travel frequently. They will meet with students, capitalize on speaking engagements, and find other ways to positively inform student opinions about life and academics at a particular school.