Distance Education Administrator Career
How to Become a Distance Education Administrator
The world of distance learning has changed and developed vastly in the last decade. Distance learning was previously dominated by mail-in courses, taped instruction, and other alternative learning methods prior to the integration of web-based learning. Now, technology is seamlessly becoming a critical part of our education systems. With that, there is a need for administrators who are passionate about virtual learning to specialize in distance education curricula.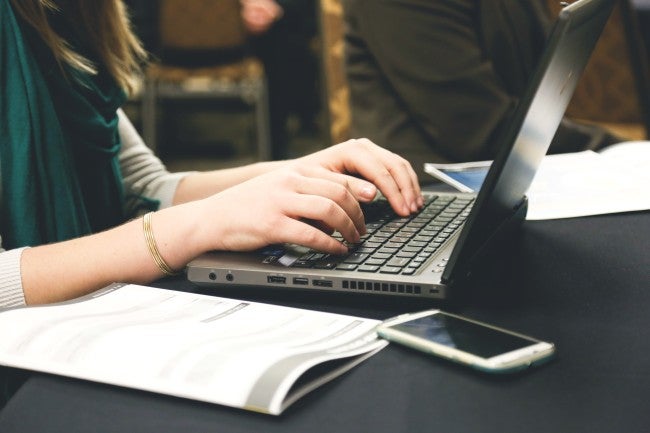 What Is a Distance Education Administrator?
Distance education administrators oversee and instruct the distance learning programs for academic institutions. They develop curricula, institute programs, and monitor ongoing changes for all virtual learning opportunities. 
They are educators with a passion for technology and the accessibility and equity it can bring to the learning space. They are detail-oriented and efficient coordinators, with a keen eye for compliance. 
Distance education administrators are those who are comfortable with diverse day-to-day responsibilities and are excited about ongoing developments in distance learning. They constantly seek to improve the virtual learning experience and tailor distance learning to a variety of courses, each with specific needs. 
What Does a Distance Education Administrator Do?
Distance education administrators improve virtual learning experiences by designing and overseeing programs for education that takes place outside of the classroom. As virtual learning becomes more and more integrated into all levels of education, distance education administrators are responsible for finding effective and efficient ways for educators to deliver the same message that a student would get in a traditional classroom setting. 
Responsibilities can vary for a distance education administrator, depending on the size, level, and type of institution they work at.
An administrator for a university might have responsibilities like these: 
Oversee virtual classroom programs for functionality and compliance 
Audit lectures and present ways to translate content to the digital classroom 

Coordinate information that instructors and teachers need to better utilize their virtual learning space 
And an administrator for a K–12 school district may have additional responsibilities like these: 
Oversee virtual testing for compliance and the following of state and federal education regulations 
Propose distance learning solutions for a variety of classes

Design and develop faculty workshops and lead your colleagues in implementing virtual learning 
Do I Need a Certification for this Position?
There is not one specific certification for distance education administrators, though depending on your state there may be credential requirements. Whether or not you choose to work in a specific school system will impact the type of certification needed. For those working in a university setting, it is less common to have a specific credential requirement and more likely that an advanced degree will be desired. 
How Do I Become a Distance Education Administrator?
Distance education administrators typically hold a bachelor's degree in education, education management, education technology, or a related field. 
As the field develops and becomes more competitive, there is an increasing need for distance education administrators who hold a higher degree. A master's degree in learning experience design and educational technology is one of the most popular advanced degrees in education technology. This program encompasses instructional design, research, education, management, and technology integration. WGU designs its programs to be relevant and practical for the present workforce, as well as the workforce developments to come.  
Best Degrees for Learning Architects
Educational Studies – B.A.
These online, non-licensure educational studies degrees prepare...
These online, non-licensure educational studies...
These online, non-licensure educational studies degrees prepare you to make a difference in a field that interests you.
Based on your career goals and interests, you can choose an educational studies program in one of 10 content areas that meets your needs while working toward employment in school settings, corporate training, or instructional design. These programs do not lead to a teaching license.

Time: Completion time varies depending on the specialty track you choose.
Tuition and fees: $3,475 per 6-month term.

Candidates for this special education degree program often include:

Elementary Education
Elementary and Special Education
Mild to Moderate Special Education
Secondary Biology Science Education
Secondary Chemistry Science Education
Secondary Earth Science Education

Secondary Physics Education
Middle Grades Science Education
Secondary Mathematics Education
Middle Grade Mathematics Education
Students in this program will be prepared for careers including:
Instructional support
Community outreach
Training
Education staff (museums, learning centers, etc.) 
K-12 opportunities that do not require a teaching license
Teachers College
Learning Experience Design and Educational Technology – M.S.
The M.S. in Learning Experience Design and Educational...
The M.S. in Learning Experience Design and...
The M.S. in Learning Experience Design and Educational Technology from WGU is for instructional designers tasked with creating engaging and immersive virtual learning experiences that can substitute for on-ground instruction.
No teaching license required.
Time: 70% of grads finish similar programs in 18 months
Tuition and fees: $3,490 per 6-month term
This program includes two tracks for students:
The K-12 Learning Designer pathway
The Adult Learning Designer pathway
Coursework in this program includes:
Learning experience design
Instructional technology
Curriculum planning
Develop training and instruction expertise to help you in the classroom, in educational settings, or in corporate world.
Teachers College
---
Our Online University Degree Programs Start on the First of Every Month, All Year Long
No need to wait for spring or fall semester. It's back-to-school time at WGU year-round. Get started by talking to an Enrollment Counselor today, and you'll be on your way to realizing your dream of a bachelor's or master's degree—sooner than you might think!
---
What Skills Does a Distance Education Administrator Need?
Distance education administrators are analytical, assertive, and optimistic. They need a passion for learning and an excitement to continue developing—not only for themselves in their career but for technological advancement and the betterment of their learning systems. They should be comfortable with a changing landscape and have the ability to make quick executive decisions. 
Some commonly listed skills in distance education administrator job listings include: 
Excellent communicators, with a desire to work cross-divisionally 
Strong leaders, mentors, and coaches 

Effective copers with crisis and controversial situations 

Detail-oriented, paying special attention to each course's specific needs 

High level of respect for compliance and confidentiality 

Strong presentation skills 

Innovative problem solvers who can work autonomously, while keeping a team mindset
How Much Does a Distance Education Administrator Make?
$85,450
According to Career Explorer, the average salary for a distance learning coordinator is around $85,450 per year or roughly $41 per hour. This is a higher median than many other jobs in the education sector and reflects the level of education and experience often required by distance education administrators.
What Is the Projected Job Growth?
11%
The expected job market growth for distance education administrators is extremely positive. There is a roughly 11% increase expected between the years of 2016 and 2026, and that only continues to increase as education systems and curriculums adjust to the impact of the COVID-19 pandemic and the increase in virtual learning. The market is strong and will continue to be so for qualified administrators.
Where Does a Distance Education Administrator Work?
Schools
Distance education administrators work, of course, in the education field, but can experience diverse environments depending on their chosen line of work. A university administrator may be fully remote, while an administrator wishing to work in a K-12 school system might find a more traditional office setting within a school or district building.