Instructional Designer Career Guide
How to Become an Instructional Designer
Improvements in technology are quickly changing the academic industry. From online curriculums to virtual classrooms, technology has made education more accessible for students around the world. Instructional designers help teachers, school administrators, and educational institutions harness the power of new technologies to improve the quality of each student's education.
As an instructional designer, you'll evaluate a variety of available tools and resources, before identifying the specific materials that can benefit specific teachers or students. You'll work closely with educators to implement curriculum and instructional practices that better educate students of all ages.
If you're someone with an in-depth knowledge of modern academic resources and you're looking to influence the modern educational landscape as it evolves, then the role of an instructional designer is ideal for you.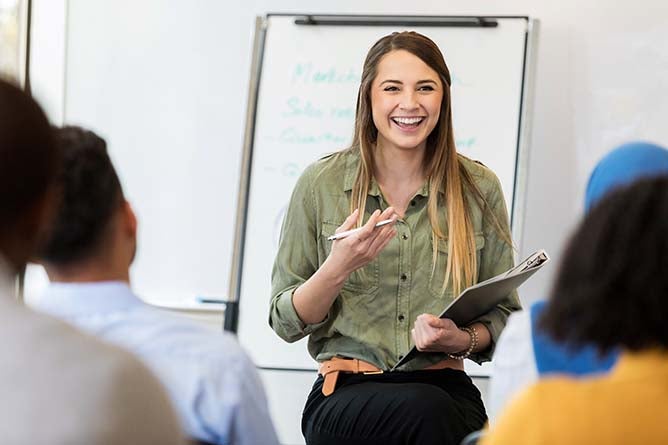 What Is an Instructional Designer?
An instructional designer is an individual responsible for identifying and implementing specific programs and technologies that benefit the teaching and learning experience. Instructional designers can improve the lives of both teachers and students, helping to implement methods that enhance the entire education process.
Instructional designers typically need both an undergraduate and a master's degree in education. In addition, employers sometimes prefer candidates with at least a few years of experience in a relevant academic field.
What Does an Instructional Designer Do?
Instructional designers are responsible for several different job duties. On some days, you might communicate with school administrators or instructors about specific tools that could benefit student education. On other days, you might be responsible for installing those tools in a learning environment.
The exact responsibilities of an instructional designer can include:
Identifying new tools and technologies that can benefit a school's learning process.
Communicating with school representatives about new technologies and programs capable of improving student experiences.

Integrating new academic resources into a learning environment. 

Troubleshooting issues with any new academic resources.

Training school administrators and educators in the use of any newly installed tools or technologies.

Installing new resources into current lesson plans without compromising the integrity of the curriculum.

Researching new instructional design practices that benefit a student's cognitive thinking and other learning theories.
These and other responsibilities help instructional designers to advocate for quality educational practices through the use of technologies that enhance a learning environment.
What Education Does an Instructional Designer Need?
Before you can begin a career as an instructional designer, you'll need to satisfy a few educational requirements. After obtaining an undergraduate degree, many instructional designers obtain a master's degree in learning experience design and educational technology.
A master's program can help you take concrete steps toward a rewarding instructional design career. You'll develop enhanced skills in fields like measurement and evaluation, curriculum design, and design analysis, all immediately applicable once you begin a job as an instructional designer.
Best Degree for an Instructional Designer
Learning Experience Design and Educational Technology – M.S.
The M.S. in Learning Experience Design and Educational...
The M.S. in Learning Experience Design and...
The M.S. in Learning Experience Design and Educational Technology from WGU is for instructional designers tasked with creating engaging and immersive virtual learning experiences that can substitute for on-ground instruction.
No teaching license required.
Time: 70% of grads finish similar programs in 18 months
Tuition: $3,975 per 6-month term
This program includes two tracks for students:
The K-12 Learning Designer pathway
The Adult Learning Designer pathway
Coursework in this program includes:
Learning experience design
Instructional technology
Curriculum planning
Develop training and instruction expertise to help you in the classroom, in educational settings, or in corporate world.
Teachers College
---
Our Online University Degree Programs Start on the First of Every Month, All Year Long
No need to wait for spring or fall semester. It's back-to-school time at WGU year-round. Get started by talking to an Enrollment Counselor today, and you'll be on your way to realizing your dream of a bachelor's or master's degree—sooner than you might think!
---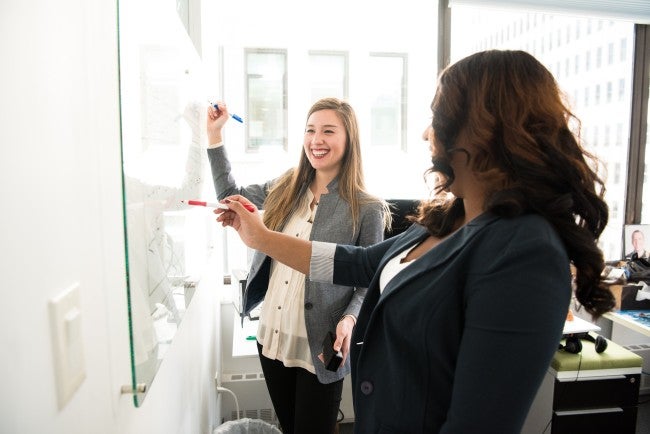 What Skills Does an Instructional Designer Need?
Instructional designers depend on a variety of different skills. Whether they're consulting with school representatives or implementing new technologies into current curriculums, instructional designers use well-defined skill sets to help schools thrive.
Instructional designers might depend on the following skills:
Curriculum development: The ability to inform curriculum creation in a way that promotes technology use without compromising a teacher's goals.
Technological proficiency: The ability to understand and use all necessary pieces of technology, including any computers, phones, tablets, online tools, and digital education resources.

Public speaking: The ability to address groups of teachers and school representatives regarding the latest technology and educational practices.

Research: The ability to identify and implement new technologies and educational tools to further improve an educational institution's operations.

Problem-solving: The ability to diagnose and solve issues that schools face in the creation and use of classroom curriculums.

Instruction: The ability to inform teachers and school representatives about any new policies or technologies to be implemented.
These and other skills help instructional designers succeed as they advocate for the use of the latest technology to benefit the education process.
How Much Does an Instructional Designer Make?
$63,918
The exact income of an instructional designer can vary based on many factors, including your employer, employer's location, years of experience, and education. The salary of an instructional designer can average $63,918, with a range of roughly $48,000 to $86,000 earned each year.
What Is the Projected Job Growth?
6%
Where Do Instructional Designers Work?
Varies
Instructional designers can work in a variety of different locations. Some instructional designers may be employed by government agencies or organizations to work directly with schools. In other cases, instructional designers are employed internally by educational institutions, where they inform a number of curriculum decisions.
Instructional designers might work in the following locations:
-Government agencies
-Private education or curriculum creation companies
-Nonprofit educational organizations
-Elementary schools
-High schools
-Universities and other post-secondary institutions